Advocates for Special Needs Athletes - 2nd Annual Queue for a Cause
Queue for a Cause
November 14, 2014
6:30 p.m.
Caprock Winery
Advocates for Special Needs Athletes (ASNA) of TTUHSC is hosting its second annual Queue for a Cause fundraising event in which ticket holders will have a chance to socialize, eat dinner, and bid on silent auction items, live drawing items, and "quarter bid" items. Proceeds raised will go to Refuge Services and Special Olympics of Texas to support special needs athletes. The event will be held on November 14, 2014 at the Caprock Winery in Lubbock, Texas. The participation in the event revolves around the "quarter items" on which you will bid using purchased paddle numbers and pay a quarter to throw your number in for the item. You can win great items for only a quarter! We will have a speaker from the local special need community, a fantastic catered dinner, including a wine paring, and great items on which you can bid and win.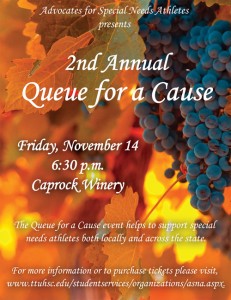 ASNA is an organization dedicated to funding and providing people of all ages with special needs the opportunity to participate in and develop through athletics, competition, and a commitment to health. This event is to raise money for local events including unified sports, the new soccer program, meet in the middle, and leadership development programs for those with special needs.
The doors will open for the event at 6:00 p.m. to allow people the option of wine tasting if they choose (cost is $5 through the winery upon arrival) and also to check in. Please be at the event by 6:20 p.m. if you are not wine tasting in order to register.
Schedule for the Evening:
6:40 p.m. - Dinner begins
7:00 p.m. - Quarter Auction begins
8:40 p.m. - Event ends
Dress code: Sunday Casual
*Remember to bring rolls of quarters to participate in the exciting quarter auction. The rules will be explained in detail at the event, if you have never attended a quarter auction, but get ready to have a good time!
Ticket Prices:
1 Seat including dinner with wine pairing, 3 paddles for quarter auction, and 1 drawing ticket - $60
1 Table with 8 seats each including dinner with wine pairing, 3 paddles for quarter auction, and 1 drawing ticket - $480
1 VIP Table with dinner, 2 bottles of wine, 3 paddles per quest; business/group name will be mentioned in advertising and at the event; VIP members are eligible for a special auction/drawing item (8 guests) - $960
Purchase tickets or donate at https://www.ttuhsc.edu/student-affairs/organizations/.
For any questions about the event, tickets, or donations please contact Katie Butler at katie.butler@ttuhsc.edu.
Related Stories
By QEP Committee
March 21, 2023
As spring approaches, some people's thoughts turn to gardening. Whether it's a flower garden they desire or a vegetable garden want to have, they begin planning what they'll plant and what they need to do to ensure a successful garden.
By QEP Committee
March 21, 2023
A "growth mindset" accepts that our intelligence and talents can develop over time, and a person with that mindset understands that intelligence and talents can improve through effort and learning.
By Melissa Whitfield
February 13, 2023
Abstaining from drug abuse and an early diagnosis of familial hypercholesterolemia (high cholesterol) can help prevent heart disease.
Recent Stories
Education
By Suzanna Cisneros
December 07, 2023
HACU announced Sonya Castro-Quirino, D.Bioethics, TTUHSC vice president of Office of Institutional Compliance, as one of the 50 fellows of HACU's Leadership Academy/La Academia de Liderazgo.
Campus Life
By Samantha White via TAFP news release
December 05, 2023
Ronald L. Cook, DO, MBA, of Lubbock, Texas, was named the 2023 Texas Family Physician of the Year during TAFP's Annual Session and Primary Care Summit in Grapevine on Nov. 11.
Research
By Mark Hendricks
November 16, 2023
Ninh (Irene) La-Beck, Pharm.D., with the TTUHSC Jerry H. Hodge School of Pharmacy, received a five-year, $2.49 million grant to investigate how nanoparticles interact with the immune system and cancer.