Cancer Prevention and Research Institute of Texas Awards Grants to Four TTUHSC Researchers
By Mark Hendricks
October 16, 2023
The Cancer Prevention and Research Institute of Texas (CPRIT) recently awarded grants to four researchers from the Texas Tech University Health Sciences Center (TTUHSC). Combined, the grants will provide nearly $2.3 million that TTUHSC will use to conduct a pair of two-year pilot studies, acquire a state-of-the-art piece of laboratory equipment known as a cell sorter, and administer a colorectal cancer screening and prevention program.
Three of the recipients are from the TTUHSC School of Medicine, including Hongjun (Henry) Liang, Ph.D., a professor in the Department of Cell Physiology and Molecular Biophysics; Min Kang, Pharm.D., a professor in the TTUHSC Department of Pediatrics; and Komaraiah Palle, Ph.D., a professor in the Department of Cell Biology and Biochemistry. The remaining grant was awarded to Julie St. John, Dr.P.H., an associate professor for the TTUHSC Julia Jones Matthews School of Population and Public Health.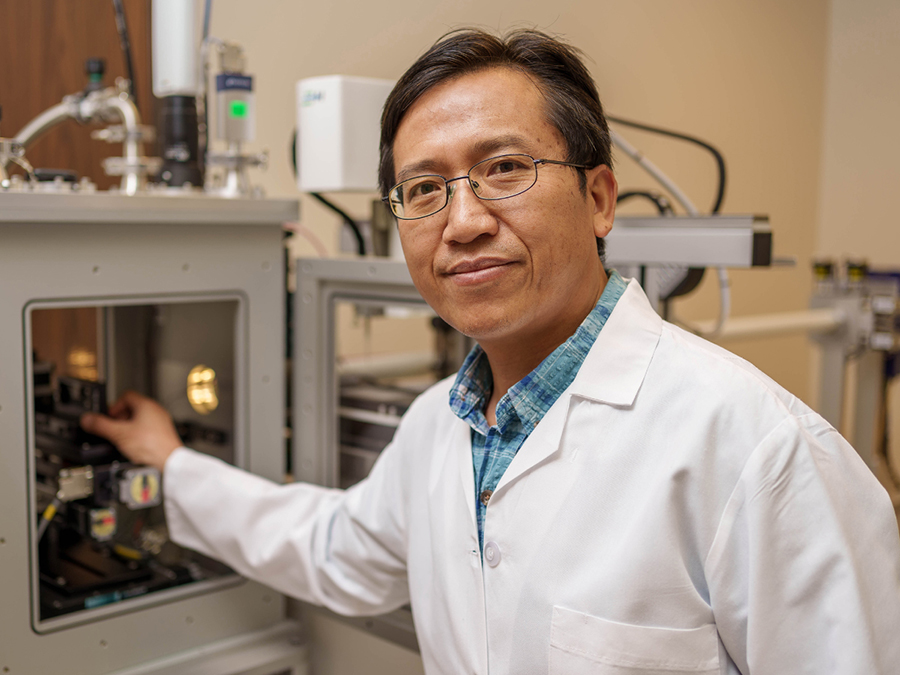 Liang, who received $200,000 to conduct a two-year pilot study ("Click" Assembled Colloidal Molecules with Tunable Plasmon Bands as Novel Agents for Photothermal Tumor Therapy"), will investigate photothermal tumor therapy (PTT), a relatively new treatment option viewed as a promising alternative to chemotherapy.
During PTT, benign, tissue-penetrating red and near infrared (NIR) light is absorbed by tumor-homing antennas and then converted into heat to kill cancer cells. Many antennae have been developed for PTT (organic dyes, polymers and inorganic nanoparticles), but gold nanorods (AuNRs) are considered one of the most promising candidates.
Currently, clinical translations of AuNRs have not been realized because the NIR light absorbed by AuNRs has a short wavelength range (~650-850 nanometers) and the penetration depth in human tissue typically ranges from ~0.2-4 mm. This penetration depth may be acceptable for subdermal carcinomas, but it falls short of reaching deep-seated tumors. If successful, Liang's study will break through the upper limits of AuNRs and open a new path to develop AuNR formulations for clinically viable PTT with minimal adverse effects.
Palle, who also received a $200,000 grant for a two-year pilot study ("The Role of Renal Lipotoxicity in Carcinogenesis"), will investigate clear cell renal cell carcinoma (ccRCC), the most common and deadliest subtype of kidney cancer. For reasons that are incompletely understood, people with obesity have a significantly higher risk of developing ccRCC. People with obesity accumulate excess fat in the kidney, and that excess fat in organs such as the liver and pancreas has been shown to contribute to cancer in those organs. However, the relationship between excess kidney fat and kidney cancer development has not been studied.
The accumulation of excess fat in cancer cells, a primary characteristic of ccRCC, has been thought to occur after cancer develops. With this project, Palle will test the novel, paradigm-shifting hypothesis that fat accumulation in the kidney occurring before cancer develops may cause damage in the kidney that leads to ccRCC. By testing this innovative hypothesis, Palle hopes to provide a better understanding of how kidney cancer develops and why people with obesity are more at risk.
The project could open new avenues for research into the biology and prevention of kidney cancer and ultimately lay the foundation for future novel strategies for preventing kidney cancer in people most at risk.
Kang, who serves as associate director for the School of Medicine Cancer Center, received a two-year, $901,225 grant ("Fluorescence-Activated Cell Sorting: FACSAria Fusion") to purchase an instrument known as a cell sorter.
All cancer patients are different, even those with the same type of cancer, and every tumor has many different types of cells. And because tumor cells that are resistant to chemotherapy may persist and make the cancer recur, it is important to separate the tumor cells by type to study what makes those cells resistant. That separation is possible using an instrument called a cell sorter.
Cell sorters collect and segregate particular cell types from a mixture of cells, allowing researchers to separate cells based on size, cellular characteristics and biological features. The School of Medicine Cancer Center has utilized a cell sorter for the last 15 years, but that instrument is no longer supported by the vendor.
Replacing the old cell sorter is crucial. Over the next five years, TTUHSC will receive approximately 1,200 samples obtained from neuroblastoma patients (a common and deadly childhood cancer) who are participating in a national phase III study. In addition, the university has numerous ongoing cancer research projects which are supported by the federal and state governments and currently utilize the sorter.
St. John, who also teaches in TTUHSC's public health degree program in Abilene, received a three-year, $997,266 grant ("ACTION for Big Country") to address the dearth of colorectal cancer (CRC) screening services available in the Big Country area around Abilene.
According to the Centers for Disease Control and Prevention, CRC is the third most deadly cancer affecting men and women in the U.S. and was responsible for 52,980 deaths in 2021. However, CRC is one of two cancers — the other being cervical cancer — that can be prevented through regular screening and by the removal of precancerous polyps during colonoscopy or flexible sigmoidoscopy screening.
Because the Big Country area around Abilene has low rates of CRC screening, St. John's grant will help to provide CRC education, fecal immunochemical test (FIT) screening and colonoscopy services to uninsured or underinsured people in Abilene and several surrounding counties.
C. Patrick Reynolds, M.D., Ph.D., director for the TTUHSC School of Medicine Cancer Center, said CPRIT plays a critical role in the Lone Star State's fight against cancer.
"CPRIT support of high-risk, high-impact grants, such as those to Drs. Palle and Liang, enable the collection of data that is critical for securing additional grant support to move new projects forward," Reynolds said. "The funding CPRIT provides for core instruments, such as the grant for a new cell sorter to Dr. Kang, supports large numbers of cancer research projects by many investigators and also will support a Children's Oncology Group national phase III clinical trial in neuroblastoma that is starting in 2024. In addition, funding CPRIT provides for cancer screening and prevention services, such as the ACTION for Big Country grant, are important to ensure these important health care services are available to all Texans."
Related Stories
Research
By Mark Hendricks
November 16, 2023
Ninh (Irene) La-Beck, Pharm.D., with the TTUHSC Jerry H. Hodge School of Pharmacy, received a five-year, $2.49 million grant to investigate how nanoparticles interact with the immune system and cancer.
Research
By Mark Hendricks
November 10, 2023
To help investigate the influence basal sex hormone alterations may have on chronic post-op pain, the NIH recently awarded a grant to Jenny Wilkerson, Ph.D., from the Jerry H. Hodge School of Pharmacy.
Research
By Mark Hendricks
October 27, 2023
Vaishnavi Chiddarwar, a Ph.D. student in the Rehabilitation Science program, and a research team from Australia published a collaborative study in the British Journal of Sports Medicine.
Recent Stories
Education
By Suzanna Cisneros
December 07, 2023
HACU announced Sonya Castro-Quirino, D.Bioethics, TTUHSC vice president of Office of Institutional Compliance, as one of the 50 fellows of HACU's Leadership Academy/La Academia de Liderazgo.
Campus Life
By Samantha White via TAFP news release
December 05, 2023
Ronald L. Cook, DO, MBA, of Lubbock, Texas, was named the 2023 Texas Family Physician of the Year during TAFP's Annual Session and Primary Care Summit in Grapevine on Nov. 11.
Research
By Mark Hendricks
November 16, 2023
Ninh (Irene) La-Beck, Pharm.D., with the TTUHSC Jerry H. Hodge School of Pharmacy, received a five-year, $2.49 million grant to investigate how nanoparticles interact with the immune system and cancer.