A Loss for Our TTUHSC Family
By President Lori Rice-Spearman, Ph.D.
May 27, 2023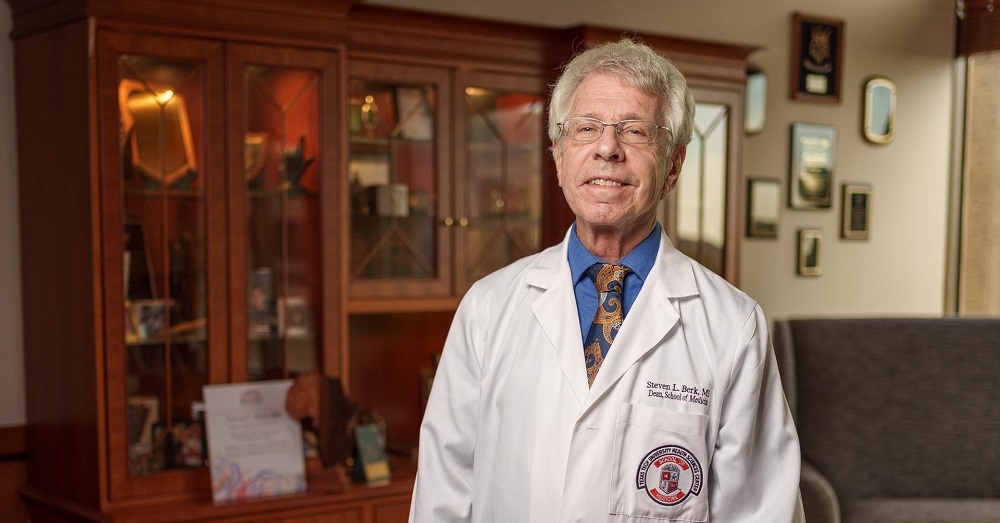 With great sadness, I inform you of the untimely passing of our School of Medicine Dean and Executive Vice President for Clinical Affairs, Steven L. Berk, M.D. I know the entire university community extends our sincerest condolences to his family, friends, colleagues, and all who knew him.
Over the last 17 years, Dr. Berk led our medical school as Dean and did so with unwavering commitment. He joined the faculty of the School of Medicine in 1999 and served as Regional Dean in Amarillo and professor of Medicine until 2006, when he was appointed Dean.
Dr. Berk served as Dean, Executive Vice President for Clinical Affairs, and was a Grover E. Murray Professor. Under his leadership, the School of Medicine grew and built strong relationships with our hospital partners. His approach to addressing the need for primary care physicians led to the creation of a unique Family Medicine Accelerated Track, the first program of its kind in the country. Dr. Berk demonstrated the importance of education, research, clinical care, and service to the community - all of which he did with integrity, compassion, and excellence.
Dr. Berk's distinguished career was marked by his commitment to students, advocacy for diversity in medicine, and drive to support rural health care needs. We were fortunate to have Dr. Berk as part of the TTUHSC family, and we are a better university because of his contributions and character.
As we grieve together, please know there are a variety of support services available to students and team members. I encourage you to use the resources provided by the university's Counseling Center. Please reach out via email at counselingcenter@ttuhsc.edu or by phone (806) 743.1327 or (800) 327.0328.
Please keep his wife, Shirley, and his sons, Jeremy and Justin, in your thoughts and prayers. As a university community, we plan to honor Dr. Berk and his contributions to the School of Medicine and the many students, faculty, and staff he impacted with his work. Additionally, we will communicate details about the leadership transition for the School of Medicine.
In the days ahead, may we find comfort from one another as we honor the memory and legacy of Dr. Steven Berk.
Related Stories
Education
By Suzanna Cisneros
September 13, 2023
TTUHSC President Lori. Rice-Spearman, Ph.D., announced the appointment of Deborah L. Birx, M.D., as the TTUHSC presidential advisor and adjunct professor in the Julia Jones Matthews School of Population and Public Health.
Education
By Melissa Whitfield
August 28, 2023
TTUHSC kicked off Middle School to Medical School (M2M), a program designed to inspire and support children interested in pursuing careers in medicine Monday, Aug. 28.
Education
By Melissa Whitfield
August 17, 2023
TTU System Board of Regents approved the appointment of Billy U. Philips, Ph.D., MPH, and Thomas J. Abbruscato, Ph.D.
Recent Stories
Research
By Mark Hendricks
September 21, 2023
The National Institutes of Health (NIH) recently awarded a two-year, $1.47 million grant to a new local research coalition led by Christine Garner, Ph.D., R.D., Julie St. John, Dr.P.H., and Stephanie Stroever, Ph.D., MPH.
Health
By Suzanna Cisneros
September 19, 2023
Natalie Scanlon, Ph.D., a clinical psychologist in the Department of Psychiatry at Texas Tech Physicians, provides tips for keeping children safe.
Research
By Mark Hendricks
September 13, 2023
In a list published by the National Academy of Inventors (NAI), the Texas Tech University System, including TTUHSC, ranked 75th among the Top 100 U.S. Universities Granted Utility Patents in 2022.