Pharmacy student benefits from national meeting experiences
Peia Lee with her poster at the ACCP annual meeting.
Peia Lee, a fourth-year student at the School of Pharmacy's Dallas/Fort Worth (DFW) campus, left her mark on the 2017 American College of Clinical Pharmacy (ACCP) Annual meeting Oct. 7-10 in Phoenix. In return, the meeting gave Lee important experiences for her future.
Lee's research poster titled, "Do the types and routes of proton pump inhibitors affect Clostrium difficile infections in ICU patients?" was selected as one of four finalists for best student poster. Though she didn't end up with the top spot in the competition, Lee said the experience was undeniably beneficial.
"I am truly honored to be nominated, but this could not have been accomplished if it weren't for the great support from my mentors, Drs. (Ron) Hall, (David) Fike, (Steven) Pass and (Carlos) Alvarez," Lee said. "I am extremely grateful for their time, patience and wisdom to guide me, a novice researcher, throughout this process to become both a poster and platform presenter. And even though all good things have to come to an end, our research doesn't end at this nomination. We are currently working on a manuscript about this research to share with many others."
Initially, the top poster nomination appeared to be the highlight of Lee's ACCP meeting experience. Then, on Oct. 19, she learned that a second research poster she presented with DFW Assistant Professor Ashley Higbea, Pharm.D., won second place in ACCP's Education and Training PRN poster session. That research is titled, "Student perceptions of an interprofessional student-run free clinic."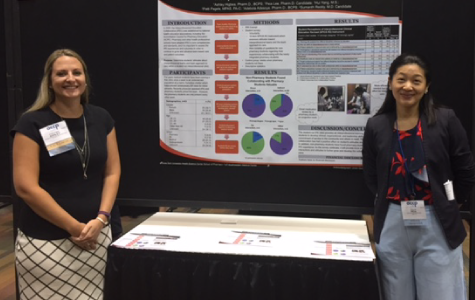 Ashley Higbea, Pharm.D., and Lee won second place in ACCP's Education and Training PRN poster session.
"The main purpose of the research was to determine student attitudes about interprofessional teams and the team approach to care within a student-run interprofessional clinic," Lee explained.
Lee's research began when she pioneered a student-run clinic for a men's shelter in Dallas. There, she saw TTUHSC pharmacy students collaborating with medical and physician assistant students from UT Southwestern medical school. Her research showed that those students found it positive to collaborate with each other, and that the interactions produced in all of the students a more positive attitude toward IPE and team-based care.
"The student-run IPE clinic provides great learning opportunity for students to develop clinical, organizational and leadership skills, while also instilling a lifelong commitment of service to the community and others in need," Lee said.
Though she is grateful and appreciative of the ACCP poster nominations, Lee said the research skills she developed working alongside her faculty mentors would ultimately prove more beneficial to her education and career goals.
"My future plan upon graduation is to pursue a residency, and these posters have helped me enhance my presentation skills at a national conference," Lee added. "I have reaped this valuable lifelong experience, which has helped me gain some of the requisite skills needed to be a successful resident and a future pharmacist."
Related Stories
By Mark Hendricks
March 25, 2022
The Texas Tech University Health Sciences Center (TTUHSC) Graduate School of Biomedical Sciences hosted its 34th Annual Student Research Week March 8-11.
By Mark Hendricks
March 25, 2022
The National Cancer Institute awarded a five-year, $1.9 million grant to C. Patrick Reynolds, M.D., Ph.D., director for the School of Medicine Cancer Center at TTUHSC.
By School of Health Professions
March 24, 2022
Richard Greenhill, DHA, FISQua, FACHE, discusses the hype and reality surrounding AI in healthcare.
Recent Stories
Health
By School of Health Professions
May 19, 2022
Dysphagia is a swallowing disorder that affects a person's ability to eat or drink, affecting between 300,000 and 700,000 people in the United States each year.
Health
By Suzanna Cisneros
May 18, 2022
Brittany Bankhead, M.D., an assistant professor of surgery for the Division of Trauma, Burns and Critical Care at the Texas Tech University Health Sciences Center, said life-threatening bleeding can happen in everyday scenarios.
Education
By Clarissa Sanchez
May 16, 2022
TTUHSC celebrated the completion of the School of Health Professions Physician Assistant Program expansion May 16 with a ceremonial ribbon cutting.