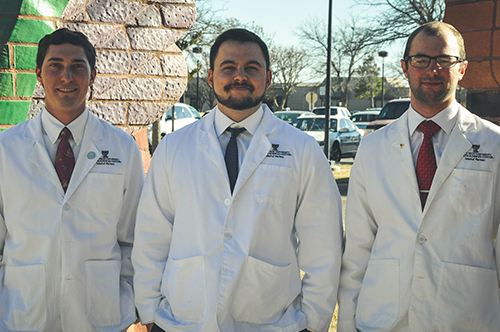 In January, second-year Amarillo pharmacy students Edward Bergman, Austin Crissman and Russell Neill were judged as the School of Pharmacy's top team in the local round of the American College of Clinical Pharmacy (ACCP) Clinical Research Challenge competition. The local competition included 11 three-member teams comprised of first- and second-year pharmacy students from the TTUHSC campuses in Amarillo and Abilene.
With their first-place finish, the team advanced to ACCP's Online Journal Club competition Feb. 6 and competed against other pharmacy school teams from across the country. They were competing for a top-40 finish that would propel them into the competition's second round, and in Mid-February they learned their efforts were successful.
By placing among the top 40 teams in the nation, the TTUHSC team advanced to the second round. For the second round, they prepared and submitted a letter of intent that was due by Feb. 24. The letter of intent focused on developing a more efficient transition of care model of a clinical institution. If they can advance to the final round of top 20 teams, Bergman said the full research proposals will be evaluated from April 17 – June 2 and winners will be announced June 5.
"The final round involves developing a research protocol based on our letter of intent," Bergman added.