Amarillo pharmacy team advances to national competition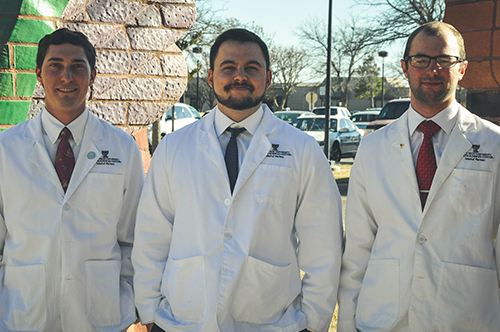 In January, second-year Amarillo pharmacy students Edward Bergman, Austin Crissman and Russell Neill were judged as the School of Pharmacy's top team in the local round of the American College of Clinical Pharmacy (ACCP) Clinical Research Challenge competition. The local competition included 11 three-member teams comprised of first- and second-year pharmacy students from the TTUHSC campuses in Amarillo and Abilene.
With their first-place finish, the team advanced to ACCP's Online Journal Club competition Feb. 6 and competed against other pharmacy school teams from across the country. They were competing for a top-40 finish that would propel them into the competition's second round, and in Mid-February they learned their efforts were successful.
By placing among the top 40 teams in the nation, the TTUHSC team advanced to the second round. For the second round, they prepared and submitted a letter of intent that was due by Feb. 24. The letter of intent focused on developing a more efficient transition of care model of a clinical institution. If they can advance to the final round of top 20 teams, Bergman said the full research proposals will be evaluated from April 17 – June 2 and winners will be announced June 5.
"The final round involves developing a research protocol based on our letter of intent," Bergman added.
Related Stories
By Lori Rice-Spearman, Ph.D., Steven L. Berk, M.D.
March 22, 2022
TTUHSC Celebration of Life Service was held March 25th in remembrance of Tom McGovern, Ed.D.
By Suzanna Cisneros
March 18, 2022
TTUHSC has been named as a Military Friendly® School for 2022-2023. Among graduate schools, TTUHSC ranked fourth in the nation, achieving Gold award status.
By Meaghan Collier
March 17, 2022
On March 16, fourth-year TTUHSC Jerry H. Hodge School of Pharmacy students interested in completing a residency after they graduate in May, learned where they would spend the next stage of their training during the Pharmacy Residency Match Day.
Recent Stories
Research
By Mark Hendricks
January 31, 2023
Gail Cornwall, Ph.D., professor in the Department of Cell Biology and Biochemistry at the TTUHSC, has been named a member of the American Association for the Advancement of Science Fellowship Class of 2022.
Research
By Mark Hendricks
January 27, 2023
To help address communication hurdles, the Patient-Centered Outcomes Research Institute (PCORI) has awarded a $438,756 subcontract to Tetyana L. Vasylyeva, M.D., Ph.D., from the TTUHSC School of Medicine.
Education
By Suzanna Cisneros
January 19, 2023
Texas Tech University Health Sciences Center Department of Surgery Chair Sharmila Dissanaike, M.D., was elected as the American Burn Association president for 2025.