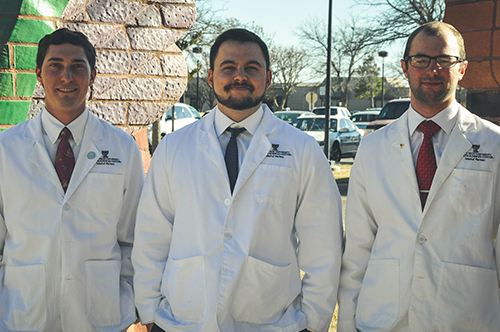 Second-year Amarillo pharmacy students Edward Bergman, Austin Crissman and Russell Neill teamed up Jan. 18 to win the local round of the American College of Clinical Pharmacy (ACCP) Clinical Research Challenge. The local competition included 11 three-member teams comprised of first- and second-year pharmacy students from the TTUHSC campuses in Amarillo and Abilene.
Ashley Higbea, an assistant professor for the School of Pharmacy in Dallas, said the novel competition is targeted toward pharmacy students in their first two years of their pharmacy degree program.
"This unique competition promotes critically evaluating and applying primary literature that is an essential skill for clinical pharmacists," Higbea added.
Their first-place finish means Bergman, Crissman and Neill will advance to ACCP's Online Journal Club competition Feb. 6 and compete against other pharmacy school teams from across the country. The top 40 teams from the online journal club round advance to the second round of ACCP's National Clinical Research Challenge. The top 20 teams second round teams will advance to the third and final round, where they will draft full research proposals. The full research proposals will be evaluated April 17-June 2 and winners will be announced June 5.