Amarillo researcher utilizing adult stem cells to find cures
Adult stem cell research on the TTUHSC campus in Amarillo received a boost with the September arrival of Hiranmoy Das, Ph.D.
Hiranmoy Das, Ph.D.
Das, a professor for the School of Pharmacy's Department of Biomedical Sciences, focuses his research on isolating and expanding a variety of human adult stem cells and using them for the treatment of various degenerative diseases in preclinical models like hind limb ischemia, myocardial ischemia, osteoporosis and wound healing.
"Stem cells have the potential to regenerate damaged or diseased cells and tissues and have potential to cure," Das continued.
Das also utilizes human immune cells—specifically, gamma delta T-cells in immunotherapy—for treating various cancers (breast, ovary and others) using preclinical models. In addition, he investigates the role of transcriptional factor KLF2 in regulating immune cells, specifically monocytes, in rheumatoid arthritis and inflammation.
Stem cells, Das explained, are cells in the body that have distinct characteristics of self-renewal, multi-potential differentiation capabilities and regeneration. Though there are three types of stem cells—embryonic, induced pluripotent (IPS) and adult—Das' lab uses adult stem cells exclusively.
"Embryonic stem cells have ethical issues, and on top of that, they form tumors, as do IPS cells," Das said. "However, adult stem cell research has no ethical issues and adult stem cells do not make tumors, so our laboratory focuses upon and works with adult stem cells only."
Sanjay Srivastava, Ph.D., associate dean for the Office of Sciences at the School of Pharmacy, said Das' stem cell research supports and complements research being conducted by other Amarillo science faculty, including Abraham Al-Ahmed, Ph.D.
"Adult stem cell research is an exciting area," Srivastava said. "There is a possibility that these cells can be used to treat damaged cells of the heart and cornea and also treat arthritis and the loss of bone density and mass."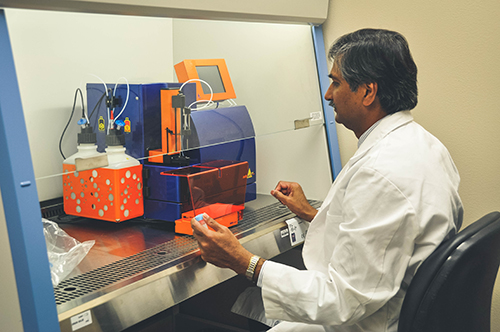 Das at work in the lab.
Das earned his Ph.D. from Calcutta University in West Bengal, India. He received his postdoctoral training from Hyogo Adult Medical Center in Hyogo, Japan, and from the Department of Internal Medicine at Boston's Brigham and Women's Hospital, a Harvard Medical School affiliate. Prior to his arrival at TTUHSC in Amarillo, Das served as an associate professor for the Department of Internal Medicine at The Ohio State University and as an assistant professor for Case Western Reserve University's Cardiovascular Research Institute in Cleveland.
Das, currently a National Institutes of Health (NIH) R01-funded investigator, has authored more than 45 articles for peer-reviewed research journals. He has also penned 10 book chapters and received two patents. He serves as a member of the editorial board for several peer-reviewed journals and serves on the grant review panels of various state, national and international funding agencies. He is currently working on research that uses three types of adult stem cells, including:
Hematopoietic CD34+ Stem Cells– "These adult stem cells are derived from human umbilical cord blood, bone marrow, and peripheral blood and are used clinically for treating blood disorders (leukemias) and bone-marrow related disorders," Das said. "They are difficult to expand without spontaneously differentiating into a variety of other cells. We have developed a method to expand them while preserving their stemness. Our expanded stem cells have been tested in a variety of pre-clinical models, including cardiovascular (new vessel growth to reverse myocardial ischemia and peripheral limb ischemia); wound healing (including in diabetic condition where it's a big problem); osteoporosis; and Parkinson's disease. We are continuing to investigate their applications and mechanisms
Corneal Endothelial Stem Cells: "We found the nursery for these cells and have been able to expand them into plentiful numbers," Das explained. "Furthermore, we just finished a feasibility study—a Phase I STTR from the NIH National Eye Institute—and showed recovery of corneal clarity after endothelial damage and degeneration in mice. The next phase of research will involve more elaborate models and hopefully, if those are successful, we will begin testing in humans. For this research, we have teamed with David McCartney, M.D., professor and chair for the Department of Ophthalmology at TTUHSC in Lubbock; Sloan Rush, M.D., a clinical assistant professor at TTUHSC and founder and partner of Rush Eye Associates in Amarillo and a partner with Amarillo's Panhandle Eye Group; and Dr. Thomas Mauger, M.D., professor and chair for the Department of Ophthalmology at The Ohio State University."
Dental Pulp Derived Stem Cells (DPSCs): "These are rudimentary adult stem cells, isolated from discarded wisdom teeth," Das said. "They can be expanded in great numbers over a long period of time and have properties similar to mesenchymal stem cells (MSCs). MSCs are normally isolated from bone marrow, umbilical cord blood, fat and other tissues, and are now used for multiple clinical therapies such as acute and chronic wound healing, cartilage repair and bone matrix (void filler) for bone repair and regeneration. DPSCs have the potential to be used in the same way, and because of their rudimentary nature, possibly in many other applications as well, such as for astronauts in microgravity to avoid bone loss. These cells can also be frozen in liquid nitrogen and banked for use later in life. In the future, we shall be investigating DPSCs for bone related diseases and their mechanisms."
Das said he and his collaborators are working on a pipeline of technologies that are at various stages of development.
"Our goal is to regenerate damaged or diseased tissues and cure patients," he stressed. "Stem cells have the potential to heal and regenerate tissues and they can also provide a platform for studying healing mechanisms that might lead to pharmaceutical applications. We are always looking for collaborators—both basic research and clinical—as well as donors to help us translate this technology from the bench to the bedside."
Related Stories
By Lori Rice-Spearman, Ph.D., Steven L. Berk, M.D.
March 22, 2022
TTUHSC Celebration of Life Service was held March 25th in remembrance of Tom McGovern, Ed.D.
By Suzanna Cisneros
March 18, 2022
TTUHSC has been named as a Military Friendly® School for 2022-2023. Among graduate schools, TTUHSC ranked fourth in the nation, achieving Gold award status.
By Meaghan Collier
March 17, 2022
On March 16, fourth-year TTUHSC Jerry H. Hodge School of Pharmacy students interested in completing a residency after they graduate in May, learned where they would spend the next stage of their training during the Pharmacy Residency Match Day.
Recent Stories
Research
By Mark Hendricks
January 31, 2023
Gail Cornwall, Ph.D., professor in the Department of Cell Biology and Biochemistry at the TTUHSC, has been named a member of the American Association for the Advancement of Science Fellowship Class of 2022.
Research
By Mark Hendricks
January 27, 2023
To help address communication hurdles, the Patient-Centered Outcomes Research Institute (PCORI) has awarded a $438,756 subcontract to Tetyana L. Vasylyeva, M.D., Ph.D., from the TTUHSC School of Medicine.
Education
By Suzanna Cisneros
January 19, 2023
Texas Tech University Health Sciences Center Department of Surgery Chair Sharmila Dissanaike, M.D., was elected as the American Burn Association president for 2025.