Smalligan's contributions recognized at farewell reception
The TTUHSC campus in Amarillo said good-bye to one of its most popular and well-respected faculty members at a reception held Jan. 4. Roger Smalligan, M.D., regional chair of Internal Medicine, has accepted the regional dean position at the University of Alabama at Birmingham's Huntsville, Alabama campus. Accepting this opportunity will allow Smalligan to be closer to family and to advance to the next level of his career.
"I have absolutely loved my time here at TTUHSC-Amarillo and I will miss the wonderful people, both at the university and within the community," Smalligan said. "It has truly been a privilege to work with everyone on the Amarillo campus and I will never forget my time at TTUHSC. God has blessed me with so many friends and fond memories and I couldn't ask for a better group of colleagues or better bosses in Dr. Jordan and Dr. Berk."
During his tenure in Amarillo, Smalligan was recipient of the prestigious Dean's Educational Innovation Award in 2011. His department won the Most Published Department in 2012, 2015 and 2016 and he was named the School of Medicine's Most Published Faculty Member in 2013. In addition, Smalligan's internal medicine trainees were recognized six times as the Department With Most Abstracts Presented. During his time at TTUHSC, he also served as the Potter and Randall County Public Health Authority.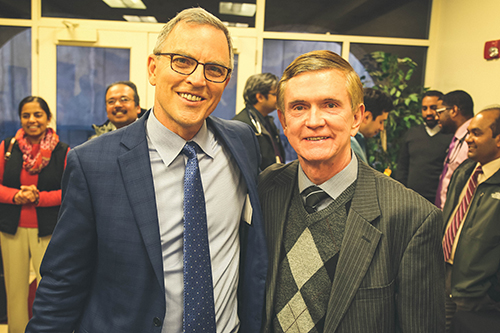 "Dr. Smalligan has had a wonderfully successful career at TTUHSC and in Amarillo," Jordan said. "The department under his leadership and following his example has thrived academically
and financially. He enjoys immense respect from fellow faculty, administrators, trainees and medical students and he made great contributions to Texas Tech during the seven years he worked here. We are immensely proud of his promotion to regional dean at an excellent university and we all wish him the very greatest success. He and his family will be dearly missed."
Related Stories
By Mark Hendricks
March 25, 2022
The Texas Tech University Health Sciences Center (TTUHSC) Graduate School of Biomedical Sciences hosted its 34th Annual Student Research Week March 8-11.
By Mark Hendricks
March 25, 2022
The National Cancer Institute awarded a five-year, $1.9 million grant to C. Patrick Reynolds, M.D., Ph.D., director for the School of Medicine Cancer Center at TTUHSC.
By School of Health Professions
March 24, 2022
Richard Greenhill, DHA, FISQua, FACHE, discusses the hype and reality surrounding AI in healthcare.
Recent Stories
Education
By School of Health Professions
June 30, 2022
Ericka Hendrix, PhD, MB(ASCP)cm, spoke about the training and education involved for diagnostic molecular scientists and how the pandemic has affected the role.
Education
By Suzanna Cisneros
June 29, 2022
TTUHSC and members of the Abilene community today (June 29) celebrated the official unveiling the new Julia Jones Matthews School of Population and Public Health.
Education
By Kate Gollahon
June 28, 2022
On June 29, the opening celebration event for the Julia Jones Matthews School of Population and Public Health will recognize many years of hard work and look ahead to the start of a new and exciting journey.