NWTHS honors TTUHSC pharmacy alum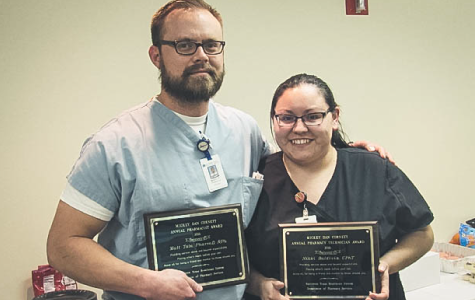 Tate with pharmacy technician Nikki Baldiva.
Matt Tate, Pharm.D., a School of Pharmacy graduate from the Amarillo campus, was recently selected as the 2016 Mickey Dan Cornett Pharmacist of the Year by the Department of Pharmacy at Northwest Texas Healthcare System (NWTHS).
According to a story from the NWTHS website, NWTHS annually recognizes one pharmacy technician and one pharmacist with a Mickey Dan Cornett award. Honorees are selected from nominations submitted by their peers. The award was created in memory of Mickey Dan Cornett, a long-term staff pharmacist for NWTHS who is fondly remembered for his contributions to the pharmacy department.
According to the NWTHS website story, the award tribute reads, "Mickey gave unconditionally to his family, friends, church and profession. May we strive to reach his high standards and follow his example of putting other's feelings and needs before our own."
Tate began his career at NWTHS in 2006 as a pharmacy technician. After graduating from the School of Pharmacy in 2013, he has worked as a pharmacist for NWTHS's Adult Critical Care Services.
Related Stories
By QEP Committee
March 21, 2023
As spring approaches, some people's thoughts turn to gardening. Whether it's a flower garden they desire or a vegetable garden want to have, they begin planning what they'll plant and what they need to do to ensure a successful garden.
By QEP Committee
March 21, 2023
A "growth mindset" accepts that our intelligence and talents can develop over time, and a person with that mindset understands that intelligence and talents can improve through effort and learning.
By Melissa Whitfield
February 13, 2023
Abstaining from drug abuse and an early diagnosis of familial hypercholesterolemia (high cholesterol) can help prevent heart disease.
Recent Stories
Health
By Suzanna Cisneros
September 19, 2023
Natalie Scanlon, Ph.D., a clinical psychologist in the Department of Psychiatry at Texas Tech Physicians, provides tips for keeping children safe.
Research
By Mark Hendricks
September 13, 2023
In a list published by the National Academy of Inventors (NAI), the Texas Tech University System, including TTUHSC, ranked 75th among the Top 100 U.S. Universities Granted Utility Patents in 2022.
Education
By Suzanna Cisneros
September 13, 2023
TTUHSC President Lori. Rice-Spearman, Ph.D., announced the appointment of Deborah L. Birx, M.D., as the TTUHSC presidential advisor and adjunct professor in the Julia Jones Matthews School of Population and Public Health.