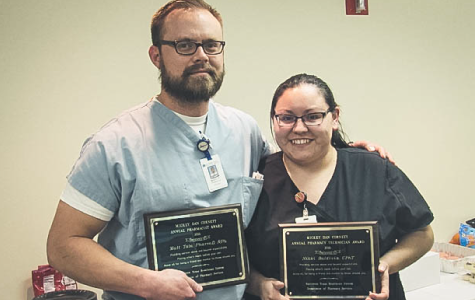 Tate with pharmacy technician Nikki Baldiva.
Matt Tate, Pharm.D., a School of Pharmacy graduate from the Amarillo campus, was recently selected as the 2016 Mickey Dan Cornett Pharmacist of the Year by the Department of Pharmacy at Northwest Texas Healthcare System (NWTHS).
According to a story from the NWTHS website, NWTHS annually recognizes one pharmacy technician and one pharmacist with a Mickey Dan Cornett award. Honorees are selected from nominations submitted by their peers. The award was created in memory of Mickey Dan Cornett, a long-term staff pharmacist for NWTHS who is fondly remembered for his contributions to the pharmacy department.
According to the NWTHS website story, the award tribute reads, "Mickey gave unconditionally to his family, friends, church and profession. May we strive to reach his high standards and follow his example of putting other's feelings and needs before our own."
Tate began his career at NWTHS in 2006 as a pharmacy technician. After graduating from the School of Pharmacy in 2013, he has worked as a pharmacist for NWTHS's Adult Critical Care Services.