NWTHS honors TTUHSC pharmacy alum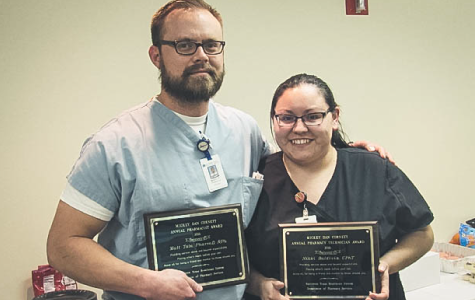 Tate with pharmacy technician Nikki Baldiva.
Matt Tate, Pharm.D., a School of Pharmacy graduate from the Amarillo campus, was recently selected as the 2016 Mickey Dan Cornett Pharmacist of the Year by the Department of Pharmacy at Northwest Texas Healthcare System (NWTHS).
According to a story from the NWTHS website, NWTHS annually recognizes one pharmacy technician and one pharmacist with a Mickey Dan Cornett award. Honorees are selected from nominations submitted by their peers. The award was created in memory of Mickey Dan Cornett, a long-term staff pharmacist for NWTHS who is fondly remembered for his contributions to the pharmacy department.
According to the NWTHS website story, the award tribute reads, "Mickey gave unconditionally to his family, friends, church and profession. May we strive to reach his high standards and follow his example of putting other's feelings and needs before our own."
Tate began his career at NWTHS in 2006 as a pharmacy technician. After graduating from the School of Pharmacy in 2013, he has worked as a pharmacist for NWTHS's Adult Critical Care Services.
Related Stories
By Mark Hendricks
March 25, 2022
The Texas Tech University Health Sciences Center (TTUHSC) Graduate School of Biomedical Sciences hosted its 34th Annual Student Research Week March 8-11.
By Mark Hendricks
March 25, 2022
The National Cancer Institute awarded a five-year, $1.9 million grant to C. Patrick Reynolds, M.D., Ph.D., director for the School of Medicine Cancer Center at TTUHSC.
By School of Health Professions
March 24, 2022
Richard Greenhill, DHA, FISQua, FACHE, discusses the hype and reality surrounding AI in healthcare.
Recent Stories
Education
By School of Health Professions
June 30, 2022
Ericka Hendrix, PhD, MB(ASCP)cm, spoke about the training and education involved for diagnostic molecular scientists and how the pandemic has affected the role.
Education
By Suzanna Cisneros
June 29, 2022
TTUHSC and members of the Abilene community today (June 29) celebrated the official unveiling the new Julia Jones Matthews School of Population and Public Health.
Education
By Kate Gollahon
June 28, 2022
On June 29, the opening celebration event for the Julia Jones Matthews School of Population and Public Health will recognize many years of hard work and look ahead to the start of a new and exciting journey.