Do a Double Take
TTUHSC students succeed in earning dual degrees
Today, becoming a health care professional requires being multidimensional and an intense dedication to serving others. A growing number of students are taking that dedication to another level by completing dual degrees.
A Legal Doctor
Marta Hoes (left)
Marta Hoes just returned from five weeks in South Africa serving on a medical rotation at a small hospital outside of Cape Town. Her hope was to gain insight into the health care system of a developing country. She left with that insight and much more.
"I got to spend time in a beautiful country and see things I would never see in the United States," Hoes said. "I learned about different policies, both failed and successful, to improve living conditions, observed first hand the effects of the political climate on health outcomes, and I had the opportunity to see how far the country has come in the fight against HIV and AIDS. The doctors I worked with were passionate, resourceful and committed to social justice. The whole experience was inspiring. Oh, and I got to go cage diving with great white sharks!"
Hoes excitement of learning more about her field is why she not only earned a medical degree but also completed her doctor of law degree. Hoes is the first student at the Texas Tech University System to complete the M.D./J.D. degree. Texas Tech University Health Sciences Center (TTUHSC) and Texas Tech University (TTU) are among a growing number of institutions that offer the opportunity to earn an M.D./J.D. degree. The Doctor of Jurisprudence/Doctor of Medicine Dual Degree Program's goal is to create an opportunity for students who want to combine these two courses of study in an integrated program.
Earning both degrees typically requires seven years of study. Yet, this joint program requires six years. Nationally, the TTUHSC School of Medicine and the TTU School of Law are the first to offer the program at one institution.
Read Hoes' full story here.
The Trifecta, A Dream Job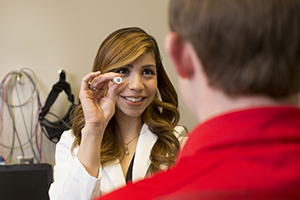 Amanda Rodriguez
Amanda Rodriguez vividly remembers treating her first cochlear implant patient. The 92 year-old patient was originally told that she was not a candidate for cochlear implants because of her age. When the switch was turned on to activate the implant, the woman was able to hear her husband for the first time in many years. The patient's husband asked, "does this mean we can pray together now?"
"To witness a person go from silence to detecting any sound is absolutely breathtaking," Rodriguez said. "I still get emotional thinking about it. We help provide access to sound for communication, and that is what drives me in this field."
Rodriguez completed a dual degree with a Doctor of Audiology while working simultaneously on a Doctorate of Philosophy. Early on, she felt in order to be a more well-rounded clinician, research was key.
"As a clinician, our role is to diagnose and treat hearing loss and vestibular disorders," Rodriguez said. "The Ph.D. or research is helpful to supplement a lot of the practices we do as clinicians and investigate ways to improve tools for clinicians."
Read Rodriguez's full story here.
A Business Sense for Pharmacy
Britni Montague
Britni Montague's family may describe her as an overachiever. In eight years, she has earned a bachelor's degree in engineering and now a dual degree with a master's in business and a doctorate degree in pharmacy.
"I am way more competitive than what is healthy," Montague laughed. "My family will attest that I hate to go bowling because I won't win, and it will upset me. When I was about five to eight years old, I made my little brothers play "school" with me, in which I always had to be the teacher. School is definitely not for everyone. But every person needs to find something they love and work hard at it."
As an undergraduate, Montague prepared to attend medical school. She knew she wanted to work in the health care field, but throughout her undergraduate studies, she learned more about other health care options and made the decision to become a pharmacist.
"Being a pharmacist is the perfect fit for me," Montague said. "I wanted a career, but I also wanted a personal life with a family. I wanted to work in a small town. I wanted to be an accessible health care provider. I can be all of those things as a pharmacist."
Read Montague's full story here.
Life-changing opportunities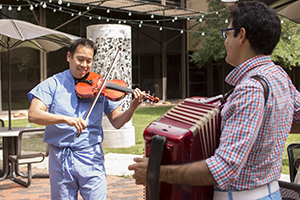 James C. Wang
As a high school student, James C. Wang attended the Texas Academy of Mathematics and Science (TAMS) at the University of North Texas, a unique residential program for high school students with a strong interest in math and science. During his high school years, he was exposed to scientific research early on and interned during his summers at Macrogenics, a startup biotechnology company. By the time he completed high school, Wang graduated with honors and 72 hours of college credit.
He attended the University of Rochester in upstate New York graduating with a major in biomedical engineering with distinction and minors in biology and chemical engineering in three years. During this time, he was a first violinist in both the University of Rochester Symphony and Chamber Orchestras while taking violin lessons at Eastman School of Music. Afterwards, Wang worked as a research engineer in Houston for four years at a company called Nanospectra Biosciences, Inc. The company developed a particle-based therapy for the selective and precise thermal destruction of solid tumors while minimizing damage to healthy adjacent tissue and preserving critical structures. Wang assisted in the development of these gold nanoparticles for the treatment of head and neck cancers and also was appointed as a visiting scientist at MD Anderson Cancer Center.
"From that experience, I participated in translational research which opened my eyes to pursue a career as a physician scientist," Wang said. "My goal and desire was to practice medicine, educate future generations of physicians, health professionals and scientists and to conduct research because that is how you advance medicine."
In 2008, Wang applied for and was accepted as one of two students to the M.D./Ph.D. program at TTUHSC. Early on, Wang made the decision to pursue a career in otolaryngology – head and neck surgery.
Read Wang's full story here.
Related Stories
By QEP Committee
March 21, 2023
As spring approaches, some people's thoughts turn to gardening. Whether it's a flower garden they desire or a vegetable garden want to have, they begin planning what they'll plant and what they need to do to ensure a successful garden.
By QEP Committee
March 21, 2023
A "growth mindset" accepts that our intelligence and talents can develop over time, and a person with that mindset understands that intelligence and talents can improve through effort and learning.
By Melissa Whitfield
February 13, 2023
Abstaining from drug abuse and an early diagnosis of familial hypercholesterolemia (high cholesterol) can help prevent heart disease.
Recent Stories
Education
By Suzanna Cisneros
March 24, 2023
Recognizing academic excellence, the honors are the most prestigious awards granted to faculty throughout the TTU System. The awards are funded by gifts to the Chancellor's Council, a giving society that supports the chancellor's priorities across the TTU System.
Campus Life
By Suzanna Cisneros
March 23, 2023
TTUHSC School of Medicine students will host a Women's Health Day free clinic from 10 a.m. to 1 p.m. April 15 at The Free Clinic
Research
By Mark Hendricks
March 21, 2023
TTUHSC Cytogenetic Technologist Jasbir Bisht and a team from P. Hemachandra Reddy's internal medicine laboratory analyzed the impact of cancer in Hispanics in comparison to other ethnic groups.