Do a Double Take — Marta Hoes
TTUHSC students succeed in earning dual degrees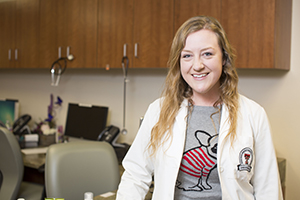 Marta Hoes
Today, becoming a health care professional requires being multidimensional and an intense dedication to serving others. A growing number of students are taking that dedication to another level by completing dual degrees.
Marta Hoes just returned from five weeks in South Africa serving on a medical rotation at a small hospital outside of Cape Town. Her hope was to gain insight into the health care system of a developing country. She left with that insight and much more.
"I got to spend time in a beautiful country and see things I would never see in the United States," Hoes said. "I learned about different policies, both failed and successful, to improve living conditions, observed first hand the effects of the political climate on health outcomes, and I had the opportunity to see how far the country has come in the fight against HIV and AIDS. The doctors I worked with were passionate, resourceful and committed to social justice. The whole experience was inspiring. Oh, and I got to go cage diving with great white sharks!"
Hoes excitement of learning more about her field is why she not only earned a medical degree but also completed her doctor of law degree. Hoes is the first student at the Texas Tech University System to complete the M.D./J.D. degree. Texas Tech University Health Sciences Center (TTUHSC) and Texas Tech University (TTU) are among a growing number of institutions that offer the opportunity to earn an M.D./J.D. degree. The Doctor of Jurisprudence/Doctor of Medicine Dual Degree Program's goal is to create an opportunity for students who want to combine these two courses of study in an integrated program.
Earning both degrees typically requires seven years of study. Yet, this joint program requires six years. Nationally, the TTUHSC School of Medicine and the TTU School of Law are the first to offer the program at one institution.
"I have wanted to be a doctor for as long as I can remember," Hoes said. "I love the idea of being able to help people in such a tangible way, and I really enjoy the intellectual and emotional challenges of medicine. During my undergraduate years at Texas Tech, I started to appreciate the way doctors serve as advocates, helping their patients and serving their communities on a larger scale. I knew I wanted to get involved in advocacy, but wasn't sure what form that would take. I found out Texas Tech was starting the M.D./J.D. program, and it seemed to be a perfect fit with my goals. I knew there was a lot of overlap between law and medicine, but I have been shocked at how many career options there are for people with training in both fields."
Originally, Hoes had planned to work in policy, but now she also is considering a career in forensics or juvenile correctional psychiatry.
"I really didn't know what to expect coming into the program, but I've been pleasantly surprised," Hoes said. "Six years seemed like a long time, but it flies by when you're staying busy. I had the privilege of being a part of two different communities. I've picked up a lot of great mentors along the way. I have no regrets about taking the extra time to study both disciplines. It was an incredible opportunity, and I'm thankful I got to be a part of it."
Hoes comes from a family of Red Raiders. Her parents met in a class at TTU Happy to carry on the tradition, she took full advantage of the benefits of a state university, while immersing herself into the smaller communities like the Honors College, as well as both graduate schools.
"Going to Texas Tech and TTUHSC allowed me the freedom and opportunities to find my own, nontraditional path into medicine," Hoes said. "I think this was the perfect place for me to explore my diverse interests while getting the mentorship I needed to prepare for a meaningful career."
For now, Hoes matched to complete her residency at Mount Sinai Hospital in New York City. True to form, she will be part of a combined residency program in pediatrics, psychiatry and child psychiatry.
"This field is a perfect fit for my interests in advocacy, working with the underserved and the social aspects of medicine," Hoes said. "Working with children and adolescents is such a joy for me. I especially enjoy working with teenagers and having the chance to intervene at a very critical point in their lives. The combined program allows me to explore the interplay between medical and psychiatric conditions and puts me in an ideal role to serve as an advocate."
Related Stories
By QEP Committee
March 21, 2023
As spring approaches, some people's thoughts turn to gardening. Whether it's a flower garden they desire or a vegetable garden want to have, they begin planning what they'll plant and what they need to do to ensure a successful garden.
By QEP Committee
March 21, 2023
A "growth mindset" accepts that our intelligence and talents can develop over time, and a person with that mindset understands that intelligence and talents can improve through effort and learning.
By Melissa Whitfield
February 13, 2023
Abstaining from drug abuse and an early diagnosis of familial hypercholesterolemia (high cholesterol) can help prevent heart disease.
Recent Stories
Research
By Mark Hendricks
November 16, 2023
Ninh (Irene) La-Beck, Pharm.D., with the TTUHSC Jerry H. Hodge School of Pharmacy, received a five-year, $2.49 million grant to investigate how nanoparticles interact with the immune system and cancer.
Research
By Mark Hendricks
November 10, 2023
To help investigate the influence basal sex hormone alterations may have on chronic post-op pain, the NIH recently awarded a grant to Jenny Wilkerson, Ph.D., from the Jerry H. Hodge School of Pharmacy.
Health
By Tyler White
November 09, 2023
Scott Shurmur, M.D., a cardiologist at the Texas Tech Physicians Center for Cardiovascular Health, shared his expertise and his experience as a former collegiate athlete.