12 Days of Merry Movie Mishaps
Have you ever watched A Christmas Story and pondered if you can really get your tongue stuck to a frozen pole? Or how about how a mishap such as this might get treated? Many holiday movies feature similar situations where an injury occurs that our doctors at Texas Tech Physicians actually see and treat regularly each holiday season.
Over the next couple of weeks leading up to Christmas, Steven Brooks, M.D., a surgeon at Texas Tech Physicians and an assistant professor of surgery and assistant trauma medical director at Texas Tech University Health Sciences Center, will take a look at scenes from some of your favorite holiday movies and offer advice on avoiding many of the same pitfalls these characters face.
Day 1: It's A Wonderful Life - Your body's response to hypothermia
Day 2: Rudolph the Red-Nosed Reindeer - Cold weather and red noses
Day 3: Home Alone - Treating burns
Day 4: Elf - Digesting belches
Day 5: A Charlie Brown Christmas - Tree Safety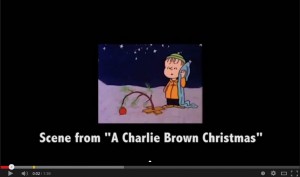 Day 6: National Lampoon's Christmas Vacation - Electrical injuries
Day 7: Fred Claus - Over-eating
Day 8: Bad Santa - Over-drinking
Day 9: How The Grinch Stole Christmas - Stressful holidays
Day 10: Scrooged - Seasonal disorder
Day 11: A Christmas Story - "You'll shoot your eye out"
Day 12: A Christmas Story - Your tongue and frozen poles
We hope you have enjoyed the 12 Days of Merry Movie Mishaps! Merry Christmas from TTUHSC!
Related Stories
By QEP Committee
March 21, 2023
As spring approaches, some people's thoughts turn to gardening. Whether it's a flower garden they desire or a vegetable garden want to have, they begin planning what they'll plant and what they need to do to ensure a successful garden.
By QEP Committee
March 21, 2023
A "growth mindset" accepts that our intelligence and talents can develop over time, and a person with that mindset understands that intelligence and talents can improve through effort and learning.
By Melissa Whitfield
February 13, 2023
Abstaining from drug abuse and an early diagnosis of familial hypercholesterolemia (high cholesterol) can help prevent heart disease.
Recent Stories
Research
By Mark Hendricks
November 16, 2023
Ninh (Irene) La-Beck, Pharm.D., with the TTUHSC Jerry H. Hodge School of Pharmacy, received a five-year, $2.49 million grant to investigate how nanoparticles interact with the immune system and cancer.
Research
By Mark Hendricks
November 10, 2023
To help investigate the influence basal sex hormone alterations may have on chronic post-op pain, the NIH recently awarded a grant to Jenny Wilkerson, Ph.D., from the Jerry H. Hodge School of Pharmacy.
Health
By Tyler White
November 09, 2023
Scott Shurmur, M.D., a cardiologist at the Texas Tech Physicians Center for Cardiovascular Health, shared his expertise and his experience as a former collegiate athlete.