Have you ever watched A Christmas Story and pondered if you can really get your tongue stuck to a frozen pole? Or how about how a mishap such as this might get treated? Many holiday movies feature similar situations where an injury occurs that our doctors at Texas Tech Physicians actually see and treat regularly each holiday season.
Over the next couple of weeks leading up to Christmas, Steven Brooks, M.D., a surgeon at Texas Tech Physicians and an assistant professor of surgery and assistant trauma medical director at Texas Tech University Health Sciences Center, will take a look at scenes from some of your favorite holiday movies and offer advice on avoiding many of the same pitfalls these characters face.
Day 1: It's A Wonderful Life - Your body's response to hypothermia
Day 2: Rudolph the Red-Nosed Reindeer - Cold weather and red noses
Day 3: Home Alone - Treating burns
Day 4: Elf - Digesting belches
Day 5: A Charlie Brown Christmas - Tree Safety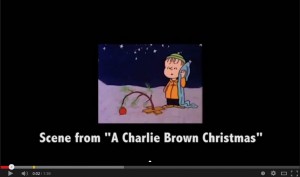 Day 6: National Lampoon's Christmas Vacation - Electrical injuries
Day 7: Fred Claus - Over-eating
Day 8: Bad Santa - Over-drinking
Day 9: How The Grinch Stole Christmas - Stressful holidays
Day 10: Scrooged - Seasonal disorder
Day 11: A Christmas Story - "You'll shoot your eye out"
Day 12: A Christmas Story - Your tongue and frozen poles
We hope you have enjoyed the 12 Days of Merry Movie Mishaps! Merry Christmas from TTUHSC!