12 Days of Merry Movie Mishaps
Have you ever watched A Christmas Story and pondered if you can really get your tongue stuck to a frozen pole? Or how about how a mishap such as this might get treated? Many holiday movies feature similar situations where an injury occurs that our doctors at Texas Tech Physicians actually see and treat regularly each holiday season.
Over the next couple of weeks leading up to Christmas, Steven Brooks, M.D., a surgeon at Texas Tech Physicians and an assistant professor of surgery and assistant trauma medical director at Texas Tech University Health Sciences Center, will take a look at scenes from some of your favorite holiday movies and offer advice on avoiding many of the same pitfalls these characters face.
Day 1: It's A Wonderful Life - Your body's response to hypothermia
Day 2: Rudolph the Red-Nosed Reindeer - Cold weather and red noses
Day 3: Home Alone - Treating burns
Day 4: Elf - Digesting belches
Day 5: A Charlie Brown Christmas - Tree Safety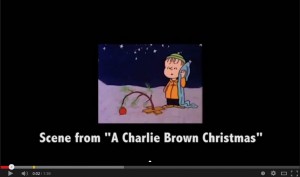 Day 6: National Lampoon's Christmas Vacation - Electrical injuries
Day 7: Fred Claus - Over-eating
Day 8: Bad Santa - Over-drinking
Day 9: How The Grinch Stole Christmas - Stressful holidays
Day 10: Scrooged - Seasonal disorder
Day 11: A Christmas Story - "You'll shoot your eye out"
Day 12: A Christmas Story - Your tongue and frozen poles
We hope you have enjoyed the 12 Days of Merry Movie Mishaps! Merry Christmas from TTUHSC!
Related Stories
By Lori Rice-Spearman, Ph.D., Steven L. Berk, M.D.
March 22, 2022
TTUHSC Celebration of Life Service was held March 25th in remembrance of Tom McGovern, Ed.D.
By Suzanna Cisneros
March 18, 2022
TTUHSC has been named as a Military Friendly® School for 2022-2023. Among graduate schools, TTUHSC ranked fourth in the nation, achieving Gold award status.
By Meaghan Collier
March 17, 2022
On March 16, fourth-year TTUHSC Jerry H. Hodge School of Pharmacy students interested in completing a residency after they graduate in May, learned where they would spend the next stage of their training during the Pharmacy Residency Match Day.
Recent Stories
Health
By Mark Hendricks
September 29, 2022
CPRIT recently awarded a $1 million prevention grant to Rakhshanda Rahman, M.D., Rebeccah Baucom, M.D., and John Kidwell, M.D., from the TTUHSC School of Medicine.
Research
By Kathryn Dankesreiter (TTU)
September 26, 2022
The Innovation Hub at Research Park today (September 26, 2022) announced the winners of its annual Presidents' Innovative Startup Awards. The award recognizes startups that have a high potential for growth and an economic impact in West Texas.
Education
By Suzanna Cisneros
September 23, 2022
Fifth graders from Bean Elementary School became doctors for a day. The Texas Tech University Health Sciences Center (TTUHSC) Student National Medical Association (SNMA) hosted the Doctors for a Day Minicamp on Sept. 23.