Giving Back: Compassion and Drive Leads to Medical School
First-year medical student Bokenkamp has traveled to Africa several times to help children.
Lady Raider Becomes a Medical Student
In the small village of Bukaleba, Uganda, Mary Bokenkamp helped serve the children of the Arise Africa International school system, as well as others living in orphanages. Traveling in both 2013 and 2014 to the remote bush of Africa, Bokenkamp, who was the
Lady Raider basketball
captain, worked through Fellowship of Christian Athletes (FCA).
"The locals live in huts in areas with dirt roads," Bokenkamp said. "Life is not easy for those who live there. It was great that each time we went to Bukaleba, we had the opportunity to build a relationship with the same kids. We got to know them, their dreams and their aspirations."
FCA Uganda mission trips focus on bringing sports to those in the area. Bokenkamp and others shared their testimonies and played volleyball, basketball, soccer and kickball with the children.
"Working in Uganda, I definitely underwent life changing experiences," Bokenkamp said. "People in Uganda normally are strong and do not show emotion. Crying is not something you do. On our last day, it is tradition to send guests off with a gift. But they have almost nothing material to give. So as their ceremonial gift the children arm-in-arm sang us a song. As they sang, they stood there with tears and great emotion for sharing our time there."
Bokenkamp is now beginning her first year as a medical student and is an Ensign, a junior rank commissioned officer in the United States Navy, working through the Health Professions Scholarship Program. She said even as a Lady Raider she focused more on academics than sports. Calling herself a nerd, she was drawn to science, but didn't know it would lead her to become a doctor.
"I wasn't that person who knew right away," Bokenkamp said. " I had to re-focus and pray about my new path. Playing basketball taught me teamwork, time management, balance and self-discipline – all which will help me with being a doctor and a naval officer. I bleed red and black and wanted to stay at Texas Tech. God works things out. I am so blessed."

Following Other Physician's Footsteps
Jesse Worsham's grandfather, Jim Malone, was a physician and often treated patients in rural areas who lacked many resources.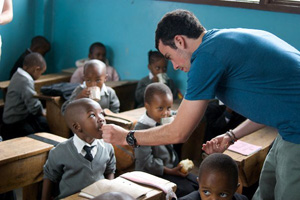 Worsham said his passion for medicine came from his grandfather and other influential physicians in his life.
"My grandfather used to use his car as an ambulance to take patients to the hospital," Worsham said. "He was the only doctor for his county and many times he would not get paid for his treatment and if he did, he may get a goose or food for payment. I look up to him a lot. He has taught me that it's important as a physician to give back. It's about treating people, not about profit."
Worsham's love for medicine and helping others also was influenced by another physician, Dr. Todd Price from Houston Memorial Hermann. Price runs International Medical Outreach with a patient clinic in Tanzania. Worsham traveled to work in the clinic.
"In Tanzania shoes are rare and most people are not educated on the importance of washing their hands," Worsham said. "We saw a lot of people with worms."
He accompanied Price when he went to Egypt at the request of Apache Oil. The company has set up a girls' school in Faiyum, a city southwest of Cairo, Egypt.
"They set up clinics for us to treat the girls for health issues," Worsham said. "We went to three or four girls' schools and treated many for lice and worms. Many of them had never seen a doctor."
Worsham also made a trip to Uganda. That visit included assessing the current hospital there.
"We would come in and assess their current set up and see how we could help them be more self reliant," Worsham said. "The hospitals are divided into levels based on functionality. Level one may be a facility who has very little medicine; levels 2 and 3 are generally a few huts with cots and medications as well as physicians who can help diagnose people; at the highest level, level 4, the facility may have an X-ray machine but generally they only have power one day a week and it is a very old machine. They had a TB ward there. It's definitely a very different kind of medicine.
"Those experiences make me want to better care for a patient. They do the best with what they have. Even with the little they had, it was impressive to see how dedicated they are to their patients."
Worsham is excited to be at the School of Medicine.
"Science fascinates me," Worsham said. "I'm excited to have professors who love what they are doing. Their goal is not to weed out students, but to make everyone a strong doctor at the end of the day."

Ball Player and Cancer Awareness Advocate
Alyssa Lemos, played college softball at West Texas AM. Her experience as a ball player taught her discipline, time management, relationship building and how to utilize every aspect given to you. But it was a personal experience at 15 years old that taught her lessons that will stay with her for a lifetime.
Lemos is considering specializing in obstetrics or surgery because of her mother's battle with ovarian cancer.
Lemos' mother Roni was diagnosed with Stage 3 ovarian cancer.
"Watching doctors and health care professionals take care of my mom, created interest in medicine for me," Lemos said. "I saw the doctors focus on my mom's care and also saw all of them work as a team to help treat her.
"The way they focused on our family impacted me. They treated her, but also were very respectful of our family and what we were going through."
Lemos said ovarian cancer is a silent killer. Symptoms are vague. Women should educate themselves about the disease and how to be their own health advocate. As a ballplayer, Lemos organized tournaments to bring awareness to the disease raising more than $25,000 for ovarian cancer education.
"We need every avenue to help women recognize symptoms early on," Lemos said. "The great thing is that these tournaments still continue today. So it's great to know they will continue to raise money and awareness."
Lemos has interest in obstetrics or surgery, but will see where her path takes her.
"My experience with my mom's battle with cancer will make me a better doctor," Lemos said. "Focus on the patient's needs and the family and pay attention to details about the patient's care. I want to give back. I lost my mom and learned from the experience and pain and toll it took. I don't want it to happen to others – hopefully I can help save them from a lifetime of pain."

White Coat Ceremony
Bokenkamp, Lemos and Worsham are three of the 183 first-year medical students who recently received their white coats at the School of Medicine White Coat Ceremony. Steven L. Berk, M.D., executive vice president, provost and School of Medicine dean, said this new class is exceptional with the average MCAT score of incoming students above the national average.
Receiving a white coat is the first right of passage for some medical students.
This year's class average MCAT score was 31.5, and grade point average is 3.6. Students came from 56 different schools across the country including 37 from
Texas Tech
, 22 from University of Texas, 12 from Texas AM, with others including universities like Johns Hopkins, Cornell University and Harvard University.
Berk said 35 of the first-year students have done mission work and others community outreach and work that impacts the lives of countless people.
"Today with our medical students, we work to give them the best medical school experience and train some of the most well educated and trained physicians," Berk said. "These students give back to their communities and other communities around the world for that matter. They truly want to make a difference. That compassion they have for others is the attribute that will make them the best kind of physician."

Image Gallery
Related Stories
By QEP Committee
March 21, 2023
As spring approaches, some people's thoughts turn to gardening. Whether it's a flower garden they desire or a vegetable garden want to have, they begin planning what they'll plant and what they need to do to ensure a successful garden.
By QEP Committee
March 21, 2023
A "growth mindset" accepts that our intelligence and talents can develop over time, and a person with that mindset understands that intelligence and talents can improve through effort and learning.
By Melissa Whitfield
February 13, 2023
Abstaining from drug abuse and an early diagnosis of familial hypercholesterolemia (high cholesterol) can help prevent heart disease.
Recent Stories
Education
By Suzanna Cisneros
December 07, 2023
HACU announced Sonya Castro-Quirino, D.Bioethics, TTUHSC vice president of Office of Institutional Compliance, as one of the 50 fellows of HACU's Leadership Academy/La Academia de Liderazgo.
Campus Life
By Samantha White via TAFP news release
December 05, 2023
Ronald L. Cook, DO, MBA, of Lubbock, Texas, was named the 2023 Texas Family Physician of the Year during TAFP's Annual Session and Primary Care Summit in Grapevine on Nov. 11.
Research
By Mark Hendricks
November 16, 2023
Ninh (Irene) La-Beck, Pharm.D., with the TTUHSC Jerry H. Hodge School of Pharmacy, received a five-year, $2.49 million grant to investigate how nanoparticles interact with the immune system and cancer.