TTUHSC Honors School of Nursing Faculty and Staff
By Kate Gollahon
May 30, 2023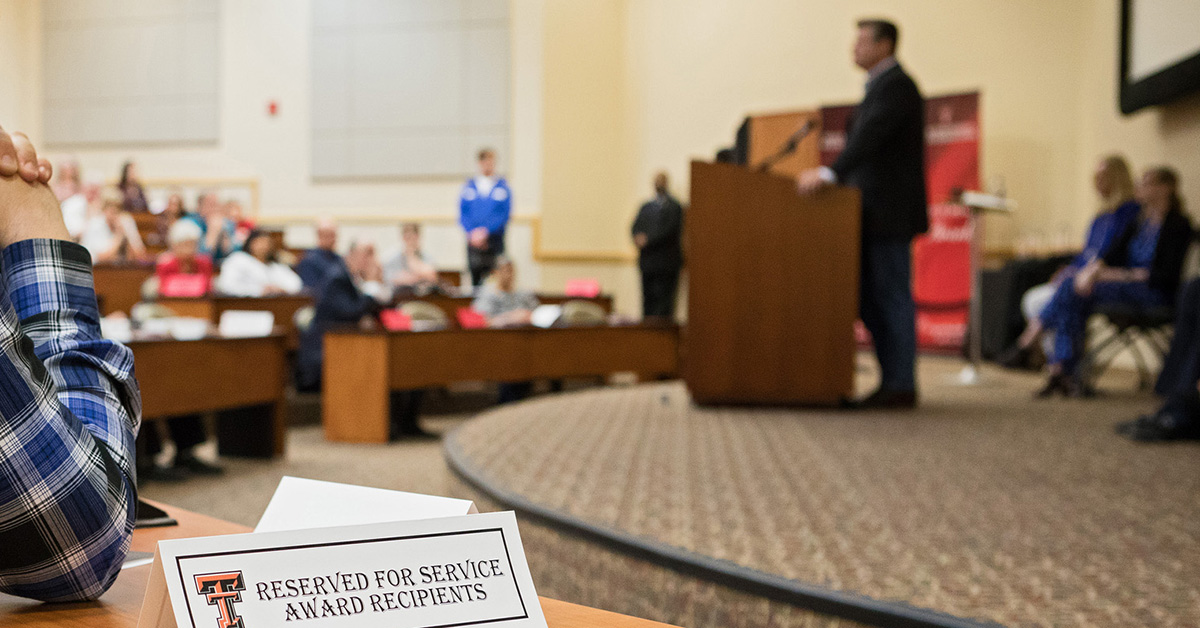 Several Texas Tech University Health Sciences Center (TTUHSC) School of Nursing faculty and staff were awarded this year for their unparalleled contributions to medical education and patient care. Staff and faculty members were presented with many prestigious awards, which were announced at an organizational meeting for the School of Nursing.
Health care workers are invaluable to communities locally and across the globe. As a cutting edge university, TTUHSC is proud of our faculty and staff within the school of nursing for their team efforts and innovative ideas.
Find this year's awards recipients below:
STAFF AWARDS
Creative Innovator-Emmanuel Sanchez
Customer Service-Paige Abney
Leadership-Amanda Jensen
Our Values-Priscilla Card
FACULTY AWARDS
DAISY Award-Sandy Nease
Exceptional Teaching (Non-traditional)-Pat Francis Johnson
Exceptional Teaching (Traditional)-Erin Gibson
Team Teaching-Alyce Ashcraft, Carol Boswell, Jen Collins, Chris Esperat, Donna Owen
Novice Faculty-Courtney Chovanetz
Novice Investigator-Jenna Kesey
Research Achievement-Alyce Ashcraft
Community Engagement-Hollis Franco
Exceptional Mentoring-Becky Geist (Remote), Irene Salinas (Lubbock), Donna Paris (Abilene), Lea Keesee (Odessa)
Related Stories
Education
By Suzanna Cisneros
September 13, 2023
TTUHSC President Lori. Rice-Spearman, Ph.D., announced the appointment of Deborah L. Birx, M.D., as the TTUHSC presidential advisor and adjunct professor in the Julia Jones Matthews School of Population and Public Health.
Education
By Melissa Whitfield
August 28, 2023
TTUHSC kicked off Middle School to Medical School (M2M), a program designed to inspire and support children interested in pursuing careers in medicine Monday, Aug. 28.
Education
By Melissa Whitfield
August 17, 2023
TTU System Board of Regents approved the appointment of Billy U. Philips, Ph.D., MPH, and Thomas J. Abbruscato, Ph.D.
Recent Stories
Research
By Mark Hendricks
September 21, 2023
The National Institutes of Health (NIH) recently awarded a two-year, $1.47 million grant to a new local research coalition led by Christine Garner, Ph.D., R.D., Julie St. John, Dr.P.H., and Stephanie Stroever, Ph.D., MPH.
Health
By Suzanna Cisneros
September 19, 2023
Natalie Scanlon, Ph.D., a clinical psychologist in the Department of Psychiatry at Texas Tech Physicians, provides tips for keeping children safe.
Research
By Mark Hendricks
September 13, 2023
In a list published by the National Academy of Inventors (NAI), the Texas Tech University System, including TTUHSC, ranked 75th among the Top 100 U.S. Universities Granted Utility Patents in 2022.