Examining the Current State of the Opioid Crisis
We discuss the problem of pain and the Fentanyl epidemic.
By School of Health Professions
May 17, 2023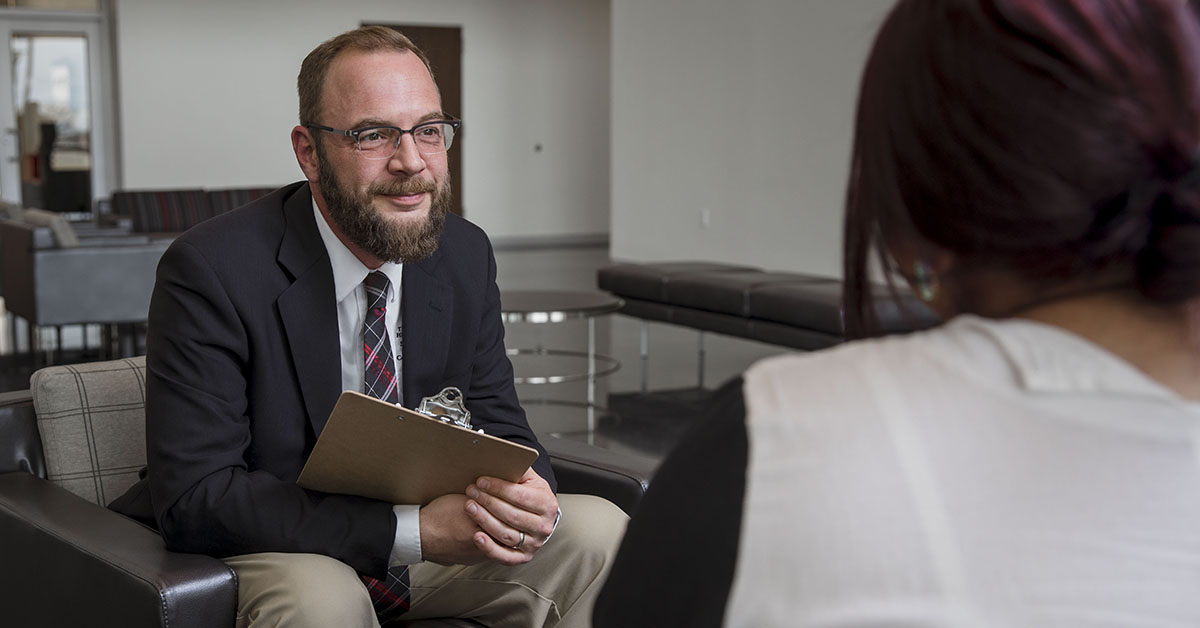 The opioid crisis is a widespread and complex problem that has ravaged communities across the United States and beyond for more than two decades. According to the CDC, overdose deaths involving opioids, including prescription medications, heroin and synthetic forms like fentanyl, have increased by more than eight times since 1999.
Despite a growing awareness of the crisis and the implementation of various strategies to combat it, the problem persists, and the toll it takes on individuals, families and society as a whole continues to mount.
We sat down with Zach Sneed, PhD, to discuss the drivers behind the crisis, as well as the latest developments, trends and challenges in the ongoing fight against opioid addiction. Sneed is an Assistant Professor and Director of the Master of Science in Addiction Counseling program in the TTUHSC School of Health Professions.
What Caused the Opioid Crisis?
While it's easy to place sole blame of the crisis at the feet of pharmaceutical companies and prescribers, Sneed points out that it's the result of a confluence of factors. It's also not the first time in our history that we've seen a crisis at the hands of opioids. The Bayer Company began production of heroin for commercial use in 1898.
"This is a centuries-old problem that really took off around the Vietnam War, then disappeared for a little bit, and came back in the 90s. Now it's back again," Sneed says. "With opioids, we ebb and flow. That's just the way it works."
So what were the drivers of our modern opioid crisis?
Misinformation: A Key Factor in the Opioid Crisis
In 1980, a letter was printed by the New England Journal of Medicine contesting the predominant view that using opioids for chronic pain came with risks. This letter wasn't peer-reviewed and was used by prescribers and pharmaceutical companies to justify the use of opioids for chronic pain.
"Some scholars in this arena point to that. It was a pseudo-scientific source, meaning that it didn't go through standard peer review," Sneed explains. "It was essentially an opinion piece that said 'you can prescribe this drug in this way, and it does not produce addiction.'"
Sneed acknowledges there's not widespread agreement among scholars and researchers, while some believe that this publication sparked the shift in opioid use.
The Problem of Pain: The Fifth Vital Sign
"At the same time, there was a concept of pain becoming a key factor that physicians should pay attention to," Sneed continues. "So, essentially, a modern vital sign, if you will."
The four vital signs include body temperature, pulse rate, respiration rate and blood pressure. Some researchers in the field argued that pain was important enough to be measured with equal priority, much like a fever.
"If a person is in pain, they deserve to be treated for it," Sneed says. "I think that makes a lot of sense to most folks."
The Failure of Drug Prohibition
Simultaneously, as powerful pain medications were being viewed as less risky than before, heroin and other drugs began to flood in.
"International cartels and traffickers figured out new and innovative ways to get their product into the country," Sneed says.
This confluence of events created a perfect storm for America's current opioid epidemic. As people became addicted to opioids and were unable to get their medications due to cost or availability, they sought relief elsewhere. Substances like heroin were readily available and often more affordable.
Fentanyl: The Current Crisis
"The primary driver that most people consider an important piece of the current opioid crisis is fentanyl," Sneed says. "It's much more potent than opium or heroin, and it has a shorter half-life, which means that the body eliminates it rapidly, leading to a physiological craving."
Fentanyl is an easily-reproducible synthetic opioid that was first developed in the 1950s as a powerful painkiller. It was initially used in medical settings to treat severe pain, such as for cancer patients or those undergoing surgery. However, its potency and potential for abuse quickly became apparent, and fentanyl has now become a major contributor to the opioid epidemic in the United States and other countries.
Fentanyl is being used by illicit drug manufacturers to stretch their supply of substances like heroin and methamphetamine, while also creating a stronger dependence for the user.
"Ten years ago, most overdose deaths involved a combination of heroin and fentanyl. Last year, most deaths involving fentanyl were in combination with something else. Fentanyl is added to everything now, every single illicit substance," Sneed says.
This is causing a higher number of overdoses and deaths, as people are not aware that what they've purchased contains fentanyl. Deaths due to fentanyl-laced cocaine and methamphetamine are at an all-time high.
"They think they're using something else, and 30 minutes later, when the fentanyl wears off, they need more," Sneed says. "From the business perspective of the illicit manufacturers and sellers, it's a way to keep hold over people."
For all the same reasons (low cost and easy reproduction), fentanyl is also finding its way into counterfeit prescription drugs that are made to look authentic, like Xanax. So a person who is in need of a medication that they can't afford may turn to an illicit market to find that they are buying a counterfeit product that contains fentanyl.
Relaxing Restrictions on Opioid Antagonist Medications
In recent years, there has been a relaxation of regulations surrounding opioid antagonist medications, which are drugs that can reverse the effects of an opioid overdose.
"Previously, prescribers had to go through some really sophisticated training that took a great deal of time for medicines that are relatively safe," Sneed says.
One example is naloxone, which has been made more widely available through programs that distribute it to individuals at risk of overdose, such as drug users and their loved ones. In addition, many states have passed laws allowing pharmacists to dispense naloxone without a prescription, and some have made it available over the counter.
Another example is the approval of a nasal spray form of naloxone, which can be administered more easily by non-medical personnel. These changes in regulations have helped to increase access to lifesaving opioid antagonist medications and are an important part of efforts to combat the opioid epidemic.
"I'm hopeful that this transition to over-the-counter status will make it more widely available, drive the cost down, and put it in the medicine cabinets of every American, essentially," Sneed says. "It's [naloxone] completely safe. It has an extremely long expiration window, so there's really no reason not to have it."
The Future: Finding a Balance in Treating Pain
The opioid crisis has led to significant changes in how pain is treated, with many healthcare providers and policymakers seeking to reduce opioid prescribing and promote alternative forms of pain management. Strategies that have been adopted include more cautious prescribing practices, greater use of non-opioid medications, and increased emphasis on non-pharmacological treatments like physical therapy and cognitive behavioral therapy.
However, there is still a lack of consensus on the best way to balance the need for pain relief with the risk of opioid addiction and overdose. Some experts argue that there is still a role for opioids in certain cases, such as for acute pain after surgery, while others advocate for even stricter limits on prescribing.
"People that live with chronic pain deserve good treatment," Sneed says. "It's not the kind of thing where we can just say, 'There should be no pain medications on the market.' That has never worked. We know there's a marketplace. So now most physicians are trying to find the balance."
Physicians and regulators are taking active measures to address the opioid crisis and improve pain management treatment practices. The widespread misuse and addiction to prescription opioids have highlighted the importance of developing safe and effective treatments for pain, as well as strategies to prevent and treat addiction.
"Most people don't intend to die by overdose," Sneed says. "Knowledge is power, and stigma has no place."
Through increased education and training, the implementation of guidelines and regulations, and the development of alternative therapies, we can work together to reduce the harm caused by opioid misuse and improve the quality of life for individuals suffering from pain.
The TTUHSC School of Health Professions addiction counseling program includes these discussions in much of its curriculum to ensure its students are well educated on the facts surrounding the opioid crisis.
Related Stories
Education
By Kate Gollahon
May 29, 2023
On Memorial Day each May, a service is conducted to pay respect to the Willed Body Program donors and their families.
Education
By Kate Gollahon
May 24, 2023
While the TTU System aimed to cast a spotlight on these individuals and their work, the honorees chose to cast that light onto others, sharing their humble gratitude toward those who helped, guided and inspired them.
Education
By Melissa Whitfield
May 22, 2023
TTUHSC School of Medicine received top rankings from the American Academy of Family Physicians and U.S. News & World Reports.
Recent Stories
Education
By Kate Gollahon
May 29, 2023
On Memorial Day each May, a service is conducted to pay respect to the Willed Body Program donors and their families.
Education
By Kate Gollahon
May 24, 2023
While the TTU System aimed to cast a spotlight on these individuals and their work, the honorees chose to cast that light onto others, sharing their humble gratitude toward those who helped, guided and inspired them.
Campus Life
By Tyler White
May 23, 2023
TTUHSC hosted commencement ceremonies for its 1,669-member Class of 2023.