Texas Tech University Health Sciences Center Honors Inaugural Cohort of School of Nursing Traditional BSN Graduates with Lamp Lighting Ceremony
The students began the program in January 2022.
By Meaghan Collier
March 31, 2023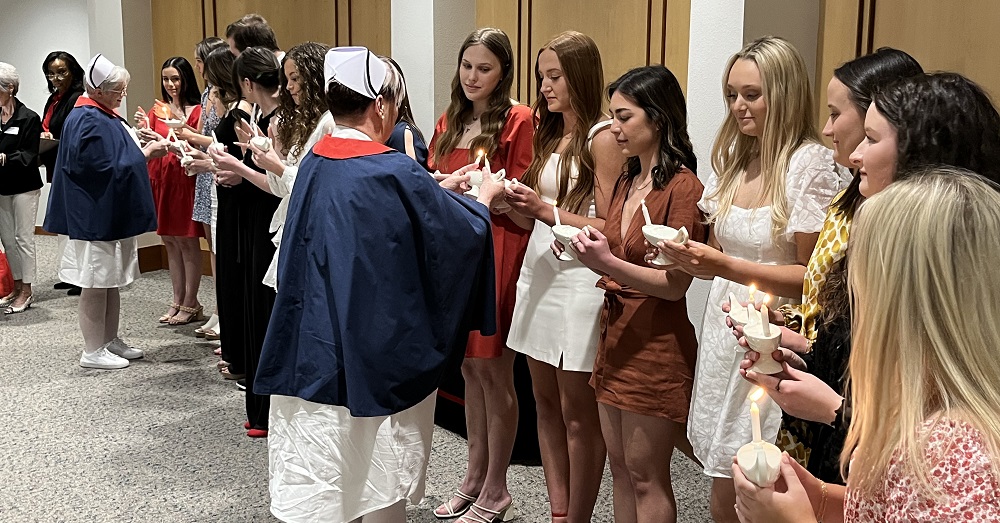 Texas Tech University Health Sciences Center (TTUHSC) School of Nursing honored its first class of Bachelor of Science in Nursing (BSN) graduates with a lamp lighting ceremony on Thursday (March 30).
"Florence Nightingale was known as the lady with the lamp," Valerie Kiper, DNP, R.N., regional dean of the School of Nursing in Amarillo, explained. "During the Crimean War, she stayed up late at night checking the ailing soldiers in the hospital. She always had a kind and compassionate spirit about her. She is considered the mother and pioneer of nursing because of her courageousness and devotion to nursing the soldiers back to health. Her work and scientific underpinnings laid the foundation for modern nursing."
TTUHSC has been a community partner in health care in Amarillo for 50 years. The expansion of the traditional BSN program in 2022 added a physical presence for the School of Nursing on the Amarillo campus.
"Like Nightingale, TTUHSC has laid the foundation to promote an ongoing commitment to provide a compassionate and dedicated nursing workforce for the Texas Panhandle through the Traditional BSN Nursing program in Amarillo," Kiper said.
The additional program has brought additional opportunities to transform health care starting with these 20 students in the inaugural class. The goal is to soon see more nurses remain in the Panhandle after getting their educations in Amarillo.
"Even before the pandemic, the Texas Panhandle struggled to meet the demands for nursing in Amarillo as well as the vast surrounding rural communities," Kiper said. "After years of working with our community partners, this is the first step in really making a positive impact in the nursing shortage in our area."
TTUHSC School of Nursing was named the best nursing school in Texas and the Southwest region for 2022 by Nursing Schools Almanac. The school also ranked No. 10 nationally among public nursing schools and No. 18 among all nursing schools in the U.S.
Nursing Schools Almanac based their findings on an assessment of more than 3,000 nursing schools and campuses nationwide. Only 3% make the list of the 100 best nursing schools in the nation.

The traditional BSN program at TTUHSC offers state-of-the-art nursing education for students who are not yet registered nurses (RN). Upon completion of lower-division prerequisite coursework, students complete approximately 60-semester credit hours of upper-division coursework at TTUHSC across four semesters. New cohorts of 20 students begin the program every four months.
Related Stories
Campus Life
By Tyler White
May 23, 2023
TTUHSC hosted commencement ceremonies for its 1,669-member Class of 2023.
Campus Life
By Suzanna Cisneros
April 27, 2023
TTUHSC medical students raised more than $92,000 with the 2023 Annual Lubbock City Lights Charity Gala April 1.
Campus Life
By Kate Gollahon
April 18, 2023
30 faculty, students and scientists from TTUHSC arrived at the Texas capitol to promote expanding telehealth for the rural Texans whose lives could drastically improve with access to health care.
Recent Stories
Education
By Kate Gollahon
May 29, 2023
On Memorial Day each May, a service is conducted to pay respect to the Willed Body Program donors and their families.
Education
By Kate Gollahon
May 24, 2023
While the TTU System aimed to cast a spotlight on these individuals and their work, the honorees chose to cast that light onto others, sharing their humble gratitude toward those who helped, guided and inspired them.
Campus Life
By Tyler White
May 23, 2023
TTUHSC hosted commencement ceremonies for its 1,669-member Class of 2023.