Learning Management Systems and the Future of Digital Learning
Powerful platforms offer an innovative approach to education, revolutionizing how knowledge is acquired, shared and applied.
By School of Health Professions
June 15, 2023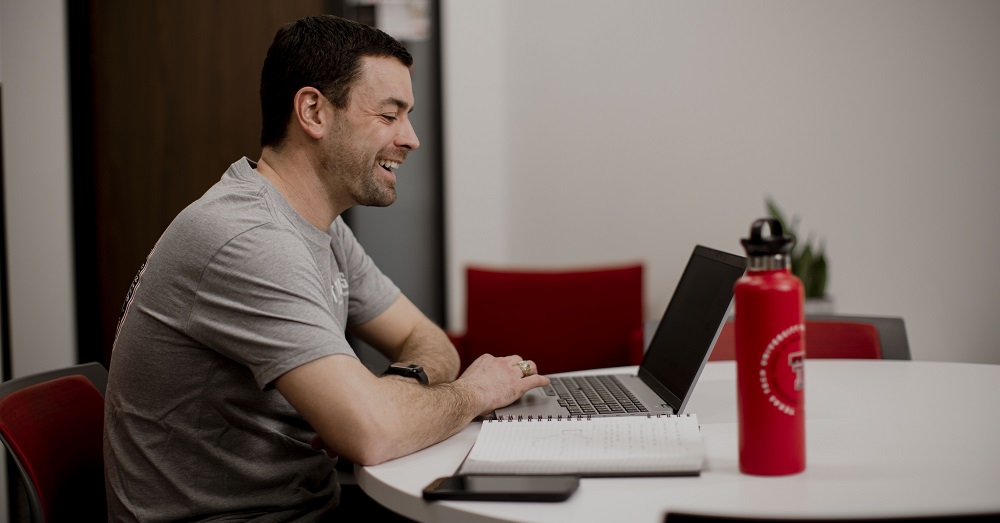 As technology continues to evolve at an unprecedented pace, traditional methods of teaching and learning are undergoing a remarkable revolution. With the advent of digital learning platforms and the integration of sophisticated learning management systems (LMS), education is entering a new era that promises enhanced accessibility, personalized instruction and collaborative learning opportunities.
These powerful platforms offer an innovative approach to education, revolutionizing how knowledge is acquired, shared and applied across various fields. With their integration of multimedia resources, interactive assessments and collaborative features, LMSs create opportunities for personalized and engaging learning experiences.
We spoke with Wade Redman, Ph.D., about the benefits and opportunities that are on the horizon and how digital learning is with us to stay. Redman is Chair of the Department of Laboratory Sciences and Primary Care and Associate Dean for Online Learning for the TTUHSC School of Health Professions.
Collaboration Across Schools
Learning Management Systems (LMS) offer unprecedented opportunities for inter-professional collaboration, bridging the gap between different disciplines in the digital learning space.
Redman explains that Texas Tech University Health Sciences Center (TTUHSC) consists of six schools, which have used two LMSs up to now. After an exhaustive dive into potential LMS solutions, Redman and his colleagues have narrowed the search down to one vendor they plan to recommend to the Provost.
"Moving forward, there's going to be lots of exciting opportunities for students to be engaged," Redman says. "We can share content across all schools, not only to our faculty but our students as well."
By facilitating virtual teamwork, shared resources and collaborative projects, LMSs empower students and educators from various fields to learn together, exchange knowledge and develop essential skills for effective interdisciplinary communication.
"We can have different vignettes or case studies that all students can tackle, which will allow them to understand the importance of other schools, programs and disciplines within healthcare," Redman says.
Another feature of an LMS, which is being explored for the medical laboratory science program, is the option to videotape oneself doing lab work.
"[An instructor] could discuss a lecture topic and then post a video of themselves doing it, or other students doing it as well," Redman explains. "We have to remember that we're a huge university, so these videos could be shared through the LMS to Amarillo, Lubbock, the Permian Basin, Dallas and Fort Worth."
Meeting Students' Needs: The Rise of Hybrid Learning
The COVID-19 pandemic brought about a seismic shift in education, leading to an unprecedented rise in e-learning. As schools and universities worldwide were forced to close their doors to curb the spread of the virus, learners of all ages turned to digital platforms to continue their education remotely.
This sudden surge in e-learning highlighted its potential and accelerated the adoption of online education, revolutionizing the way we learn and opening up new opportunities for accessible and flexible learning experiences.
Hybrid learning, also known as blended learning, is an educational approach that combines traditional in-person instruction with online learning components. It involves a mix of face-to-face classroom activities and virtual learning experiences, allowing students to engage with course materials and interact with instructors both in physical classrooms and through online platforms.
"Students are the ultimate customer, and we want to make them as engaged in learning as possible," Redman says. "So, not only could the professor be in class, face-to-face, they could also have their content in video online, so students can go to class remotely if they need to."
The features of a fully-integrated LMS create many avenues for students to engage with other students and their instructors, while bridging the gap between digital and face-to-face interaction. Instead of merely marking up a student's work with a digital red pen, an instructor can connect via video to have a conversation about the assignment or record a video discussing the assignment.
"It's a more personalized touch," says Redman.
The Realities of AI in Education
With its vast potential to enhance personalized learning, streamline administrative tasks and provide valuable insights into student performance, AI is increasingly becoming a reality in classrooms around the world. From intelligent tutoring systems to adaptive assessments, AI-powered educational tools are empowering educators and learners alike, paving the way for a more efficient, engaging and tailored educational experience.
But what about any negative consequences of AI technology in education?
"AI is here to stay, and we're learning how to use it appropriately," he begins. "As educators, we need to teach our students how to use it. So, with things like ChatGPT, we want to show them how to use it and be ethical about it and not to plagiarize."
Instructors will also need to understand the tool and adapt it into their approach. Redman suggests instructors could make ChatGPT part of an assignment to create the foundational framework so that a student can tailor an assignment to themselves.
"It's a tool for faculty and for students," Redman concludes. "But we have to be ethical about it."
Related Stories
Education
By Suzanna Cisneros
September 13, 2023
TTUHSC President Lori. Rice-Spearman, Ph.D., announced the appointment of Deborah L. Birx, M.D., as the TTUHSC presidential advisor and adjunct professor in the Julia Jones Matthews School of Population and Public Health.
Education
By Melissa Whitfield
August 28, 2023
TTUHSC kicked off Middle School to Medical School (M2M), a program designed to inspire and support children interested in pursuing careers in medicine Monday, Aug. 28.
Education
By Melissa Whitfield
August 17, 2023
TTU System Board of Regents approved the appointment of Billy U. Philips, Ph.D., MPH, and Thomas J. Abbruscato, Ph.D.
Recent Stories
Research
By Mark Hendricks
September 21, 2023
The National Institutes of Health (NIH) recently awarded a two-year, $1.47 million grant to a new local research coalition led by Christine Garner, Ph.D., R.D., Julie St. John, Dr.P.H., and Stephanie Stroever, Ph.D., MPH.
Health
By Suzanna Cisneros
September 19, 2023
Natalie Scanlon, Ph.D., a clinical psychologist in the Department of Psychiatry at Texas Tech Physicians, provides tips for keeping children safe.
Research
By Mark Hendricks
September 13, 2023
In a list published by the National Academy of Inventors (NAI), the Texas Tech University System, including TTUHSC, ranked 75th among the Top 100 U.S. Universities Granted Utility Patents in 2022.