Telehealth Week @ TTUHSC Conference to Highlight Digital Health Care
By Suzanna Cisneros
August 7, 2023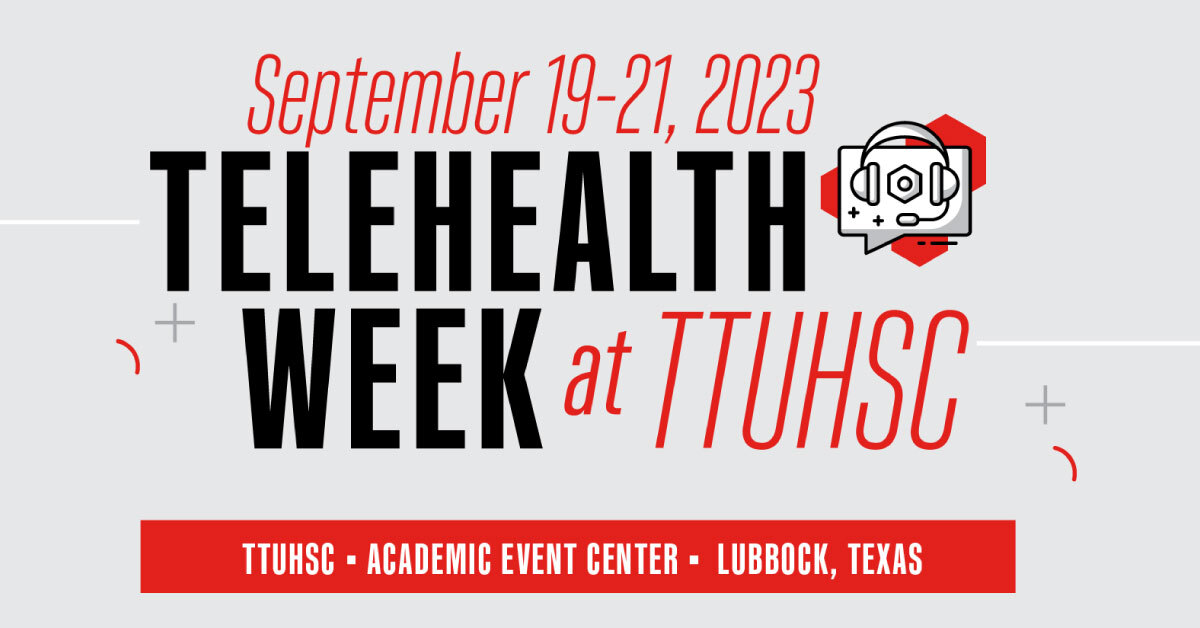 Telehealth Week @ TTUHSC, a conference about digital innovation, will offer an immersive experience in digital health using technology for access to care. The free conference, which takes place Sept. 19-21 at the TTUHSC Academic Event Center located at 3601 Fourth St., is open to all clinicians, administrators, health care providers and stakeholders.
The conference aims to demonstrate how digital health enhances access to care and solves rural health disparities. Three goals of the conference include:
Exposing stakeholders to the broader goals of digital health at TTUHSC
Motivating stakeholders to go beyond telehealth and embrace the fullness of digital health
Celebrating and launching the Institute of Telehealth and Digital Innovation
"Health care in this region is a collaboration of many stakeholders," TTUHSC President Lori Rice-Spearman, Ph.D., said. "We're proud to be among those preparing the providers and delivering excellent research-backed care, but we also want to identify and implement innovative initiatives that truly transform health care."
TTUHSC Executive Director for the Institute of Telehealth and Digital Innovation John Gachago, DHA, said digital health is all-encompassing and includes a variety of current and emerging digital tools to improve health care delivery.
"When we look at digital health, it includes all tools to leverage technology not only to improve access, but also to improve health care as a whole," Gachago said. "Some of these technologies are current while others are emerging, such as artificial intelligence (AI), the internet of things and blockchain technology. If leveraged strategically, these technologies have the capacity to enhance health care outcomes and lower the cost of care."
TTUHSC's telehealth programs continue to bridge the barriers in the 108-county service area of West Texas through new projects and innovations to expand telemedicine into most rural areas.
TTUHSC experts and telemedicine professionals from across the country will serve as presenters. Gachago said the conference will educate, motivate and jumpstart stakeholders around digital health.
Telehealth Week @ TTUHSC will focus on three tracks that include: an introduction to telehealth; rural health care; and AI in health care.
Panel discussions will include: How Digital Health Can Help Overcome Rural Health Challenges; Telehealth and Organ Delivery Drone Project; and a TTUHSC Telehealth Poster Showcase.
Other presentations will include: Leveraging Technology for Access to Care; AI Can Help Rural and Urban; Mayo Clinic and The Role of AI in Health Care; and Opportunities for AI in Health Care and Related Challenges.
Conference participants will have vendor opportunities that will be interactive.
To register for the Telehealth Week @ TTUHSC conference, visit tthsclubbock.co1.qualtrics.com.
In support of improving patient care, TTUHSC is jointly accredited by the Accreditation Council for Continuing Medical Education (ACCME), the Accreditation Council for Pharmacy Education (ACPE), and the American Nurses Credentialing Center (ANCC), to provide continuing education for the health care team.

For the Credit Designation statements, please visit the conference website. Separate registration is required for continuing medical education credits here.
Additional details, including speakers and agenda will be provided here.

The Telehealth Week @ TTUHSC conference is in conjunction with the American Telemedicine Association Telehealth Awareness Week Sept. 18-21.
Related Stories
Campus Life
By Melissa Whitfield
September 11, 2023
TTUHSC is one of the best colleges in the U.S. to work for, with special designation as an "Honor Roll" institution, according to a recent survey by The Great Colleges to Work For® program.
Campus Life
By Kay Williams
September 10, 2023
TTUHSC School of Medicine students will host a Women's Health Day free clinic from 10 a.m. to 1 p.m. Sept. 23 at The Free Clinic located at Lubbock Impact
Campus Life
By Kate Gollahon
September 05, 2023
This September, Texas Tech University Health Sciences Center (TTUHSC) will implement its refreshed brand identity.
Recent Stories
Research
By Mark Hendricks
September 21, 2023
The National Institutes of Health (NIH) recently awarded a two-year, $1.47 million grant to a new local research coalition led by Christine Garner, Ph.D., R.D., Julie St. John, Dr.P.H., and Stephanie Stroever, Ph.D., MPH.
Health
By Suzanna Cisneros
September 19, 2023
Natalie Scanlon, Ph.D., a clinical psychologist in the Department of Psychiatry at Texas Tech Physicians, provides tips for keeping children safe.
Research
By Mark Hendricks
September 13, 2023
In a list published by the National Academy of Inventors (NAI), the Texas Tech University System, including TTUHSC, ranked 75th among the Top 100 U.S. Universities Granted Utility Patents in 2022.