TTUHSC Permian Basin Community Discuss Future of Health Care Workforce
By Suzanna Cisneros
October 4, 2022
Texas Tech University Health Sciences Center (TTUHSC) hosted, "Building the Basin, a Permian Basin Health Care Workforce Summit," today (Oct. 4). The health care summit was a day of collaboration with the community and health care leaders to identify barriers and explore strategies to retain top health care providers in the Permian Basin.
TTUHSC President Lori Rice-Spearman, Ph.D., said as the community continues to build and establish itself as a major hub, driving growth and stability in the health care workforce will foster long-term sustainability in the Permian Basin.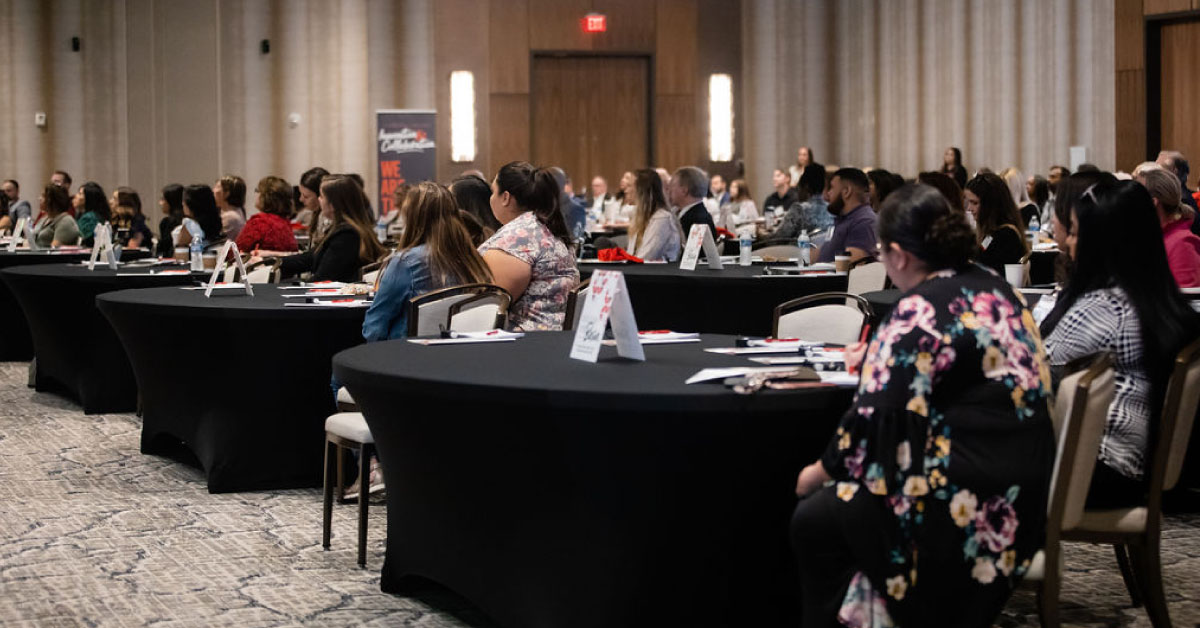 "We've made great strides in expanding health care access," Rice-Spearman said. "There are excellent opportunities in higher education and excellent facilities; yet, the region still has a significant shortage of providers, which is critical for sustainable economic growth."
According to a Texas Health and Human Services study, "Texas Physician Supply and Demand Projections," there is a shortage of physicians in Texas, which will increase through 2032. Current projections in medical school enrollment and resident positions by the Texas Higher Education Coordinating Board indicate the state's graduate medical education system will not create a supply of physicians that can meet projected demand. For West Texas, critical shortages include family medicine, pediatrics and psychiatry specialties.
"We recognize the need to 'grow our own,' and our challenge is to identify the gaps and opportunities to recruit and retain a quality health care workforce," Rice-Spearman said. "This is not a job for any one single entity; it will require an innovative approach and a collaborative effort between academia, industry and community."
The summit included a variety of topics affecting the recruitment and retention of a first-class health care workforce and featured community leaders from industries and sectors. Speakers included: Rice-Spearman; Timothy Benton, M.D., TTUHSC School of Medicine regional dean; Tracee Bentley, president and CEO of Permian Strategic Partnership; Russell Tippin, president and CEO of Medical Center Health System; Renee Earls, president and CEO of the Odessa Chamber of Commerce; Kate Williamson, chair of the Midland Chamber of Commerce; Stacey Brown, CEO of Odessa Regional Medical Center; Donny Booth, CEO of Permian Regional Medical Center; Minerva Gonzales, DNP, R.N., University of Texas Permian Basin associate dean of academic affairs; Sandra Woodley, DBA, president of the University of Texas Permian Basin; Christina Robohm-Leavitt, TTUHSC School of Health Professions Midland regional dean; Dan Hollmann, J.D., Shareholder at Atkins, Hollmann, Jones, Peacock, Lewis & Lyon, Inc.; Martin Ortega, M.D., TTUHSC School of Medicine regional chair of family medicine; Sharon Cannon, Ed.D., R.N., TTUHSC School of Nursing regional chair; Rama Chemitiganti, M.D., TTUHSC School of Medicine regional chair of Internal Medicine; Jessica McFarlin, COO of Amerigroup Texas; Deborah Edwards, DPT, TTUHSC School of Health Professions regional dean; Patrick Payton, mayor of Midland; Michael Marrero, Odessa city manager; Russell Meyers, CEO of Midland Memorial Hospital; and Sara Harris, executive director of the Midland Development Corporation.
The summit also included high school students from Ector County Independent School District and Midland Independent School District, college students from the University of Texas Permian Basin, Midland College, Odessa College and TTUHSC.
Related Stories
Education
By Suzanna Cisneros
November 18, 2022
Gerard E. Carrino, Ph.D., MPH, has been named dean of the TTUHSC Julia Jones Matthews School of Population and Public Health.
Education
By School of Health Professions
November 17, 2022
Athletic training (AT) is a field of medicine focused on patient-centered care through injury prevention and treatment. Athletic training is a popular career field because of the vast need for the skillsets of these professionals.
Education
By School of Health Professions
November 10, 2022
The Clinical Laboratory Science Program offers a traditional face-to-face or online hybrid bachelor's degree in clinical laboratory science. Beginning in Fall 2023, the program will change its name to Medical Laboratory Science.
Recent Stories
Health
By Mark Hendricks
December 02, 2022
Students from TTUHSC have formed the Barbershop Blood Pressure Group. The students currently make periodic visits to about 10 Lubbock barber shops to provide free blood pressure checks and general health education.
Health
By School of Health Professions
December 01, 2022
Living with a disability has many effects on a person's life, both positive and negative. Overcoming obstacles, achieving goals or dreams, and living a fulfilling life are all things that anyone can relate to.
Health
By Amber Bustos
November 18, 2022
Kalin Clifford, PharmD, stays optimistic about the future of diagnosis and treatment options for Alzheimer's. By serving as a coach for BvB Dallas, Clifford assisted a fundraiser for awareness and research.