Pharmacy Professor Tackling Alzheimer's
By Amber Bustos
November 18, 2022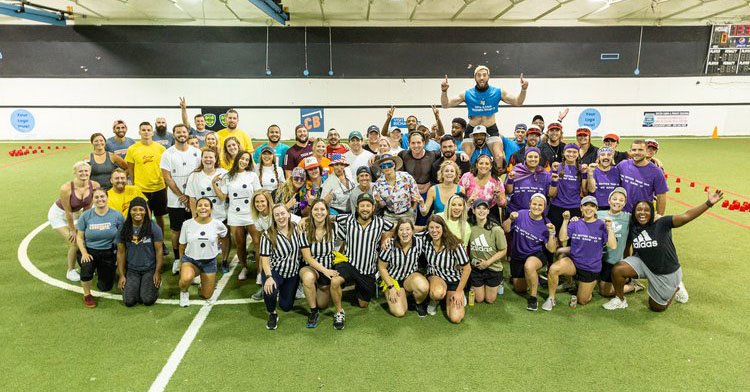 As a pharmacist with geriatrics specialty, Kalin Clifford, PharmD, Associate Professor of Pharmacy Practice at the Dallas campus, is involved with the care of many older adults living with Alzheimer's disease, a brain disorder that slowly destroys memory, thinking skills and the ability to carry out simple tasks.
"My pharmaceutical care focus is working with Alzheimer's disease patients who no longer benefit from the medications currently available and those patients at the end of their disease battle," shared Clifford. "I educate them, and their loved ones, on why medications are no longer working and redefine goals of care with medications that will improve their quality of life during the time they have left."
According to the Alzheimer's Association, an estimated 6.5 million Americans age 65 and older are living with Alzheimer's in 2022. That number is expected to grow as the size of the U.S. population age 65 and older continues to grow.
An Alzheimer's diagnosis is often disheartening but Clifford is optimistic about the future diagnosis and treatment options that may be available to patients.
"Ten years ago, every new medication being created to treat Alzheimer's was only delaying disease progression," shared Clifford. "Data being published now shows that identifying Alzheimer's earlier allows nonpharmacologic methods that help delay the progression of the disease to be performed sooner and helps improve our ability to better identify early warning signs."
Clifford is also excited about new drugs that are in their Phase III clinical trials that are showing great potential to slow and even stop the progression of Alzheimer's disease.
"There is hope, and that makes it all the more important to raise awareness for Alzheimer's disease because these patients need that hope," said Clifford.
Clifford does his part to raise awareness both through his work and through philanthropic endeavors. Earlier this year, he served as a pink team coach for the BvB Dallas (formerly Blondes vs. Brunettes Dallas) annual powder-puff football game. The game, which acts as a fundraiser for Alzheimer's awareness and research, raised more than $500,000.
Related Stories
Health
By Meaghan Collier
May 19, 2023
Robert Kauffman, M.D., a professor of obstetrics and gynecology at TTUHSC, was selected to present May 20 at the ACOG Annual Clinical and Scientific Meeting in Baltimore.
Health
By Kay Williams
April 19, 2023
Brian Kendall, M.D., TTUHSC assistant professor of Emergency Medicine, said even for shorter hikes, being prepared means having what you need to prevent and handle a variety of medical issues on the trail.
Health
By Udit Verma, M.D.
April 19, 2023
April is Esophageal Cancer Awareness Month, and health care professionals want to provide valuable information regarding this cancer that occurs in the esophagus or food pipe.
Recent Stories
Education
By Kate Gollahon
May 30, 2023
Several Texas Tech University Health Sciences Center (TTUHSC) School of Nursing faculty were awarded this year for their unparalleled contributions to medical education and patient care.
Education
By Kate Gollahon
May 29, 2023
On Memorial Day each May, a service is conducted to pay respect to the Willed Body Program donors and their families.
Education
By Kate Gollahon
May 24, 2023
While the TTU System aimed to cast a spotlight on these individuals and their work, the honorees chose to cast that light onto others, sharing their humble gratitude toward those who helped, guided and inspired them.