Panhandle Great 25 Nurses Honors TTUHSC Nursing Dean with 2022 Legacy Award
By Mark Hendricks
November 2, 2022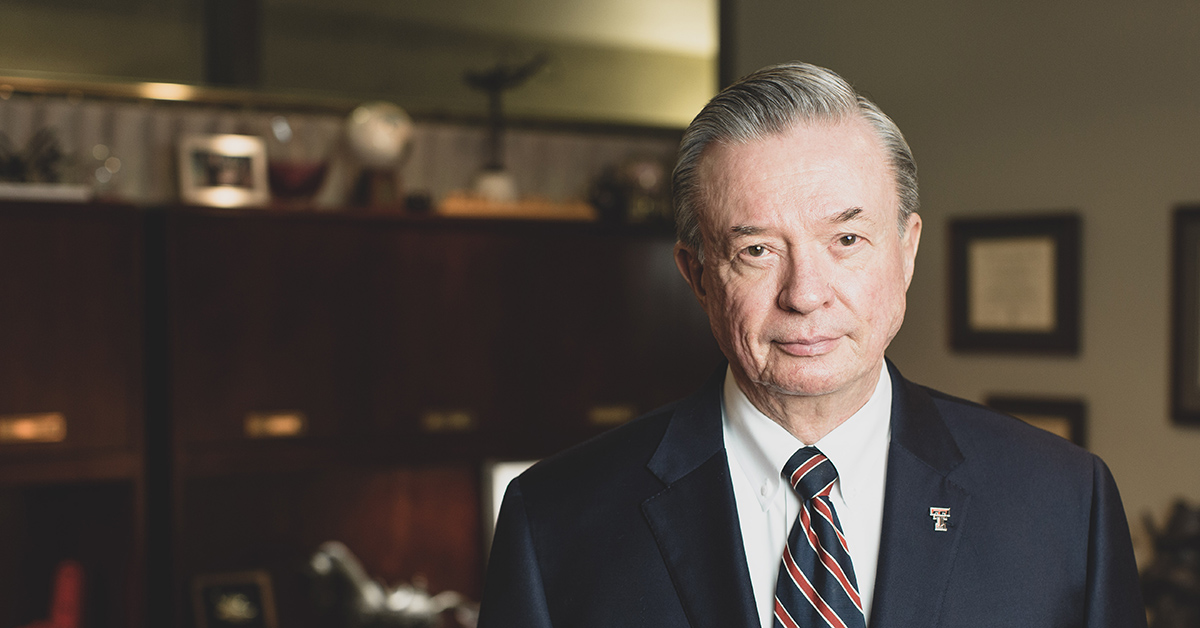 Michael Evans, Ph.D., R.N., NEA-BC, FAAN, dean for the Texas Tech University Health Sciences Center (TTUHSC) School of Nursing, was honored as the 2022 Legacy Award recipient by the Panhandle Great 25 Nurses Committee Nov. 3 (Thursday) at the 6th Annual Panhandle Great 25 Nurses Ceremony at the Embassy Suites in Amarillo.
The Panhandle Great 25 Committee established the Legacy Award in 2019 to recognize extraordinary registered nurses who have made enduring and substantial contributions to the nursing profession in the Texas Panhandle for at least 25 years. Panhandle Great 25 Nurses Founder Valerie Kiper, DNP, MSN, R.N., NEA-BC, said the contributions Evans has made to nursing epitomizes the Legacy Award.
"The Panhandle Great 25 committee chose to honor Dr. Evans this year as the Legacy honoree as his early career and vision in nursing leadership in the Texas Panhandle laid the foundation and created a lasting footprint for the future of nursing practice models, innovative patient care programs and visionary nursing leadership," Kiper said. "I have had the honor in knowing and working with Dr. Evans for the past 45 years, and I can tell you his impact on the nursing profession in the Panhandle will be everlasting."
Evans began his early nursing career in the Texas Panhandle after graduating from Northwest Texas Hospital School of Nursing in 1973. His many roles in both nursing leadership and academia have made substantial contributions to the profession of nursing. Some of those accomplishments include:
Pioneering new hospital services like the Sexual Assault Nurse Examiners (SANE) program at Amarillo's Northwest Texas Hospital, was one of the nation's first such programs.
Developing the Texas Peer Assistance Program through the Texas Nurses Association: a first-in-the-nation program, it has been replicated by many other state nursing associations.
Facilitating the development of the Magnet Hospital Recognition Program, which resulted in part from his scholarly work.
Fostering the growth of national and international credentialing programs though his leadership of the American Nurses Credentialing Center.
Legacy Award honorees are chosen for their inspirational and sustained leadership and vision for the profession, traits TTUHSC President Lori Rice-Spearman, Ph.D., said Evans brings daily to TTUHSC and the nursing field.
"We are so proud for Dr. Evans to be recognized for his exemplary accomplishments, and we're honored to have his leadership over the past decade for our School of Nursing," Rice-Spearman said. "Under his direction, the school has grown both in scope and depth. He is not only a capable leader, but his dedication to the field of nursing is outstanding."
Evans, a TTUHSC Grover E. Murray Professor, has received many honors throughout his career, including a Fellowship in the American Academy of Nursing and the President's Award from the American Nurses Credentialing Center. He also has been named a Distinguished Alumnus of both the University of Texas-Austin and University of Texas Health Sciences Center at Houston.
Evans was named TTUHSC's School of Nursing dean in 2012, and under his leadership, the school's enrollment has expanded to more than 2,000 students, making it the largest school at TTUHSC and one of the largest in Texas. The school was recently named the Best Nursing School in Texas and the Southwest region for 2022 by Nursing Schools Almanac.
Related Stories
Education
By Suzanna Cisneros
November 18, 2022
Gerard E. Carrino, Ph.D., MPH, has been named dean of the TTUHSC Julia Jones Matthews School of Population and Public Health.
Education
By School of Health Professions
November 17, 2022
Athletic training (AT) is a field of medicine focused on patient-centered care through injury prevention and treatment. Athletic training is a popular career field because of the vast need for the skillsets of these professionals.
Education
By School of Health Professions
November 10, 2022
The Clinical Laboratory Science Program offers a traditional face-to-face or online hybrid bachelor's degree in clinical laboratory science. Beginning in Fall 2023, the program will change its name to Medical Laboratory Science.
Recent Stories
Health
By Mark Hendricks
December 02, 2022
Students from TTUHSC have formed the Barbershop Blood Pressure Group. The students currently make periodic visits to about 10 Lubbock barber shops to provide free blood pressure checks and general health education.
Health
By School of Health Professions
December 01, 2022
Living with a disability has many effects on a person's life, both positive and negative. Overcoming obstacles, achieving goals or dreams, and living a fulfilling life are all things that anyone can relate to.
Health
By Amber Bustos
November 18, 2022
Kalin Clifford, PharmD, stays optimistic about the future of diagnosis and treatment options for Alzheimer's. By serving as a coach for BvB Dallas, Clifford assisted a fundraiser for awareness and research.