Kang Receives CPRIT Funding to Support West Texas Pharmacology Core
Grant to Focus on Drug Development, Pediatric Cancer Studies
By Mark Hendricks
November 9, 2022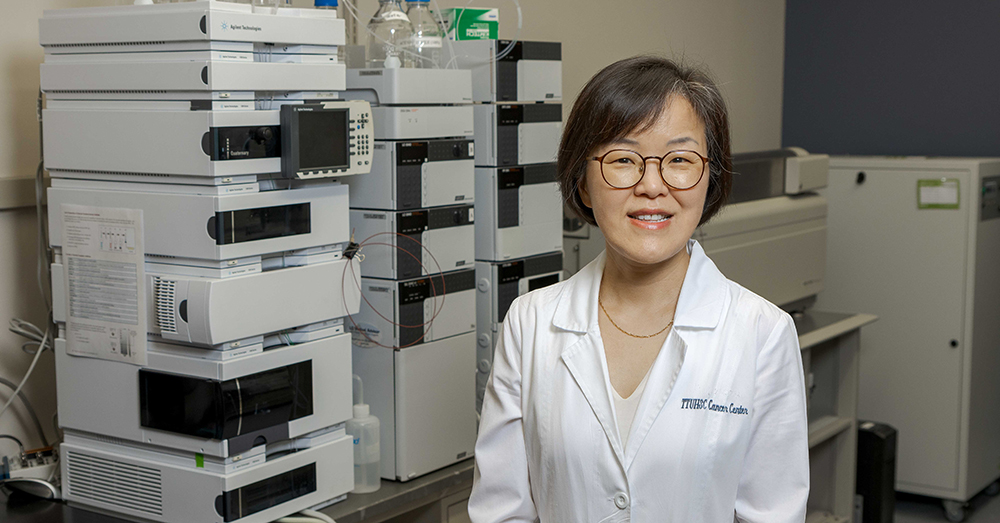 As one of the critical components considered by those who develop and approve the use of new drugs, pharmacology is the process whereby drugs are studied to determine how they work, their effect upon the body and how the body responds to the drug.
To emphasize the importance of pharmacology to the development of new cancer drugs, including those being investigated for use in treating pediatric cancers, the Cancer Prevention and Research Institute of Texas (CPRIT) recently awarded a five-year, $3.37 million grant to Min Kang, Pharm.D. The grant will support the West Texas Pharmacology Core laboratory at the Texas Tech University Health Sciences Center (TTUHSC).
"The pharmacology core was established using start-up funds provided to me by TTUHSC in 2008," Kang said. "Since then, the core has been supporting multiple clinical trial consortia nationwide and translational research projects using mostly individual investigator awards from the NCI (National Cancer Institute) and CPRIT to the School of Medicine's Cancer Center investigators."
Using the support provided by the latest CPRIT grant, the West Texas Pharmacology Core will focus on two primary areas of support: drug development and pediatric cancer. Kang said this core will address two major obstacles in drug development. The first obstacle concerns small biotech companies and academic researchers who have excellent drug candidates but lack pharmacology expertise.
"CPRIT and the NCI provide grants to academic researchers and small biotech companies to carry out preclinical and early-phase clinical studies seeking to bring new anti-cancer drugs to market," Kang said. "Pharmacology is one of the essential components of drug development. However, the support by pharmacology cores is limited to specific institutions and is not available to many Texas drug developers."
The second obstacle is the low profitability that generally results from the development of pediatric cancer drugs. Because of this, Kang said pharmaceutical companies tend to focus more of their drug development efforts on adult cancers.
"Establishing the West Texas Pharmacology Core will allow us to update the core at TTUHSC that already supports some Texas academic investigators, especially in the area of pediatric cancers," Kang added. "CPRIT's support will allow us to support small biotech companies and other academic institutions across Texas."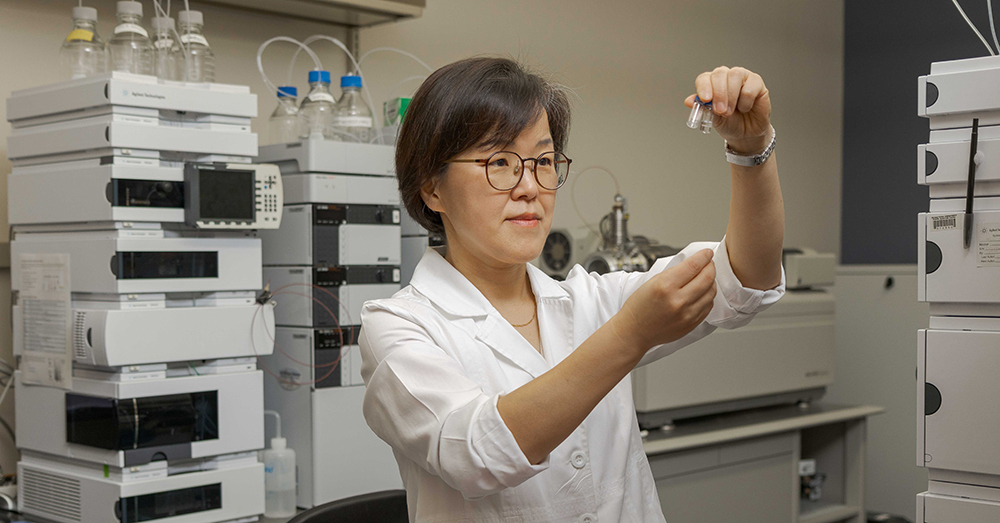 When a person takes a drug, they need to know how much to take to benefit from the drug's effect without experiencing serious toxicities. The dose also can vary from person to person because each person has different levels of the enzymes that metabolize the drug. That is one of the reasons the average time for a drug to be fully developed is 15 years. Kang said pharmacology data is utilized in making go or no-go decisions in the early stages of drug development.
"Let's take Benadryl as an example," Kang explained. "Some people who take Benadryl, including myself, experience extreme drowsiness. In my case, the effect lasts two days. On the other hand, my colleague, Clint, says Benadryl does nothing to him. This is because he and I have differences in the level of the enzyme that breaks down Benadryl."
When it comes to the battle against cancer, Kang said pharmacology analyses and expertise are critical components of cancer drug development. That's because the cost to bring a new cancer drug to market is currently estimated to be $1 billion, and only one of 5,000 compounds entering the discovery stage will eventually get an approved indication by the U.S. Food and Drug Administration. Kang said pediatric cancer studies will be a priority for the West Texas Pharmacology Core.
"Children are not small adults; their physiology is different from adults, and thus their response to drugs may be different from that of adults," Kang said. "Despite the difference, very few studies are done on pediatric cancer patients. The current core will support clinical and preclinical studies to understand the issues related to the pharmacology of pediatric cancer patients."
On receiving the grant, Kang acknowledged the support of several long-time collaborators, including TTUHSC Cancer Center Director C. Patrick Reynolds M.D., Ph.D., and Barry Maurer, M.D., Ph.D., a pediatric oncologist who leads the Cancer Center's Developmental Therapeutics program. The multi-disciplinary team has been working together on drug development for almost two decades, and Kang said the core was sustained mainly due to the effort of her collaborators.
Kang also emphasized the efforts of the government at the federal and state levels for promoting pediatric drug development, and those of CPRIT, who has made pediatric cancer a priority. She said that hasn't always been the case for the large pharmaceutical companies, whose reluctance to focus on pediatric cancer drugs was primarily driven by economics. This resulted in the Pediatric Research Equity Act of 2003, which authorized the FDA to require that therapies developed for adults also be studied for use in children.
"Drug developers often received exemptions for testing oncology agents in children because of the rarity: pediatric cancers occur in a relatively small number of patients and in different organs," Kang said. "This Act is re-enforced in 2020 under the Research to Accelerate Cures and Equity (RACE) for Children Act. I hope the message is clear."
Related Stories
Research
By Mark Hendricks
May 17, 2023
Luis Cuello, Ph.D., a professor in the Department of Cell Physiology and Molecular Biophysics at the TTUHSC School of Medicine, was awarded a five-year R35 MIRA grant from the National Institutes of Health (NIH).
Research
By Mark Hendricks
April 27, 2023
Recent estimates say that more than 400,000 people in Texas are living with ADRD, and more than 1.5 million unpaid family members and friends are serving as informal caregivers for these ADRD patients.
Research
By Mark Hendricks
April 25, 2023
The inaugural West Texas Health Disparities Research Symposium marks the largest event resulting from the work of the TTU System Health Policy and Public Health Think Tank.
Recent Stories
Education
By Kate Gollahon
May 30, 2023
Several Texas Tech University Health Sciences Center (TTUHSC) School of Nursing faculty were awarded this year for their unparalleled contributions to medical education and patient care.
Education
By Kate Gollahon
May 29, 2023
On Memorial Day each May, a service is conducted to pay respect to the Willed Body Program donors and their families.
Education
By Kate Gollahon
May 24, 2023
While the TTU System aimed to cast a spotlight on these individuals and their work, the honorees chose to cast that light onto others, sharing their humble gratitude toward those who helped, guided and inspired them.