TPPC Concludes Spring Medication Cleanout® Cycle
Spring Brings Three Successful Medication Cleanout Events
By Kate Gollahon
May 3, 2022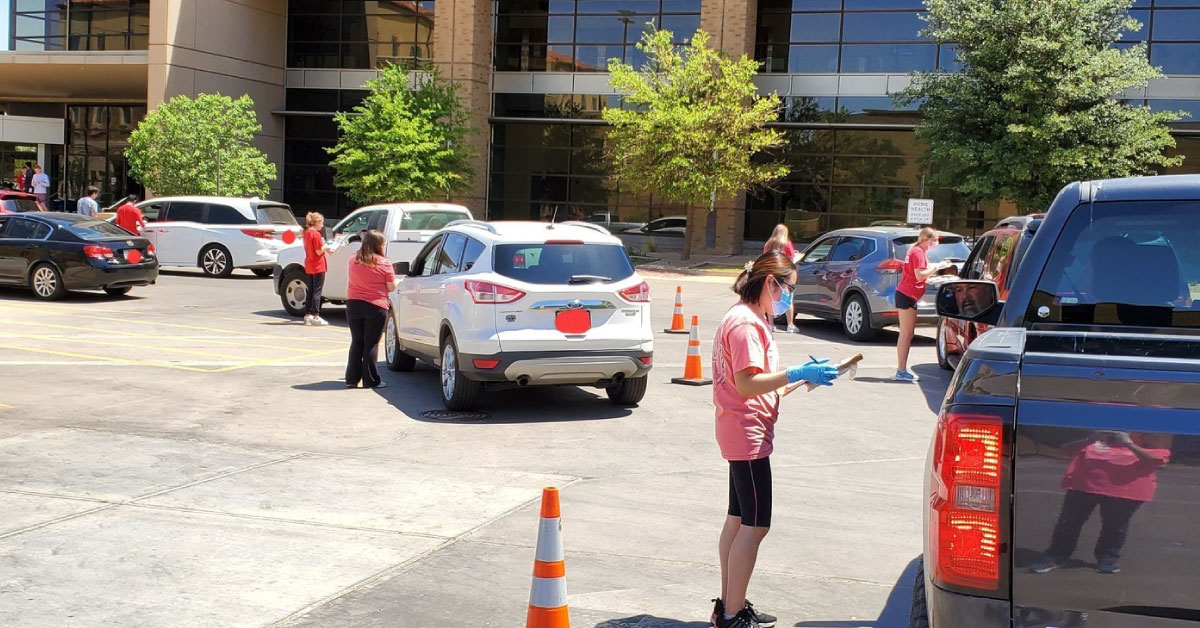 Managed by the Texas Tech University Health Sciences Center (TTUHSC) Jerry H. Hodge School of Pharmacy, the Texas Panhandle Poison Center (TPPC) hosted three Spring Medication Cleanout™ events in Abilene, Amarillo and Lubbock over the past few weeks.
These events employ a drive-thru, drop-off format that allows residents to conveniently dispose of their medications without leaving their cars.
Across the three locations, many volunteers assisted with this critical service, including staff from TPPC, the Texas Tech University (TTU) Police Department and the Department of Community, Family and Addiction Services at the TTU College of Human Sciences. Pre-pharmacy students from TTU and students from the TTUHSC Schools of Pharmacy and Nursing also volunteered for the event.
This program helps the TPPC take a proactive approach to safeguarding communities by providing a free and convenient way for people to dispose of medications in a legal and environmentally sound manner, as well as providing disposal services for syringes and sharps.
The collections yielded impressive results, with a combined 1,622 pounds of medications and sharps in Amarillo, 700 pounds of medication and 90 sharps collected from a total of 226 cars in Abilene, and 1,498 pounds of medication and 143 sharps collected in Lubbock.
More information on the bi-annual collection cycle is available on the Medication Cleanout® website.
Related Stories
Campus Life
By Mark Hendricks
March 14, 2023
Student Research Week provides an opportunity for TTUHSC student investigators to showcase their work and hear presentations from distinguished national speakers related to the year's specific theme.
Campus Life
By Suzanna Cisneros
February 28, 2023
TTUHSC has named John Gachago, DHA, as the executive director for Telehealth Technology and Innovation.
Campus Life
By Kate Gollahon
February 10, 2023
Associate Professor Hollis Franco, Ph.D., RN, MEDSURG-BC, is forging a path toward mental health and wellness for all—especially for members of the health care community who struggle to maintain their own well-being.
Recent Stories
Research
By Mark Hendricks
March 21, 2023
TTUHSC Cytogenetic Technologist Jasbir Bisht and a team from P. Hemachandra Reddy's internal medicine laboratory analyzed the impact of cancer in Hispanics in comparison to other ethnic groups.
Education
By School of Health Professions
March 21, 2023
World Down syndrome Day was established to raise awareness about Down syndrome and to promote inclusion and acceptance of people with Down syndrome in all aspects of society.
By QEP Committee
March 21, 2023
As spring approaches, some people's thoughts turn to gardening. Whether it's a flower garden they desire or a vegetable garden want to have, they begin planning what they'll plant and what they need to do to ensure a successful garden.