Students Begin Traditional BSN Program at TTUHSC's Amarillo Campus
By Meaghan Collier
January 19, 2022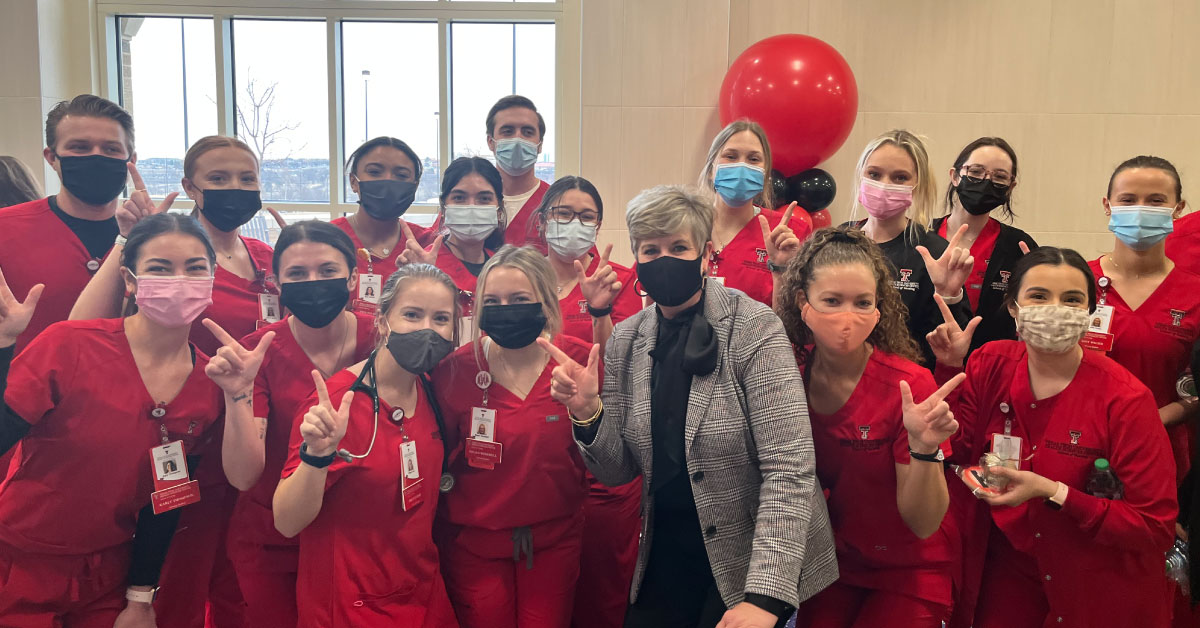 Texas Tech University Health Sciences Center (TTUHSC) welcomed the first class of 20 students to the traditional Bachelor of Science in Nursing (BSN) program at the Amarillo campus with a welcome event and press conference Jan. 19. The first cohort of students joined university leadership and community stakeholders to commemorate the expansion.
"For 50 years, TTUHSC has been a community partner in health care for Amarillo. The expansion of our traditional BSN program adds a physical presence for our School of Nursing to our Amarillo campus and brings additional opportunities to transform health care through collaborations with our Schools of Health Professions and Medicine, Graduate School of Biomedical Sciences, and the Jerry H. Hodge School of Pharmacy," TTUHSC President Lori Rice-Spearman, Ph.D., said. "We are fortunate to have the visionary courage of so many, including the 20 students of the inaugural class of our Traditional BSN program. I'm honored that TTUHSC School of Nursing now has a physical presence on our Amarillo campus, but even more so, I'm convinced that, working together, those of us with a stake in the health of this region will soon see a closing gap in nursing."
Valerie Kiper, DNP, R.N., is the regional dean of the School of Nursing in Amarillo. Kiper has more than four decades of nursing experience and, most recently, served as an associate professor of nursing at TTUHSC.
"Even before the pandemic, the Texas Panhandle struggled to meet the demands for nursing in Amarillo as well as the vast surrounding rural communities," Kiper said. "After years of working with our community partners, we are grateful to be starting a traditional BSN program in Amarillo with the first cohort beginning this month."
According to a 2019 study from the Texas Center for Nursing Workforce Studies, Texas is projected to face a shortage of nurses from 2015 through 2030. By 2030, the supply of RN full-time equivalents (FTE) is expected to grow by 35.4%, while demand will grow by 53.8%, leaving a deficit of 59,970 RN FTEs. Texas continues to have higher vacancy and turnover rates than other states with comparable populations, and the RN vacancy rate was highest in West Texas at 13.1%.
"As a former Chief Nursing Officer for the majority of my 42-year nursing career here in the Amarillo area, I have seen many cycles of nursing shortages, some worse than others, and often wondered if we would ever see the day when there was not a shortage," Kiper said. "It is not a fun position to be in when you are needing a bed for a patient, and you cannot provide one because you do not have a nurse to go with the bed. The nursing shortage may not be eliminated totally, but with the dedication of the, now, five nursing programs in Amarillo and the Panhandle, we are proud to be a partner in helping to expand the pool of nurses to meet this deficit."
The TTUHSC School of Nursing is nationally accredited and has a highly regarded reputation for nursing excellence. Nursing Schools Almanac ranked the School of Nursing among the best nursing schools in the state and nation, noting the school's NCLEX first-time pass rate of 97%.
"Since its establishment in 1981, the TTUHSC School of Nursing has been committed to providing high-quality nurses to meet changing health care needs in the state of Texas," Rice-Spearman, Ph.D., said. "TTUHSC currently offers the traditional BSN program in Abilene, Lubbock, Mansfield and Odessa, where we have worked collaboratively as community partners to educate nurses and advance the knowledge and skills of experienced nurses; we are eager to build on our existing relationships in Amarillo to help meet the needs here as well."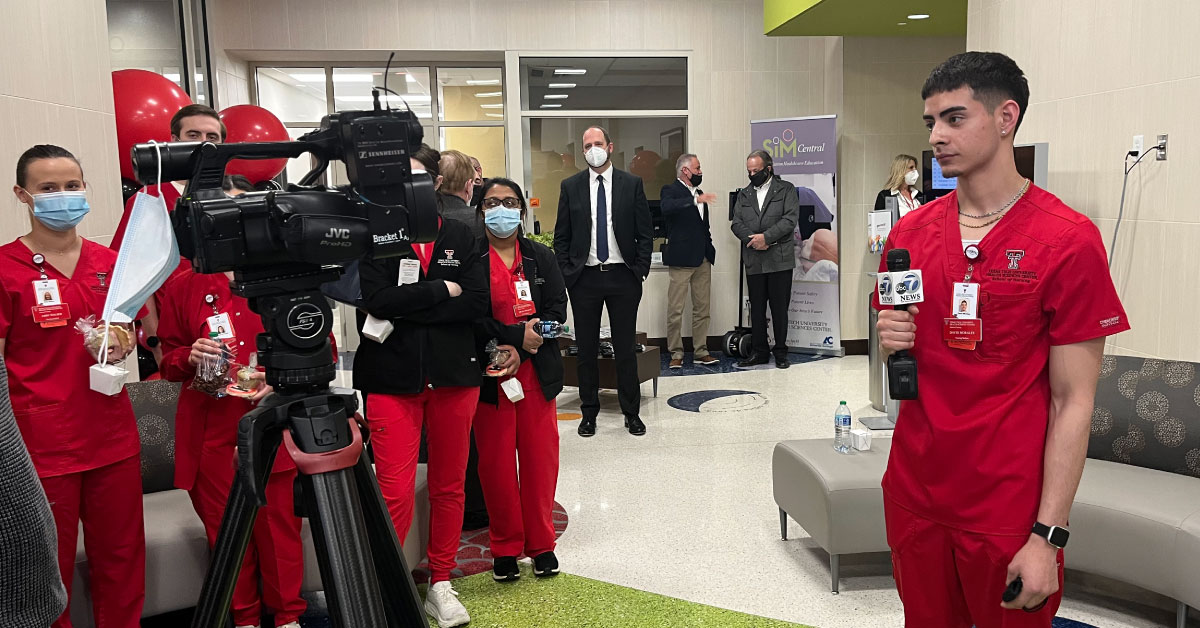 TTUHSC faculty members prepare students at the baccalaureate, master and doctoral levels using a variety of instructional methods and program options. More specifically, the traditional BSN program at TTUHSC offers state-of-the-art nursing education for students who are not yet registered nurses (RN). Upon completion of lower-division prerequisite coursework, students complete approximately 60-semester credit hours of upper-division coursework at TTUHSC across four semesters. New cohorts of 20 students will begin the program every four months; as many as 60 new nursing students will be on campus by the end of 2022.
"We have grown the School of Nursing to educate thousands of students since I became dean in 2012, making our institution the largest school at TTUHSC and one of the largest in the state of Texas," TTUHSC School of Nursing Dean Michael Evans, Ph.D., R.N., said. "This expansion, though, means the most to me because this is in my hometown, and we get to make an immediate impact on caring for our community at home and beyond."
The Texas Higher Education Coordinating Board approved the expansion Oct. 19, 2021.
In additional to the tradition BSN program, TTUHSC in Amarillo offers accessibility to its distance learning curriculum for undergraduate degrees — RN to BSN, Accelerated BSN and Veteran to BSN — and graduate degrees and certificates — master's, post-master's and Doctor of Nursing Practice. The expansion of the School of Nursing program has been an endeavor of high importance for health care community leadership in the Amarillo area for many years. As such, TTUHSC faculty will work to build excellent relationships within the community with an intentional desire to collaborate with nursing faculty at other colleges and universities in the area.
Support from BSA Health System, Baptist Community Services and the Harrington Cancer and Health Foundation have made this expansion possible.
For more information on application information, visit the School of Nursing website.
Related Stories
Education
By School of Health Professions
March 21, 2023
World Down syndrome Day was established to raise awareness about Down syndrome and to promote inclusion and acceptance of people with Down syndrome in all aspects of society.
Education
By Meaghan Collier
March 17, 2023
TTUHSC Amarillo medical students participated in Match Day Friday, March 17.
Education
By Suzanna Cisneros
March 17, 2023
TTUHSC medical students participated in Match Day Friday, March 17.
Recent Stories
Research
By Mark Hendricks
March 21, 2023
TTUHSC Cytogenetic Technologist Jasbir Bisht and a team from P. Hemachandra Reddy's internal medicine laboratory analyzed the impact of cancer in Hispanics in comparison to other ethnic groups.
Education
By School of Health Professions
March 21, 2023
World Down syndrome Day was established to raise awareness about Down syndrome and to promote inclusion and acceptance of people with Down syndrome in all aspects of society.
By QEP Committee
March 21, 2023
As spring approaches, some people's thoughts turn to gardening. Whether it's a flower garden they desire or a vegetable garden want to have, they begin planning what they'll plant and what they need to do to ensure a successful garden.