Roles and Responsibilities of an Addiction Counselor
By School of Health Professions
September 1, 2022
Addiction counseling focuses on helping patients overcome substance use disorders and other unhealthy dependencies.
Addiction counselors provide and coordinate services for people with a range of substance use and other behavioral addictions and health problems. They provide treatment and support to help clients recover from addiction and modify problematic behaviors.
We sat down with Zach Sneed, PhD, CRC, LCDC, BC-TMH, to discuss the roles and responsibilities of an addiction counselor today. Sneed is an Assistant Professor and Director of the Master of Science in Addiction Counseling program in the TTUHSC School of Health Professions. Sneed was named "Outstanding Teacher of the Year" by the TTUHSC Student Senate in 2020 and 2021.
Meeting the Client Where They Are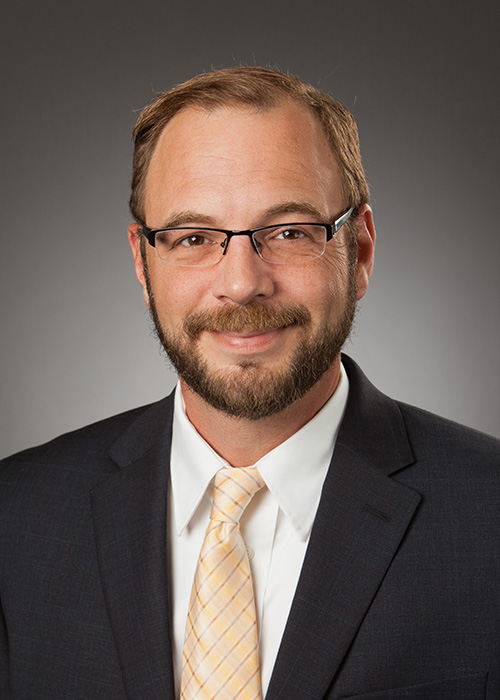 Addiction counselors must be prepared to meet clients at various stages of their recovery journey. They could see a client who is still intoxicated, actively using, or in early stages of withdrawal.
"There's active use, withdrawal, then sobriety," Sneed explains. "We work with clients through sobriety to build further recovery."
Sneed believes that addiction counselors are perhaps the most well-trained counselors available. "We have a good grounding in behavioral and mental health techniques, and we spend time helping people recognize their habits of use," he says.
Clients come to addiction counseling through many different paths. It could be that a family member or employer has staged an intervention, or that the client has decided to take this step on their own.
"The counselor has to build the client's motivation and understanding of their use patterns and how it's affecting others in their life," Sneed says. "Our goal is to motivate them to push further into recovery."
Addiction counselors must have the skillset to meet their clients' needs. This includes creating the most optimal schedule and having the time and space to meet their needs.
"In a crisis of conscience or motivation, the client needs a way to reach out to the counselor without waiting for next week's session," Sneed says.
Addiction counselors often take on the role of family counseling as well.
"We have a role in helping with reintegration, reuniting with a spouse or partner," Sneed says. "We start to shift from how the patient is feeling to how they are going to interact with other people. How are they going to rebuild those bridges that have been set on fire? What are they going to do in the workplace when their friends want to go out for a drink?"
Working With a Team as Addiction Counselors
Addiction counselors are working as a part of interprofessional teams more than ever before, according to Sneed.
"No one has time to learn and specialize in everything," he says. "We need that interprofessional approach, because it helps us bring the right team members to meet the unique needs of each person."
For instance, addiction counselors are not able to prescribe medication, but their expertise and knowledge of the client can have an impact on what medications should or shouldn't be prescribed.
"We can provide advice to the prescriber," Sneed explains. "Addiction counselors recognize the potential for misuse of certain medications. We have a role in patient safety and speaking up when we know something about the patient and their history."
Addiction counselors may also treat clients who don't want to or can't drop everything and go to a treatment facility due to family or professional obligations.
"That person will need to contact a counselor who has connections to other providers," Sneed says.
The Substance Abuse and Mental Health Services Administration (SAMHSA) describes medication-assisted treatment (MAT) as "the use of medications, in combination with counseling and behavioral therapies, to provide a 'whole-patient' approach to the treatment of substance use disorders."
"Some physicians who provide MAT have linkages with counselors in their communities," Sneed says. "We work in concert together."
Tools for Recovery From Addiction
"Most facilities will use some form of medication with Cognitive Behavioral Therapy (CBT) to help with withdrawal," Sneed says. "Withdrawal typically causes physical and psychological panic. Some medications will be provided to help them ease into it."
And at the same time, addiction counselors are teaching psychological skills that are designed to provide understanding and strategies for getting through the withdrawal stage of recovery.
"When someone gets urges for the substance, this urge often subsides after 30 seconds," Sneed explains. "We help them to understand what to do with a moment that feels like forever, but is often less than a minute."
Sneed points out that it's important to remember that all people use substances because they are getting something positive out of it, or believe that they are. "There's a reason you drink coffee in the morning or have a glass of wine at the end of the day," he says.
For a person suffering from a substance use disorder, the frequency and patterns of use eventually change as they become more physically and mentally dependent on the substance. But it's important to remember that the original reason for using the substance still exists.
An addiction counselor helps their client recognize these needs and find strategies for how to address them in a healthier, less destructive way, setting them on a path for long term recovery.
"We can help clients understand what they are facing," Sneed says.
Related Stories
Education
By Suzanna Cisneros
March 24, 2023
Recognizing academic excellence, the honors are the most prestigious awards granted to faculty throughout the TTU System. The awards are funded by gifts to the Chancellor's Council, a giving society that supports the chancellor's priorities across the TTU System.
Education
By School of Health Professions
March 21, 2023
World Down syndrome Day was established to raise awareness about Down syndrome and to promote inclusion and acceptance of people with Down syndrome in all aspects of society.
Education
By Meaghan Collier
March 17, 2023
TTUHSC Amarillo medical students participated in Match Day Friday, March 17.
Recent Stories
Campus Life
By Meaghan Collier
March 31, 2023
TTUHSC School of Nursing honored its first class of Bachelor of Science in Nursing (BSN) graduates with a lamp lighting ceremony on Thursday, March 30.
Health
By Melissa Whitfield
March 30, 2023
Texas Tech Physicians primary and specialty clinics across West Texas have completed more than 160,000 telehealth visits since the start of the pandemic.
Education
By Suzanna Cisneros
March 24, 2023
Recognizing academic excellence, the honors are the most prestigious awards granted to faculty throughout the TTU System. The awards are funded by gifts to the Chancellor's Council, a giving society that supports the chancellor's priorities across the TTU System.