Team Member Spotlight | Casie Reyes, Programmer Analyst
By Clara McKenney
October 29, 2021
With five campuses stretching across 108 counties in West Texas and beyond, Texas Tech University Health Sciences Center (TTUHSC) is a diverse and complex institution, and our success is due in no small part to our exceptional team members.
At TTUHSC, everyone plays a vital role. Being part of the TTUHSC team means being part of a supportive community where you can grow and thrive in a values-based culture that puts people first. As ambassadors of our mission and culture, our incredible team members go above and beyond every day in exemplifying our values: Beyond Service, Kindhearted, Integrity, One Team, and Visionary. We are excited to share their stories.

Meet Casie Reyes, Programmer Analyst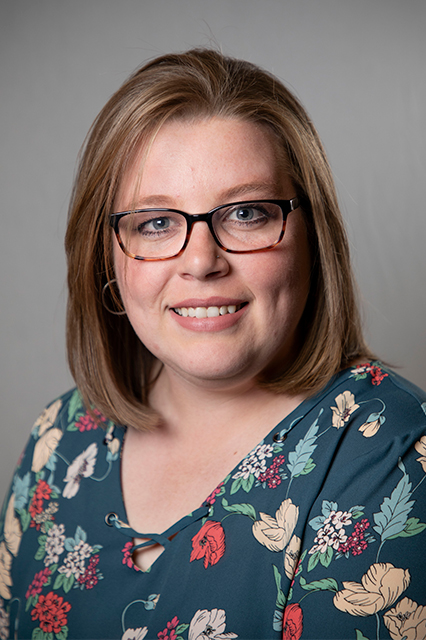 How long have you worked at TTUHSC, and what is your role?
I will have worked for TTUHSC for nine years this November! I am currently working as a Programmer Analyst in the Department of Business Analytics and Reporting. Our team provides electronic health record (EHR) support and produces reports that are requested for research projects and department functionality.
How did you come to work at TTUHSC? Can you tell us about your career journey to (or within) our institution?
I was looking for a new career in the medical field and came across a job posting for a supply clerk in the Correctional Managed Care division of TTUHSC. I spent almost two years within that facility before transferring to my current Programmer Analyst position.
I never imagined my career path would be in the medical field, but I am fortunate to have it be with TTUHSC.
What do you enjoy about your work, or what excites you most about your job?
I love meeting new people and hearing their stories–whether it be patients, new employees, or new faculty. I especially love teaching the EHR system to new medical professionals because I get to meet people from many different places! I also enjoy watching new residents grow into amazing physicians, knowing that our institution was a part of their journey.
Which of the values (One Team, Kindhearted, Integrity, Visionary, and Beyond Service) is most integral to your job or team? Why?
While I feel we incorporate all values into our daily work, our team definitely integrates One Team and Beyond Service in our jobs. We work together to troubleshoot issues within the EHR system and try to resolve issues quickly, before patient care is interrupted. Additionally, our reports provide faculty with the data needed to improve patient care and give insight into what may need to be changed in the department's workflow.
How would you describe the culture at TTUHSC?
I would describe the culture of TTUHSC as always changing for the better of the community. Whether it is developing innovative ways to provide education to students, or finding ways to provide exceptional care to patients, or creating a successful environment for their employees, TTUHSC culture puts people first.
What do you enjoy most about the Permian Basin, and what makes you proud to call West Texas home?
I currently live in Midland but was raised in a small West Texas town. While the scenery may be lacking in big trees and luscious greenery, West Texas has a resilience that I am proud to be a part of.
What do you wish more people knew about your team or department, or our institution?
I wish the community knew more about our institution and the services we offer. Their trust in our ability to provide exceptional patient care not only betters their health, it also provides our medical professionals with the experience they need to become the future of health care.
What most excites you about the future at TTUHSC?
With our new vision of innovation and collaboration, I feel like we can make amazing strides in providing health care to our community and exceptional learning experiences to our medical professionals. The great thing about technology is that it is always changing, which allows us to reach people in ways we never thought possible and TTUHSC has the drive to keep up with the changes and get ahead of the game!
What would you tell people who are considering a position at TTUHSC?
TTUHSC is a great team to join, and not just for the great benefits! We are One Team that works together towards a main goal—provide great patient care and provide exceptional education to future medical professionals. The connections you make here will forever stay with you and will shape the person you become within the institution.
Is there anything else you would like to share?
I always knew that I would have Texas Tech in my life–whether it was rooting for their athletic teams or possibly an education through their system–but I never thought it would become a lifelong career with TTUHSC. I've grown so much and have met so many people during my time with TTUHSC and I am forever grateful for those that have helped me become the person I am today in my career.
---

Follow the TTUHSC Team on Facebook, Twitter, Instagram and LinkedIn for team member stories, resources, and career opportunities at Texas Tech University Health Sciences Center.
Ready for a rewarding career where you can build relationships and make a real difference? View our current openings and apply now, or explore what makes TTUHSC such a great place to work.

Related Stories
Campus Life
By Suzanna Cisneros
March 23, 2023
TTUHSC School of Medicine students will host a Women's Health Day free clinic from 10 a.m. to 1 p.m. April 15 at The Free Clinic
Campus Life
By Mark Hendricks
March 14, 2023
Student Research Week provides an opportunity for TTUHSC student investigators to showcase their work and hear presentations from distinguished national speakers related to the year's specific theme.
Campus Life
By Suzanna Cisneros
February 28, 2023
TTUHSC has named John Gachago, DHA, as the executive director for Telehealth Technology and Innovation.
Recent Stories
Campus Life
By Suzanna Cisneros
March 23, 2023
TTUHSC School of Medicine students will host a Women's Health Day free clinic from 10 a.m. to 1 p.m. April 15 at The Free Clinic
Research
By Mark Hendricks
March 21, 2023
TTUHSC Cytogenetic Technologist Jasbir Bisht and a team from P. Hemachandra Reddy's internal medicine laboratory analyzed the impact of cancer in Hispanics in comparison to other ethnic groups.
Education
By School of Health Professions
March 21, 2023
World Down syndrome Day was established to raise awareness about Down syndrome and to promote inclusion and acceptance of people with Down syndrome in all aspects of society.