The Effects of COVID-19 on Mental Health
The pandemic has, in many ways, improved communication about mental health, a critical component to our overall health.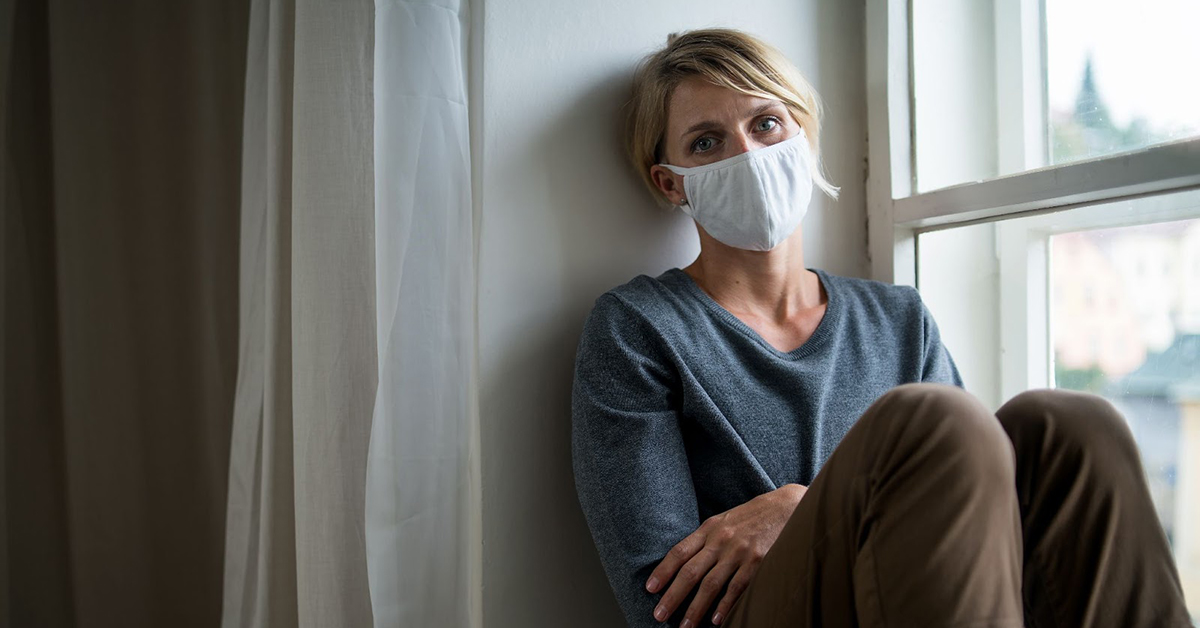 There is no doubt that the coronavirus pandemic has had a profound impact on our mental health. Since the early days of questions and misinformation about COVID, we have been on a mental roller coaster ride, often not knowing what lurks around the next turn.
Logan Winkelman, PhD, Assistant Professor in the TTUHSC department of Clinical Counseling and Mental Health, recently explained the mental issues she has been seeing as a direct result of COVID. She discussed the signs to look for in ourselves and loved ones and ways to find help for mental health complications.
Stressors Amplified During COVID
There's a scene in the movie Spinal Tap, when the guitar player is showing off his amplifier that "goes to 11." In a sense, the COVID-19 pandemic has turned everything up to 11.
"COVID has amplified the stressors people are experiencing on many levels," Winkelman explained. Stress manifests itself in different ways for different people. Job loss, economic instability, social isolation, not to mention the fear of infection in yourself and those you love, have combined to create a particularly stressful time to be alive.
Winkelman says mental health providers have seen increased rates of depression, anxiety and substance abuse.
"Each person is unique in the way that they respond to stress," she said.
There has been an increase of burnout in healthcare as doctors, nurses and staff struggle to keep up with the onslaught of cases. This is the first time many healthcare professionals have seen hospitals overrun, and counselors are struggling to meet the need.
Not surprisingly, this work stress has contributed to the overall increase in the divorce rate in the United States, as couples have endured new levels of job pressure and in many cases have been forced into isolation, trying to juggle working from home and caring for school-aged children or elderly in need.
Mind and Body, Connected
"There is a clear connection between emotional stress and physical health," Winkelman said.
Psychological stress manifests itself physically as well as mentally, she explained. These stressors can affect sleep and eating habits. They can cause headaches and body pain. Those with mental health conditions may find those conditions worsened under times of increased stress, such as now.
"All of our underlying issues can worsen because of increased stress," Winkelman warned.
The Mental Health of the Elderly During COVID
The aging population has had a particularly difficult time during COVID due to isolation and their heightened threat of contracting the virus.
"Our elderly and aging populations are just as impacted, if not more so, by social isolation and the pandemic," Winkelman said.
The sudden lack of family and friends being able to visit has left nursing home residents feeling lonely and afraid. Signs of struggle include forgetfulness and saying things that don't make sense.
Winkelman recommends loved ones listen for language of hopelessness and take action.
"Don't ignore or undermine those signs," she recommended.
The Mental Health of the Young During COVID
The number of children and teenagers seeking help for anxiety or depression during the pandemic is rising across the country. The difference in ages isn't whether or not there is stress, it's the ability to recognize it.
It might seem hard to tell what a child is feeling or thinking, but the signs of mental distress will be there, Winkelman said. It could be a prolonged change in mood as well as a change in eating and sleeping habits.
"Society rewards forward thinking and future thinking, which is great," she said. "But it can take us out of the present moment."
Winkelman recommends being as present as possible for your kids, checking in often.
"We often have so much tension because we're not trained to be in tune with our feelings, breath and physical being," she said.
The Stigma of Mental Health
Winkelman says there has always been a stigma with mental health issues, because it's associated with healthcare.
"We don't like associating something being wrong with us," She explained. "We don't like being labeled or diagnosed."
This is a misinterpretation of what mental health counseling and treatment is like in many cases, she said. If there is a severe mental illness, it should be treated such. But in many cases, seeking counseling isn't an admission you're "unwell" or that something is wrong.
Oddly enough, the pandemic has somewhat improved these misinterpretations.
"COVID has allowed us to talk in terms of mental wellness and mental health, so it doesn't have near the stigma that it used to," Winkelman said. "Our media outlets, primary care physicians and schools are doing more positive public relations regarding mental health, which is great."
Resources for Mental Health Counseling
Winkelman encourages everyone who needs mental health counseling to pursue the many resources available. A first step would be to ask your primary care physician for recommendations. Another option is to use the "find a therapist" feature at Psychology Today.
"It's okay to shop around," Winkelman said. "You're not going to mesh well with every counselor. You want to be satisfied with the treatment you're getting."
Winkelman says the goal of counseling is not to become dependent on it, but rather to help patients develop insights and tools for your specific triggers.
The crisis helplines below are free to everyone. If we've learned anything from this pandemic, it's that we shouldn't go it alone.
National Suicide Prevention Lifeline: 1-800-273-8255
Crisis Text Line: Text HOME to 741741
Trans Lifeline: 1-877-565-8860 (for the transgender community)
TrevorLifeline: 1-866-488-7386 (for LGBTQ youth)
Veterans Crisis Line: 1-800-273-8255, Press 1
Related Stories
By QEP Committee
March 21, 2023
As spring approaches, some people's thoughts turn to gardening. Whether it's a flower garden they desire or a vegetable garden want to have, they begin planning what they'll plant and what they need to do to ensure a successful garden.
By QEP Committee
March 21, 2023
A "growth mindset" accepts that our intelligence and talents can develop over time, and a person with that mindset understands that intelligence and talents can improve through effort and learning.
By Melissa Whitfield
February 13, 2023
Abstaining from drug abuse and an early diagnosis of familial hypercholesterolemia (high cholesterol) can help prevent heart disease.
Recent Stories
Education
By Suzanna Cisneros
March 24, 2023
Recognizing academic excellence, the honors are the most prestigious awards granted to faculty throughout the TTU System. The awards are funded by gifts to the Chancellor's Council, a giving society that supports the chancellor's priorities across the TTU System.
Campus Life
By Suzanna Cisneros
March 23, 2023
TTUHSC School of Medicine students will host a Women's Health Day free clinic from 10 a.m. to 1 p.m. April 15 at The Free Clinic
Research
By Mark Hendricks
March 21, 2023
TTUHSC Cytogenetic Technologist Jasbir Bisht and a team from P. Hemachandra Reddy's internal medicine laboratory analyzed the impact of cancer in Hispanics in comparison to other ethnic groups.