TTUHSC to Host Future Scientists During Student Research Week
Though Virtual for 2021, Event to Continue Poster Competition, Silent Auction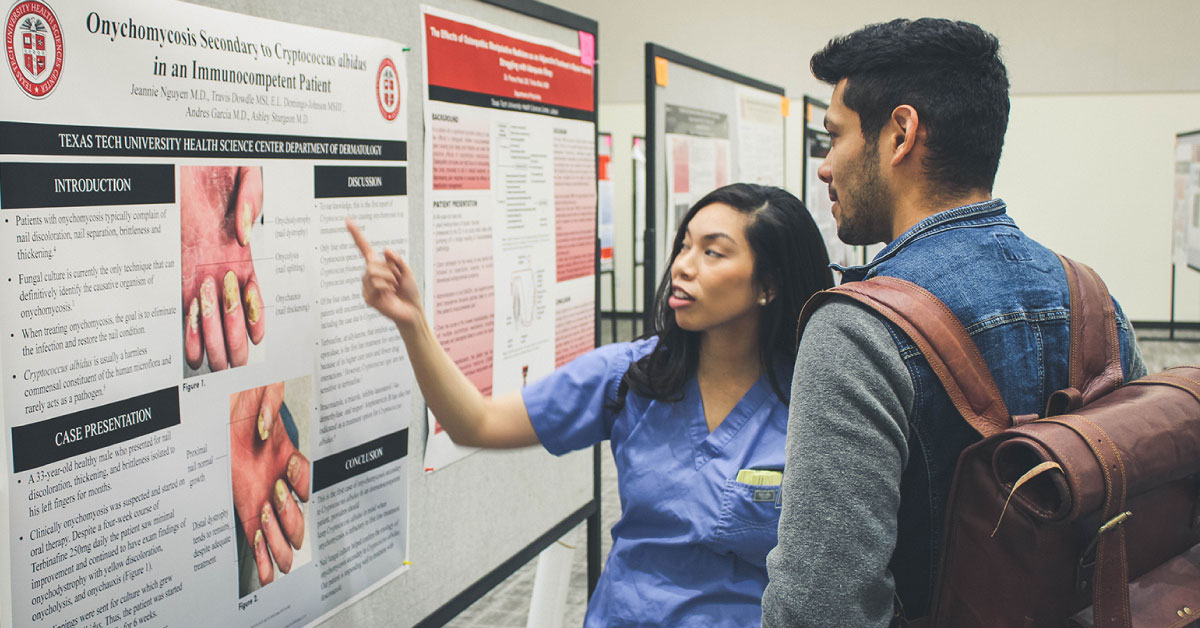 Photo taken during 2020 Student Research Week
Student researchers from the Texas Tech University Health Sciences Center (TTUHSC) Graduate School of Biomedical Sciences and the Department of Pharmacology and Neuroscience will host the university's 33rd Student Research Week March 9-12 in Lubbock.
Mariacristina Mazzitelli, a Graduate School of Biomedical Sciences student, is the Student Research Week director for 2021. Other committee members include M.D.-Ph.D. student Peyton Presto (vice director of operations), Ph.D. student Emily Vanderpool (vice director of marketing) and Master of Science student Nicholas Evans (vice director of poster competition).
Mazzitelli said the interdisciplinary event is important for all TTUHSC students because they have the opportunity to present their research and interact with other students and keynote speakers in a conference-like atmosphere.
"Unfortunately, the 2021 Student Research Week underwent several changes because of the pandemic, including the fact that it will take place in an entirely virtual fashion," Mazzitelli said. "The committee had to make some decisions to decrease the magnitude of the event, but the significance and rationale of Student Research Week remains unchanged."
Student Research Week provides an opportunity for TTUHSC student investigators to showcase their work and hear presentations from distinguished national speakers related to the year's specific theme. Mazzitelli said the 2021 event theme is, "NEURO: New Experiences Unfold Research Opportunities."
"The theme, NEURO, aims to define a bond between the 2021 host department (the Department of Pharmacology and Neuroscience) and Student Research Week, and also encourage the students toward the discovery of the multiple possibilities behind new research endeavors," Mazzitelli added.
Keynote speakers for the event include Bryan Roth, M.D., Ph.D., and Susan Amara, Ph.D. Both will deliver their presentations on March 12.
Roth is the Michael Hooker Distinguished Professor of Pharmacology at the University of North Carolina Chapel Hill School of Medicine. His laboratory is responsible for the discovery and development of the chemogenetic technology known as DREADDs (Designer Receptors Exclusively Activated by Designer Drugs), a revolutionary approach in pharmacology.
Amara, a National Academy of Science Fellow, is the scientific director of the Intramural Research Program at the National Institute of Mental Health. Her research focuses on the signaling properties and physiology of psychostimulant and antidepressant drugs.
"Drs. Roth and Amara are two outstanding and brilliant researchers in the field of pharmacology and neuroscience, and their work fully represents the 2021 theme with their discoveries and achievements," Mazzitelli said. "The Student Research Week committee is grateful for their participation."
Photo taken during 2020 Student Research Week
Student Research Week also features a poster competition, which will be conducted virtually in 2021. The poster competition allows students to present their research projects and discuss their findings and ideas from diverse research areas. In addition to Graduate School of Biomedical Sciences students, poster competition entries span the TTUHSC family, including the Schools of Health Professions, Medicine, Nursing and Pharmacy from campuses in Lubbock, Amarillo, El Paso and Abilene.
The 2021 Student Research Week Silent Auction will be entirely virtual. Mazzitelli said students from the Graduate School of Biomedical Sciences and TTUHSC's Graduate Student Association will manage the auction using the Graduate School of Biomedical Sciences Facebook page (https://www.facebook.com/ttuhsc.gsbs). Photos of donated items will be posted online and people will leave a comment, including their bid, under the photo of the item in which they are interested.
Items expected to be available during the silent auction include Texas Tech University (TTU) game tickets or box seats, signed sports equipment, wine and cheese platters or wine tastings, TTU coach-themed items, TTU clothing, a TTU golf bag and a variety of gift cards for merchandise, entertainment and services from local businesses.
A short, virtual banquet will be held from 2:30- 3 p.m. March 12 (Friday). The banquet will feature a sketch video created by students.
Mazzitelli said Student Research Week also will include a special Interprofessional Education (IPE) session available to students, faculty and staff about COVID-19 Awareness and how interprofessional teams can work together to face a public health crisis.
"Attendees will have the opportunity to submit questions to an Interprofessional Interactive Panel discussion during a Zoom Webinar so that we may learn from our experts' experiences in approaching this devastating pandemic," Mazzitelli explained.
For more information about Student Research Week 2021, including a schedule of events, visit https://www.ttuhsc.edu/biomedical-sciences/student-research-week/default.aspx.
Related Stories
By Mark Hendricks
March 25, 2022
The Texas Tech University Health Sciences Center (TTUHSC) Graduate School of Biomedical Sciences hosted its 34th Annual Student Research Week March 8-11.
By Mark Hendricks
March 25, 2022
The National Cancer Institute awarded a five-year, $1.9 million grant to C. Patrick Reynolds, M.D., Ph.D., director for the School of Medicine Cancer Center at TTUHSC.
By School of Health Professions
March 24, 2022
Richard Greenhill, DHA, FISQua, FACHE, discusses the hype and reality surrounding AI in healthcare.
Recent Stories
Education
By School of Health Professions
June 30, 2022
Ericka Hendrix, PhD, MB(ASCP)cm, spoke about the training and education involved for diagnostic molecular scientists and how the pandemic has affected the role.
Education
By Suzanna Cisneros
June 29, 2022
TTUHSC and members of the Abilene community today (June 29) celebrated the official unveiling the new Julia Jones Matthews School of Population and Public Health.
Education
By Kate Gollahon
June 28, 2022
On June 29, the opening celebration event for the Julia Jones Matthews School of Population and Public Health will recognize many years of hard work and look ahead to the start of a new and exciting journey.