Upcoming Laboratory Space in Abilene Provides Opportunities for Public Health
TTUHSC expert shares plans for the new lab, ongoing public health projects
No one could have predicted that 2020 would be the year that so many projects, no matter how crucial, slowed to a halt amid a worldwide pandemic. As part of a higher education assistance fund (HEAF) project, Texas Tech University Health Sciences Center (TTUHSC) at Abilene received funds to build a laboratory space for the Department of Public Health in May of 2020.
"COVID-19 really slowed down the initial work on the project because the building was closed and most TTUHSC employees were working from home," said Emily Bailey, Ph.D., an assistant professor at TTUHSC's Department of Public Health. While there isn't a set date of completion for the project, Bailey expressed hope for the future.
"I think now we are much closer to seeing it happen because we can go into the building," said Bailey.
Bailey teaches courses on environmental health and environmental epidemiology, and her postdoctoral fellowship at Duke University focused on infectious diseases and global health. Possessing the kind of invaluable experience and knowledge that proves essential during a global pandemic, it is no surprise that—after moving to Texas in October of 2019—Bailey's work almost immediately revolved around COVID-19.
"In my lab work at TTUHSC I use my experience to bring together our students as well as those in the Abilene area who are interested in learning more about environmental health or infectious diseases to work on projects," said Bailey.
Fortunately, the hold on building the new laboratory has not slowed the progress of the Department of Public Health at TTUHSC. Bailey and her group of student interns, research assistants and graduate assistants have been hard at work on COVID-related topics since the beginning of the pandemic.
Without a laboratory space specifically for public health, Bailey and her team have been using space in TTUHSC's School of Pharmacy building. One major COVID-related project is a partnership with Abilene Christian University (ACU), which involves the surveillance of severe acute respiratory syndrome coronavirus 2 (SARS-CoV-2).
"The primary goal of the ACU surveillance project was to examine the prevalence of SARS-CoV-2 on ACU's campus," explained Bailey.
Since August 2020, the group has been working with ACU by collecting over 5,000 samples of nasal swabs from athletes, students and staff.
"ACU has been very supportive of the [Centers for Disease Control (CDC)] guidelines and they have had very few cases in their student population overall, despite remaining on campus with in-person classes throughout the pandemic," said Bailey. "In athletics it has been more difficult to prevent cases due to close contact, but teams have been able to isolate and stop the spread as quickly as possible."
The partnership with ACU is one of multiple projects for Bailey and her group that primarily focus on zoonotic viruses and environmental health. For example, the meat or food survival projects examine the survival of viruses like SARS-CoV-2 on meat products stored at refrigerated or frozen temperatures. Their work on this project is supported by the World Health Organization.
"I completed some of the initial work last fall," said Bailey, who added that the paper for this project is currently under review. The group will continue with animal viruses this spring.
"Several countries like China and Vietnam have suggested that community outbreaks of SARS-CoV-2 started due to frozen foods—this work targets that assumption," Bailey said. "Initial results have shown that surrogates survive more than 60 days at frozen temperatures."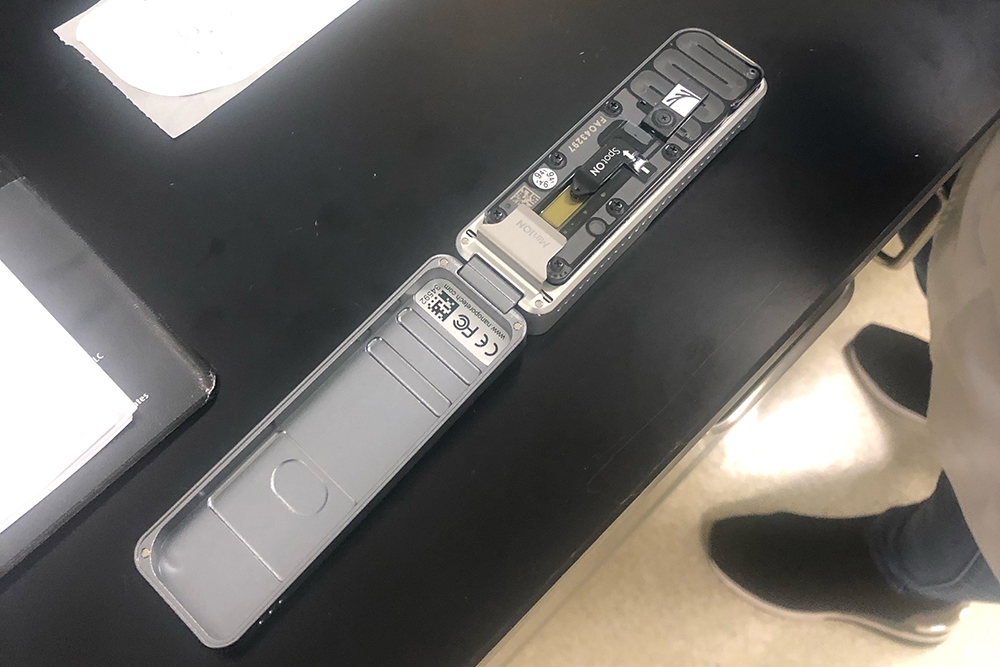 The MinION is a whole genome sequencing platform.
Another project involves Whole Genome Sequencing (WGS) work, and is focused on sequencing SARS-CoV-2 positives from the group's surveillance work on COVD-19. With the ability to sequence about 24 samples in 24 hours, the group can examine samples for COVID-19 variants in Abilene. According to Bailey, the team is currently working to partner with other lab groups who might be interested in variant sequencing.
As these projects clearly demonstrate, this past year has shown just how essential those who work in public health are to our community. Bailey explained that having a lab for these efforts is a critical part of what makes their team successful.
"Laboratory spaces for public health work are very important, especially during a pandemic," said Bailey. "My work lends itself to pathogen discovery as well as surveillance of pathogens in humans, animals and the environment."
Bailey pointed out that access to laboratory tools—as well as tools to train students on new methods for detecting pathogens—are crucial for any department of public health, and the new laboratory could provide TTUHSC with new, exciting opportunities.
"This space will be unique in that it is the first wet lab space in TTUHSC's department of public health," said Bailey. "I see it as a space for multiple research groups to collaborate and ask questions—and I think that the Abilene campus will be a good launching point for that kind of research."
COVID-19 has dominated the majority of Bailey's time in Texas, but despite the circumstances, Bailey said she feels fortunate to be supported in her work by those who have teamed with her on these projects.
"I have been very lucky to be supported in this work by student interns from ACU, as well as graduate assistants at TTUHSC," Bailey said. She also credits Marina Curcic, her laboratory manager and research associate, for positively changing the dynamic of the group this spring. With this team, Bailey envisions a hopeful future for local public health studies.
"Public health work is a team effort, and I am trying to build a public health laboratory team here in Abilene," said Bailey. "I hope that this very tough year of COVID-19 work leads to unique opportunities for my group."
Related Stories
By QEP Committee
March 21, 2023
As spring approaches, some people's thoughts turn to gardening. Whether it's a flower garden they desire or a vegetable garden want to have, they begin planning what they'll plant and what they need to do to ensure a successful garden.
By QEP Committee
March 21, 2023
A "growth mindset" accepts that our intelligence and talents can develop over time, and a person with that mindset understands that intelligence and talents can improve through effort and learning.
By Melissa Whitfield
February 13, 2023
Abstaining from drug abuse and an early diagnosis of familial hypercholesterolemia (high cholesterol) can help prevent heart disease.
Recent Stories
Research
By Mark Hendricks
March 21, 2023
TTUHSC Cytogenetic Technologist Jasbir Bisht and a team from P. Hemachandra Reddy's internal medicine laboratory analyzed the impact of cancer in Hispanics in comparison to other ethnic groups.
Education
By School of Health Professions
March 21, 2023
World Down syndrome Day was established to raise awareness about Down syndrome and to promote inclusion and acceptance of people with Down syndrome in all aspects of society.
By QEP Committee
March 21, 2023
As spring approaches, some people's thoughts turn to gardening. Whether it's a flower garden they desire or a vegetable garden want to have, they begin planning what they'll plant and what they need to do to ensure a successful garden.