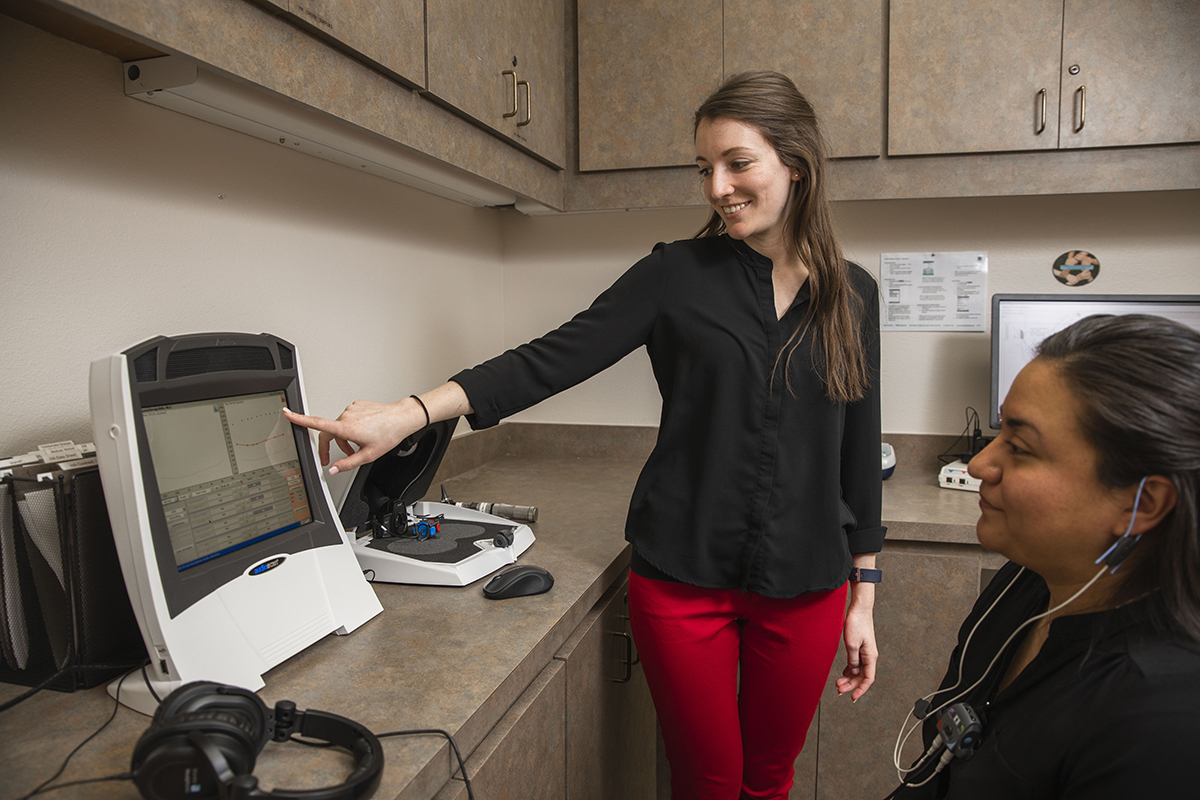 There's an entire academic field dedicated to helping improve the quality of life for people who face challenges and have functional limitations with communicating and moving. Rehabilitation science is an interdisciplinary field that investigates theories and practices that contribute to improving the quality of life of these individuals, says Sue Ann S. Lee, Ph.D., CCC-SLP, an associate professor in the rehabilitation science Ph.D. program at the Texas Tech University Health Sciences Center School of Health Professions (TTUHSC SHP)
"The primary goal of our research and practice is to increase our understanding of typical and atypical aspects of physical and communicative functions in human beings," she says.
Rehabilitation science professionals intervene to help people restore or improve their functional capacity through meaningful interactions in social, emotional, and environmental contexts. Evidence-based practice (EBP) is an important part of the discipline's professional practice. It integrates clinical expertise with evidence from research and listens to what the patient wants.
"As I teach EBP to graduate and Ph.D. students, I have observed that students learn and know about what EBP is, but they often do not know how to implement EBP," Lee says. Her goal is to change that in the Ph.D. course she teaches on evidence-based practice in communication disorders.
So what is evidence-based practice? Evidence-based practice is the clinical decision making process that integrates three EBP components such as external evidence, clinical expertise and client perspectives. Then, how to implement EBP? Evidence-based practice follows several steps similar to the scientific method in other disciplines. EBP starts with a clinical question and the practitioner will then look for external evidence through an intensive research process. Clinical questions might investigate whether a particular treatment is more effective for a patient and what the outcomes might be.
The next step in evidence-based practice is to critically appraise the validity and trustworthiness of the external evidence because practitioners should make the clinical decision based on the highest quality of the evidence. Then the clinician will take into consideration patient values and the practitioner's internal clinical expertise. Patient values include patients' needs and wishes, and their cultural and socio-psychological factors. The practitioner's internal clinical expertise consists of the practitioner's academic and clinical training and experience. After integrating the three elements (external research evidence, internal clinical expertise, and patient's values), finally, the clinician makes a decision as to what intervention would best suit a specific patient's current clinical scenario.
In speech pathology, for instance, a clinician might want to know whether or not computer-assisted instruction helps kids with reading difficulties recognize and work with sounds in spoken language, which is an important building block in learning how to read. With an EBP approach, the clinician would want to find out whether there is any valid research evidence to support the use of computers to teach reading, whether children/parents prefer computers to books, and if they have access to computer-assisted instruction at school, before deciding on the course of action and treatment.
Lee says that evidence-based practice is essential to the rehabilitation sciences because of the need to make sure that information used to inform clinical decisions is credible and that interventions are effective. "When we see a patient in rehabilitation science practice, we encounter a number of opportunities where we should make a decision. In these cases, we used to rely on our accumulated knowledge regarding a diagnostic test or a treatment approach, and [whether or not] to adopt a test or perform a treatment," she says.
Patients benefit from EBT because it takes into consideration their preferences, beliefs, and values rather than just relying on a practitioner's knowledge and experience — in other words, his or her clinical expertise.
But evidence-based practice can be hard to implement due to high patient caseloads and lack of time to do thorough research. "Although EBP is considered a useful and necessary framework in our clinical practice, practitioners often feel that they have a number of barriers to implement EBP," Lee says.
She adds that professional organizations such as the American Speech-Language-Hearing Association (ASHA) emphasize the importance of EBP and consistently promote evidence-based practice in clinical practice. The organization now requires rehabilitation science master's and doctoral programs, like the one at TTUHSC SHP, to include courses in EBP training. In addition, researchers tried to reduce the gap between research and practice by identifying factors affecting the implementation of EBP in clinical practice.
Faculty members like Lee encourage graduate students in rehabilitation science to take a course in evidence-based practice during their doctoral studies. During the course, students develop a clinical question and search for evidence and analyze it using critical thinking skills. "In addition to appraising evidence qualitatively, they also learn how to evaluate evidence quantitatively by conducting a meta-analysis," Lee says. "Finally, the students are expected to write up a paper and submit it to a peer-reviewed journal."
Lee adds that there is a shortage of health care professionals who have Ph.D.s in rehabilitation science. Most graduates of the doctoral program will pursue a career as a faculty member at a university or as a researcher in a clinical setting, such as a hospital. "Rehabilitation science is definitely a growing field," she says.
If you'd like to learn more about the Ph.D. program in rehabilitation science at TTUHSC SHP, please email us at: health.professions@ttuhsc.edu or call 806-743-3220 to speak with someone in admissions.