Innovation and Collaboration at Work: The New Modular Skills Trainer
Portable simulation training helps make TTUHSC's vision a reality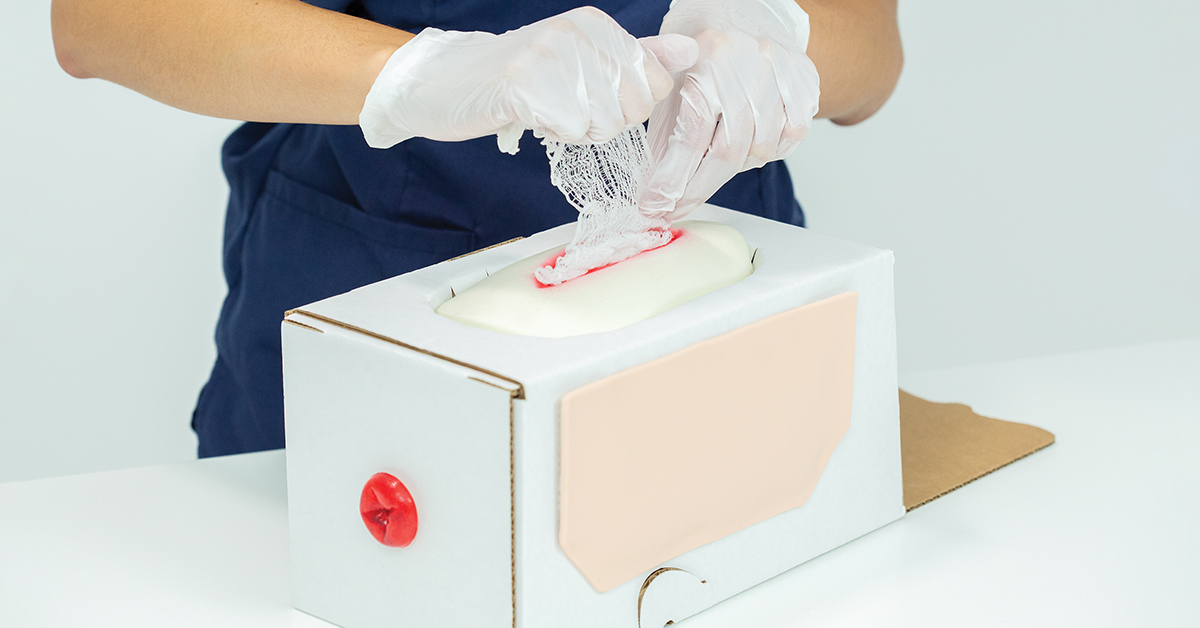 Image Credit: laderal.com
The new vision at Texas Tech University Health Sciences Center (TTUHSC) aims to transform health care through innovation and collaboration. The vision is not only about the biggest names in science and leadership—everyone plays a vital role. This series seeks to highlight innovative individuals and groups that work together to create transformative ideas and shape health care, revealing what makes this university extraordinary.
Sharon Decker, R.N., Ph.D., is the associate dean for simulation and a professor for the TTUHSC School of Nursing where she has been a faculty member since 1984. She is also the executive director of The F. Marie Hall SimLife Center, which opened in 2010 as the university's initial interprofessional, multimodality simulation center.
In the past 10 years, TTUHSC has opened simulation centers on its campuses in Abilene, Amarillo and Odessa. Together the centers form the Simulation Program, giving students the training environments to learn how to provide the highest quality of patient care.
Pandemic-era simulation training
During a pandemic, any kind of education takes considerable readjustment—but the TTUHSC School of Nursing faculty faced a particularly challenging task. While adapting to virtual learning styles, nursing students needed a way to learn several patient care skills from the safety of their homes.
"Students were practicing these skills on their dolls, teddy bears and even just using pillows," said Decker. For both faculty and students, it became clear that certain skills are not easily taught through a virtual classroom. TTUHSC's simulation centers were designed to provide simulated realistic environments for students and prepare them for their future careers. So how do you bring a simulation experience to students' homes?
"The idea was a result of hearing the difficulties faculty were having when teaching technical skills utilizing an online format," Decker said of the new Modular Skills Trainer. Through an existing relationship with the vendor, TTUHSC simulation center team members were invited to collaborate in designing the trainer, and TTUHSC was the only school selected for beta testing of the new tool.
A cohort of 90 TTUHSC nursing students and several faculty members from Abilene, Lubbock and Odessa were chosen to assist in beta testing the module. Their input helped modify the trainer, creating the easily transported, adaptable tool that nursing students currently use to understand and practice certain skills in a remote learning environment.
"The Modular Skills Trainer is a portable solution to assist students in skills practice and competency development," said Decker, adding that the interchangeable accessories provide students the ability to practice more than 10 patient care skills.
Thanks to funding from the coronavirus relief bill, the new, modified Modular Skills Trainer is available for check-out to all TTUHSC students in levels one and two of the traditional undergraduate nursing program in Abilene, Lubbock and Odessa.
Joining forces to shape the future
"This was a collaborative, innovative project from conception through the entire process of product deployment," said Decker, who credits the TTUHSC simulation program staff and the School of Nursing faculty and students for the evolution of the trainers. Additionally, a faculty guide is currently in development, which will assist faculty in integrating this unique concept.
"The development of a faculty guide required collaboration with the National League of Nursing and several simulation faculty from another university," Decker said.
The progression and expansion of this new tool is far from over.
"I foresee this innovative method in teaching basic patient skills will not disappear after the pandemic," said Decker, who added that she envisions the formation of a hybrid approach to teaching diagnostic and patient care skills. Already, faculty members have strategically integrated the Modular Skills Trainer to support simulation-based experiences currently being conducted on campus—strategies that offer students both at-home practice and on-campus experiences, allowing appropriate social distancing.
Building upon these groundbreaking ideas, the scope of this new model extends beyond COVID-19 and West Texas.
"A potential opportunity to consider would be how to utilize this tool when involved in global health initiatives," said Decker, disclosing that a future meeting has already been scheduled to think about the next concept model.
It is this kind of collaborative work that transforms health care permanently—not just as a placeholder during the pandemic. The innovation displayed by these thinkers exemplifies both the progress of TTUHSC's vision and its values-based culture. Solving problems together as "one team," these visionary ideas illuminate how our values turn problem-solving into greater concepts that can change the future of health care.
"We need to consider such challenges as opportunities," said Decker. "We need to be risk-takers, innovators and leaders in positive change."
Related Stories
By QEP Committee
March 21, 2023
As spring approaches, some people's thoughts turn to gardening. Whether it's a flower garden they desire or a vegetable garden want to have, they begin planning what they'll plant and what they need to do to ensure a successful garden.
By QEP Committee
March 21, 2023
A "growth mindset" accepts that our intelligence and talents can develop over time, and a person with that mindset understands that intelligence and talents can improve through effort and learning.
By Melissa Whitfield
February 13, 2023
Abstaining from drug abuse and an early diagnosis of familial hypercholesterolemia (high cholesterol) can help prevent heart disease.
Recent Stories
Education
By Kate Gollahon
May 30, 2023
Several Texas Tech University Health Sciences Center (TTUHSC) School of Nursing faculty were awarded this year for their unparalleled contributions to medical education and patient care.
Education
By Kate Gollahon
May 29, 2023
On Memorial Day each May, a service is conducted to pay respect to the Willed Body Program donors and their families.
Education
By Kate Gollahon
May 24, 2023
While the TTU System aimed to cast a spotlight on these individuals and their work, the honorees chose to cast that light onto others, sharing their humble gratitude toward those who helped, guided and inspired them.