In the Spotlight: The Critical Role of Molecular Pathology In a Pandemic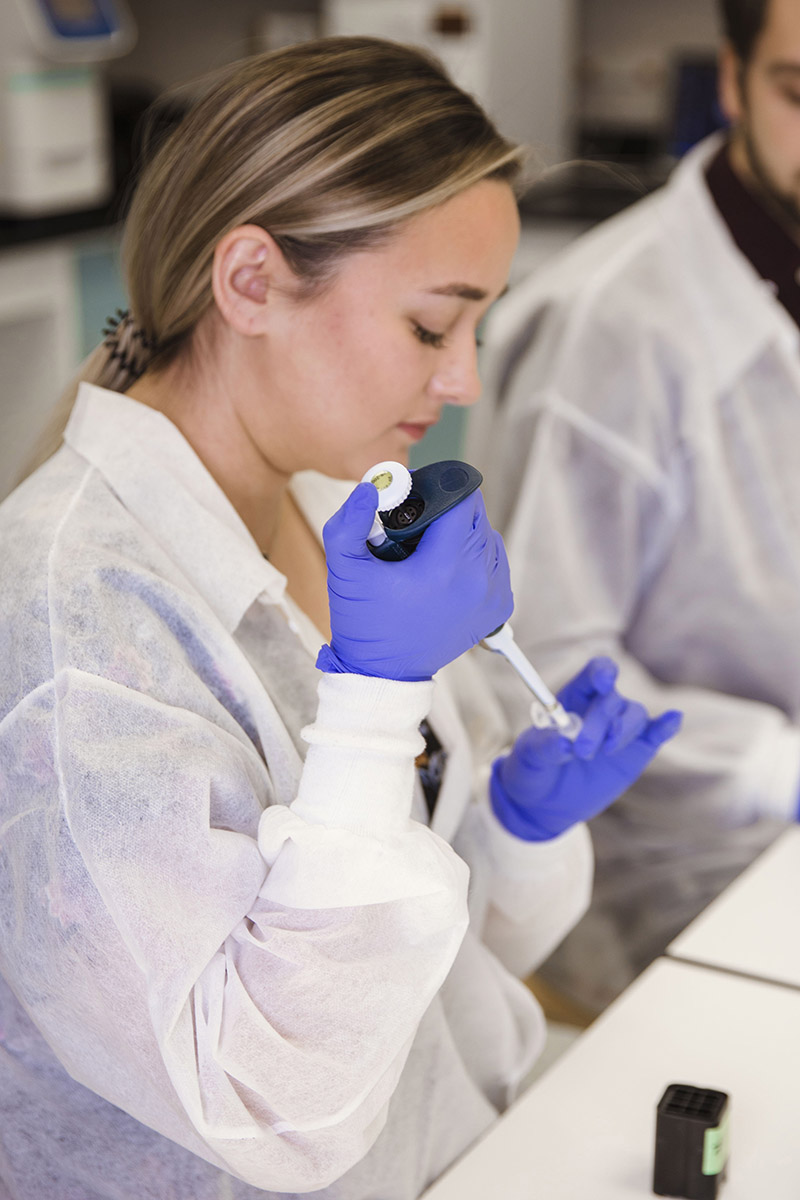 While doctors, nurses, and respiratory therapists are on the frontlines of the fight against the coronavirus pandemic, molecular pathologists are quietly working behind the scenes to help slow the spread of the disease and bolster the public health infrastructure. Scientists trained in the Master of Science in Molecular Pathology program at the Texas Tech University Health Sciences Center School of Health Professions (TTUHSC SHP) are helping to provide efficient testing, which is crucial in the fight against the pandemic.
"The molecular laboratory is critical in providing testing to confirm whether someone is infected with the novel coronavirus, COVID-19," says Ericka Hendrix, Ph.D., who is program director of the TTUHSC SHP Master of Science in Molecular Pathology. "Without molecular pathology laboratory professionals, doctors would not know if patients were ill due to the virus or something else, or how to contain the pandemic."
What is Molecular Pathology?
Molecular pathology is the study of disease at the molecular level. Pathologists examine molecules found in tissues, organs, and bodily fluids. The term "molecular diagnostics" is often used to describe the medical diagnosis and testing that are done by lab scientists within the field and which are critical to curbing the spread of disease, such as the COVID-19 virus. Molecular pathology is a laboratory science that draws on molecular and genetic techniques across a variety of disciplines to diagnose and assess risk for disease, including the novel coronavirus.
Molecular Pathologists Play A Key Role in Fighting Infectious Diseases
In the larger field of molecular biology, there are both research and clinical scientists. Research scientists read and interpret scientific literature, develop hypotheses, and design experiments to gather new knowledge. These professionals provide the basis for understanding how infectious disease spreads through a community and how to prevent it.
Clinical scientists, which include molecular pathologists, are medical professionals who are critical to patient care. Clinical molecular scientists analyze patient specimens, such as a nasal swab or blood, to detect disease. "In the fight against a spreading infectious disease, the clinical molecular scientists play a direct role in identifying sick patients," Hendrix says. "Rapid identification of the sick is vital for controlling the spread of infection. Both research and clinical molecular pathologists play an important role in controlling outbreaks."
Medical decisions rely on information provided by molecular diagnostic labs, which are staffed by pathologists and molecular laboratory scientists who help ensure that tests for the coronavirus and other diseases are accurate and that patients receive the correct diagnosis and treatment. Molecular scientists also advise medical doctors on how to interpret results.
Molecular Diagnostic Labs Perform COVID-19 Testing
Testing for COVID-19 is performed in clinical molecular laboratories around the country, including several in Lubbock, Texas that hire graduates from TTUHSC. Some laboratories are state-funded and report directly to the state health department or the Centers for Disease Control, while other molecular diagnostic labs are privately funded.
Molecular pathology laboratories are critical in confirming whether someone is infected with the novel coronavirus. Testing is important to help identify those who are infected so that public health officials can do contact tracing to mitigate the spread of the virus and ultimately, stop the pandemic.
"It is difficult to fight something you cannot see," Hendrix says. "Molecular testing gives us a picture of who is sick and who may be at great risk of getting sick. With enough testing, it is like turning on a light in a dark room — when you can 'see' what is around, you are better equipped to fight the battle. When we can identify sick individuals and their contacts, measures can be taken to reduce the spread of the virus. Prevention is key in a pandemic when there are limited treatment options."

What Happens In A Molecular Diagnostic Lab?
When a patient gets their blood drawn or any type of sample is taken, it makes its way to the laboratory, and the patient never sees what happens to their sample. "What we do with their sample in a molecular diagnostic laboratory is perform tests to discover whether a disease is present using the DNA or RNA from the sample," Hendrix explains. "We then perform tests based on the clinical examination of the patient by the physician." That process allows molecular scientists to determine if an infectious agent is present, such as COVID-19, or if an inherited disease or a specific cancer is present.
The COVID-19 test is a polymerase chain reaction (PCR) test, which is one of the core methods used in molecular biology. The genetic material, specifically RNA, is extracted from the virus and made easily detectable by PCR, allowing for very small amounts of virus to be found. "Molecular pathology laboratories are experts in PCR and other methods using DNA and RNA, and this expertise provides a highly sensitive and accurate diagnosis of COVID-19," Hendrix says.
Based on the diagnosis, molecular laboratory scientists work with medical staff to determine the best course of treatment for the patient. "We report our results to primary health care workers electronically through laboratory information systems so physicians can treat their patients quickly and accordingly based on what we discover in the laboratory," Hendrix says. "The laboratory results are responsible for 70% of physician treatment decisions."
Clinical molecular scientists interact regularly with physicians, epidemiologists, and other public health officials. "The laboratory reports all positive results as rapidly as possible because time is critical in the prevention of further spread of the virus," Hendrix says. "This allows for quick identification of outbreaks in workplaces or nursing homes. Communication is essential in the health care environment and it is even more critical in a crisis such as a pandemic."
A Lack of Laboratory Supplies Hinders Pandemic Response
One of the biggest issues in the United States' response to the COVID-19 pandemic is a lack of available testing. "The current challenge for molecular diagnostic laboratories in response to the COVID-19 pandemic is with supplies," Hendrix says. "The main supply that we are limited by right now are the reagents, which are the chemicals necessary to isolate the RNA from the coronavirus."
She says that the reagents for the instruments that molecular pathologists use are very specific. Currently, reagents are only being sent to "hot spots" around the US such as New York and several places on the West Coast. "Currently, West Texas is not considered a hot spot; therefore, we are given only a limited number of testing reagents," Hendrix says.
Because some places are having to send samples to molecular diagnostic laboratories in other parts of the country that do have reagents, there can be a long turnaround time for results. "There is a backlog of samples in some laboratories right now," Hendrix says. "Fortunately, there are some private laboratories that have made their own reagents and they have been able to increase their testing."
Testing can be ramped up in a number of different ways. Labs could make their own reagents, but that requires significant time and resources, as well as difficulties getting regulatory approval through the Food and Drug Administration (FDA). Another way is to explore alternative testing methods, but increased demand means other instruments are not available for purchase.
"In fact, we have identified several different instruments in Lubbock that are available, but reagents won't be available for at least another month," Hendrix says.
For now, supplies shortages mean that testing emphasis remains primarily on diagnosing those who are symptomatic. "This is the unfortunate reality that many states and cities are facing right now," Hendrix says. "We need to not only be testing everyone with symptoms, but we also need to test those who are asymptomatic carriers so we can stop the spread more effectively. This would take a massive amount of testing supplies, and right now we are only able to test in order to inform treatment rather than contain the spread."
TTUHSC SHP Provides Broad Support to Public Health in Pandemic Response
Researchers, lab scientists, frontline medical personnel, and public health officials are all working together to respond to the COVID-19 pandemic.
"Here in Lubbock, we have seen amazing collaborations happening between researchers, academic labs, and the state biothreat response laboratory," Hendrix says. "[For example] research and academic laboratories at TTUHSC SHP have provided instrumentation and supplies to support increased testing capabilities at the public health laboratory."
Expertise from the TTUHSC SHP molecular pathology program, in collaboration with the Texas Tech University (TTU) information technology team, has been utilized to install an electronic data management system to handle the increased patient volume, she says.
Graduates from the molecular pathology program were called to assist as testing personnel and TTU graduate students were trained to perform testing.
In addition, researchers and pharmacy clinicians with skills in sterile technique have been able to manufacture viral transport media to increase the number of specimen collection kits.
Other researchers have stepped up to 3D-print face shields and to sterilize masks to combat the shortage of personal protective equipment. "I am proud of all that the Lubbock and TTU/TTUHSC community has done to combat the COVID-19 pandemic," Hendrix says.
TTUHSC Molecular Pathology Program Prepares Graduates for Careers in Laboratory Science
The molecular pathology master's program at TTUHSC SHP prepares its graduates for lab careers in the health professions. Students gain essential knowledge in topics such as genetics, cell biology, pathophysiology, laboratory management, and data analysis and learn how to perform molecular diagnostic testing. Many of the staff at MicroGen Diagnostics, an infectious disease molecular lab in Lubbock, are graduates of the molecular pathology master's program. They are using the skills they learned at TTUHSC SHP to help fight the COVID-19 pandemic and other diseases.
"Our graduates have been trained to not only perform high complexity molecular diagnostics tests such as the COVID-19 tests but they are also skilled at designing and validating new tests," Hendrix says. "This is extremely helpful in the role they play in current laboratories finding ways to bring on new COVID-19 tests that are highly specific and sensitive and meet the regulatory requirements of the FDA and other laboratory standards."
During the COVID-19 pandemic, TTUHSC SHP molecular pathologists play a critical public health role and support local and state health officials. The molecular diagnostic laboratory is a critical part of the country's public health infrastructure. "We are a behind-the-scenes group that works hard every day to provide diagnostic information as quickly as possible while maintaining a high standard of performance," Hendrix says. "Making sure lab results are valid, sensitive and specific to the novel coronavirus is critical in fighting this [pandemic]. These standards require a high level of education and experience, both of which our program provides."
Hendrix says that many TTUHSC alumni are currently working in laboratories across Texas and the nation implementing new COVID-19 tests and trying to ramp up testing. "I am so proud of what our graduates have done to help ensure the treatment and safety of the public," she says.
Molecular Pathology is a Growing Field
Hendrix says that laboratory science is a great field to be in right now. "The molecular diagnostic section of the laboratory is the fastest-growing part of the lab," she says.
TTUHSC molecular pathology graduates work in local hospital laboratories, large reference laboratories, research and development, and private biotechnology laboratories. They are hired for lab careers as bench technologists, research scientists, assay developers, laboratory managers, and biotech field and sales representatives. According to the Bureau of Labor Statistics, clinical laboratory technologists and technicians earn a median salary of $53,120 per year and the field is expected to grow by 11% through 2028. With a master's degree, there is plenty of salary growth potential after a few years of experience.
"Due to the advancement in sequencing and other highly complex methods, we are able to give physicians personalized information about their patients," Hendrix says. "Molecular pathology is a fast-moving field with great potential for personal growth and development. Many of our students move into management positions within a few years of working."
For More Information
Prospective students interested in learning more about laboratory science and the Master of Science in Molecular Pathology at the Texas Tech University Health Sciences Center School of Health Professions should email health.professions@ttuhsc.edu or call (806) 743-3220.
Related Stories
By QEP Committee
March 21, 2023
As spring approaches, some people's thoughts turn to gardening. Whether it's a flower garden they desire or a vegetable garden want to have, they begin planning what they'll plant and what they need to do to ensure a successful garden.
By QEP Committee
March 21, 2023
A "growth mindset" accepts that our intelligence and talents can develop over time, and a person with that mindset understands that intelligence and talents can improve through effort and learning.
By Melissa Whitfield
February 13, 2023
Abstaining from drug abuse and an early diagnosis of familial hypercholesterolemia (high cholesterol) can help prevent heart disease.
Recent Stories
Education
By Suzanna Cisneros
March 24, 2023
Recognizing academic excellence, the honors are the most prestigious awards granted to faculty throughout the TTU System. The awards are funded by gifts to the Chancellor's Council, a giving society that supports the chancellor's priorities across the TTU System.
Campus Life
By Suzanna Cisneros
March 23, 2023
TTUHSC School of Medicine students will host a Women's Health Day free clinic from 10 a.m. to 1 p.m. April 15 at The Free Clinic
Research
By Mark Hendricks
March 21, 2023
TTUHSC Cytogenetic Technologist Jasbir Bisht and a team from P. Hemachandra Reddy's internal medicine laboratory analyzed the impact of cancer in Hispanics in comparison to other ethnic groups.