Discovering What Ails You: Molecular Diagnostics Technologists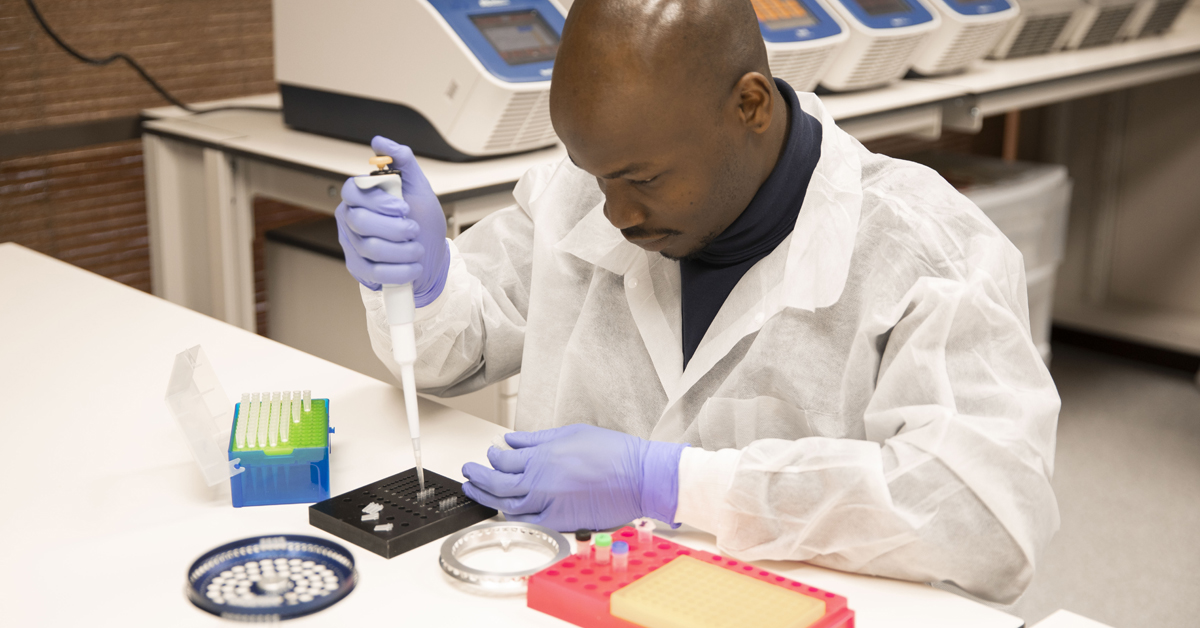 The diagnosis and treatment of many of the world's most prevalent diseases is changing. With a growing body of evidence suggesting that many illnesses can present and progress uniquely in different patients, health care professionals are increasingly forgoing one-size-fits-all solutions in order to tailor the care they deliver to the individual.
A driving factor in this care evolution is the growing field of molecular pathology — the study of disease at the molecular level. By enabling a deeper understanding of the connections between genetics and health, professionals working in the field of molecular pathology are able to help patients and their healthcare providers make informed decisions about the best approach to treat — and sometimes even prevent — each unique case of a disease.
When it comes to using molecular pathology to diagnose disease, molecular diagnostics technologists play a critical role in identifying these connections and transforming them into actionable insights.
Careers in Molecular Diagnostics
As the field of molecular pathology grows, so do the diversity of opportunities for employment in the industry, including those related to diagnostics.
"One of the things I really enjoy about molecular pathology is that it is so dynamic," says TTUHSC School of Health Professions Associate Professor of Molecular Pathology Katie Bennett. "We learn new things about genetics and medicine every day. The technology is also being developed at mind-blowing rates. The field is never stagnant, which keeps it interesting."
Because of the many different applications of molecular technology, there is great variety in the jobs that are available to those seeking health professions, Bennett explains. For graduates of the Master of Science in Molecular Pathology degree at Texas Tech University Health Sciences Center, the roles of "molecular laboratory scientist" and "molecular diagnostics technologist" are both popular options. These jobs are found in hospitals and independent laboratories.
However, there are also career opportunities in the biotechnology industry, where a molecular pathology graduate can work on diagnostic test design, validation, installation and service as a "field application specialist," "research and development scientist" or a similar role.
While most commonly associated with health care, molecular diagnostics professionals can be found in a variety of other industries, including crop science and animal science.
"We have graduates that are successful in biomedical sales, public health, and even in forensic science as DNA analysts," Bennett says.
What Is a Molecular Diagnostics Technologist?
As a molecular diagnostics technologist, you are responsible for performing important steps in critical diagnostic testing. This might include preparing samples, documenting results and ensuring quality control, in addition to executing the actual tests.
According to Bennett, the three major categories of disease that molecular diagnostics testing is used for are inherited disease, infectious disease, and cancer. In clinical pathology, molecular diagnostics technologists scientists use advanced technologies and instruments — which can include PCR, Sanger sequencing, microarray, and Next Generation Sequencing (NGS) — to help determine the best plan of action for each individual patient.
Career and salary website Glassdoor reports that the average annual base pay for a molecular technologist is $51,737. With a master's degree, this salary has further upward growth potential since graduates can more quickly qualify for supervisory and test design/development positions.
Launching Your Career at Texas Tech
Ready to launch your career in molecular diagnostics? Consider earning your Master of Science in Molecular Pathology degree at Texas Tech University Health Sciences Center School of Health Professions. Through this accelerated program, you will be prepared both conceptually and with refined hands-on skills to enter exciting jobs in the molecular laboratory.
"We have a strong emphasis on professional development, which includes building skills in communication, teamwork and critical thinking," Bennett says. "Students are trained with fundamental skills and are then allowed to grow with increasing levels of independence and confidence."
If you want to learn more about how earning your Master of Science Molecular Pathology at Texas Tech can help put you on the frontlines of disease diagnosis and treatment, please call (806) 414-9393 or email us at health.professions@ttuhsc.edu to speak with one of our admissions representatives.
Related Stories
By QEP Committee
March 21, 2023
As spring approaches, some people's thoughts turn to gardening. Whether it's a flower garden they desire or a vegetable garden want to have, they begin planning what they'll plant and what they need to do to ensure a successful garden.
By QEP Committee
March 21, 2023
A "growth mindset" accepts that our intelligence and talents can develop over time, and a person with that mindset understands that intelligence and talents can improve through effort and learning.
By Melissa Whitfield
February 13, 2023
Abstaining from drug abuse and an early diagnosis of familial hypercholesterolemia (high cholesterol) can help prevent heart disease.
Recent Stories
Research
By Mark Hendricks
November 16, 2023
Ninh (Irene) La-Beck, Pharm.D., with the TTUHSC Jerry H. Hodge School of Pharmacy, received a five-year, $2.49 million grant to investigate how nanoparticles interact with the immune system and cancer.
Research
By Mark Hendricks
November 10, 2023
To help investigate the influence basal sex hormone alterations may have on chronic post-op pain, the NIH recently awarded a grant to Jenny Wilkerson, Ph.D., from the Jerry H. Hodge School of Pharmacy.
Health
By Tyler White
November 09, 2023
Scott Shurmur, M.D., a cardiologist at the Texas Tech Physicians Center for Cardiovascular Health, shared his expertise and his experience as a former collegiate athlete.