Building a Career in Research
Schniers experiences lead him to cancer research
Born and raised in Miles, Texas right outside of San Angelo, Bradley Schniers learned the importance of having a strong work ethic. His father Curtis owned a construction company and stressed the value of an education.
"All throughout high school I worked with him, my uncle and grandfather during the summers," Schniers said. "My mom, Patty, is a bank teller and always wanted to be able to say her son was a doctor. Both my parents are extremely smart and really advocated for my education and wanted me to succeed. I had told my dad I didn't want to work construction this one summer. And my dad said 'you're going to come and work with us this summer, because I want you to know what a good hard day's work is so you value education and stay in school.' Working with him really helped me appreciate my education and develop a strong wort ethic."
Growing up, Schniers discovered he was good at science. He worked as a veterinary technician for three years at an emergency clinic. Through the years his interest went from robotics and mathematics to mechanical engineering. He completed both his undergraduate and master's degree at Texas Tech University in animal science.
After, he realized his interest was in human research and medicine and began his Ph.D. in biomedical sciences with a focus in cell biology and biochemistry at the Texas Tech University Health Sciences Center. During his first year of rotations through different labs, Schniers could not quite find a lab that was a good fit, until he met with Dr. Vadivel Ganapathy and Dr. Yangzom Bhutia.
"I changed directions and started looking at cancer research because there are so many different subsets within each different type of cancer," Schniers said. "The cancer research I'm doing now is a more applicable, broad spectrum for a very specific niche. My research targets peptide transporters that we know are upregulated in pancreatic cancer. After rotating with Dr. Buthia, I decided that was where I wanted to stay. At that time, she had conducted rsearch demonstrating that PEPT1 (proton-coupled oligopeptide transporter 1) had been upregulated in certain cancers, but we just didn't know why. So, we started looking at that relationship between PEPT1 and pancreatic cancer."
Solute Linked Carrier 15 is a proton coupled transporter. Schniers explained it is normally expressed in the small intestine. There also are several amino acid transporters in the small intestine but PEPT1 is the only peptide transporter. Overall, it's only expressed at high levels in the small intestine, and at very low levels in the pancreas, prostate, brain and breast tissues.
"What my research is looking at, is whether PEPT1 is upregulated in response to cancer growth or is upregulated to stimulate cancerous tissue growth and metastases," Schniers said. "Part of my research is also focusing on what causes this increase. So hopefully if we can figure out what's causing it and why, we will be able to target that specific cascade of events and prevent the upregulation of PEPT1. In our preliminary data, we've been able to show that inhibiting PEPT1 slows cancer growth. We're still trying to work to make sure that those data are correct, but so far it looks like inhibiting PEPT1 can either slow or halt cancer growth in the pancreas."
When not working on research, Schniers stays involved and active with organizations. As an undergraduate, he always was involved in numerous organizations and activities on campus. He was on the executive board for the Residence Halls Association, Student Government Association and on the National Board of Directors for student housing. One year as the Southwest Regional Director, he oversaw residence halls operations in Texas, Oklahoma, Louisiana, Arkansas and Mexico.
"Being super involved in those organizations, I wanted to get involved again," Schniers said. "Last year I was director of operations for Student Research Week and experienced all the students come together to present their research. Seeing everyone come together in one week to present research, I decided I wanted to be involved in Student Research Week again."
This year's Student Research Week theme is, "20/20 Visions of Biochemistry." The Graduate School of Biomedical Sciences will host the 32th Annual Student Research Week March 10-13 at the TTUHSC. Schniers is this year's event chair and has worked countless hours along with the event committee that includes: Mariacristina Mazzitelli, director of Marketing, Rachel Washburn, director of Poster Competition, and Ryan Sweazey, director of Operations.
Schniers would like to continue his research in cancer, particularly pancreatic cancer.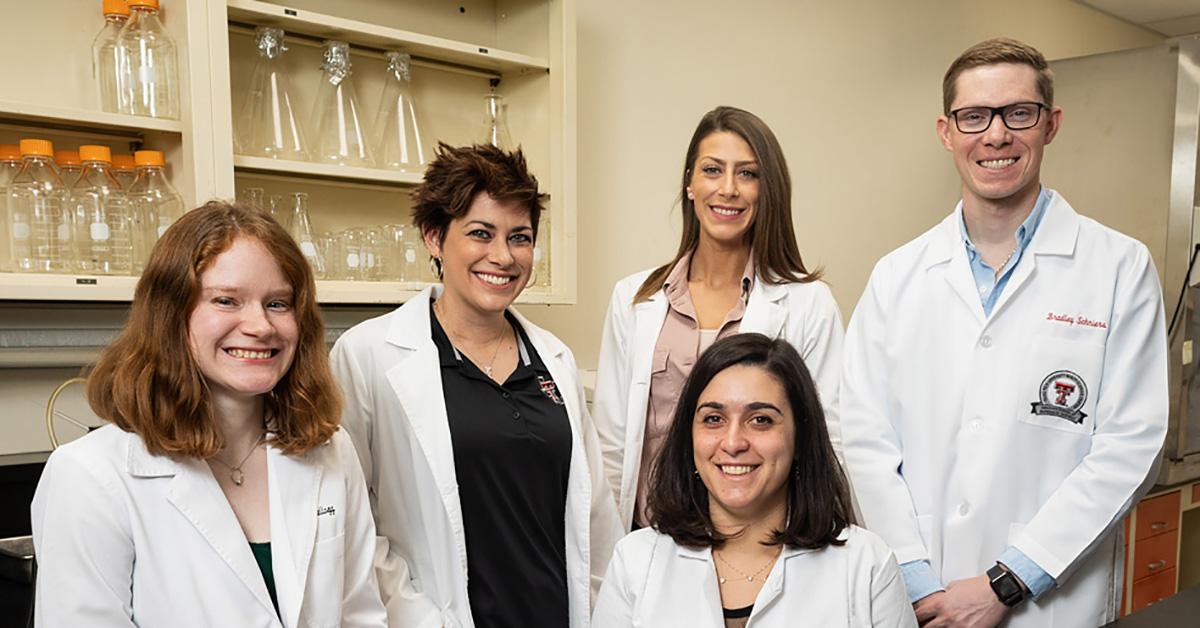 "Pancreatic cancer is one of the most-deadly forms of cancer because once you're diagnosed with it, most patients passed away within six months. And there's so little research that's being done on pancreatic cancer at this time — even though it's the third leading cause of cancer related deaths. I've kind of had some detours along the way and getting here. But it's all about where I end up in the long run. And my mom is proud that I may not be a medical doctor, but instead, may help find a cure for pancreatic cancer one day."


The Graduate School of Biomedical Sciences 32th Annual Student Research
"20/20 Visions of Biochemistry" events include:
Vendor Show and Career Fair, 9 a.m. – 3 p.m. March 10 at the Academic Classroom Building first floor lobby
March 10 (Tuesday), TTUHSC Academic Event Center
Poster Exhibit I, noon – 1 p.m.
Poster Session I, 1:15 – 4:15 p.m.
March 11 (Wednesday) TTUHSC Academic Event Center
Poster Session II, 9 – 11:30 a.m.
Poster Session III, 1:15 – 4:15 p.m.
Poster Exhibit II, noon – 1 p.m.
March 12 (Thursday) TTUHSC Academic Event Center
Poster Session IV, 9 – 11:30 a.m.
Poster Session V, 1:15 – 4:15 p.m.
Poster Exhibit III, noon – 1 p.m.
Student Research Week Banquet "Roaring 20's," 6:30 p.m.
McKenzie-Merket Alumni Center 2525 17 Street
Invitations limited to faculty, staff and Graduate School of Biomedical Sciences students
March 13 (Friday) TTUHSC Academic Event Center
Select Student Presentations, 9 – 11:15 a.m.
Keynote speaker (Wright), 11:30 a.m. – 12:15 p.m.
Lunch, 12:30 – 1:15 p.m.
Keynote speaker (Conacci-Sorrell), 1:30 – 2:15 p.m.
Awards ceremony, 2:30 – 3:00 p.m.
Coffee with the speakers, 4 – 4:30 p.m.
This year's keynote speakers are Ernest M. Wright, Ph.D., a Distinguished Professor at the UCLA Department of Physiology, and Maralice Conacci-Sorrell, Ph.D., assistant professor at the Department of Cell Biology at UT Southwestern Medical Center.
For more information about Student Research Week, call the Graduate School of Biomedical Sciences at (806) 743-2556.
Related Stories
By QEP Committee
March 21, 2023
As spring approaches, some people's thoughts turn to gardening. Whether it's a flower garden they desire or a vegetable garden want to have, they begin planning what they'll plant and what they need to do to ensure a successful garden.
By QEP Committee
March 21, 2023
A "growth mindset" accepts that our intelligence and talents can develop over time, and a person with that mindset understands that intelligence and talents can improve through effort and learning.
By Melissa Whitfield
February 13, 2023
Abstaining from drug abuse and an early diagnosis of familial hypercholesterolemia (high cholesterol) can help prevent heart disease.
Recent Stories
Campus Life
By Suzanna Cisneros
March 31, 2023
The TPPC, managed by the TTUHSC Jerry H. Hodge School of Pharmacy, will host Lubbock's Spring Medication Cleanout™ event from 10 a.m. to 2 p.m. April 22 (Saturday) at the Texas Tech Physicians Medical Pavilion.
Campus Life
By Meaghan Collier
March 31, 2023
TTUHSC School of Nursing honored its first class of Bachelor of Science in Nursing (BSN) graduates with a lamp lighting ceremony on Thursday, March 30.
Health
By Melissa Whitfield
March 30, 2023
Texas Tech Physicians primary and specialty clinics across West Texas have completed more than 160,000 telehealth visits since the start of the pandemic.