Physician Assistant Programs: At the Forefront of Training Primary Care Providers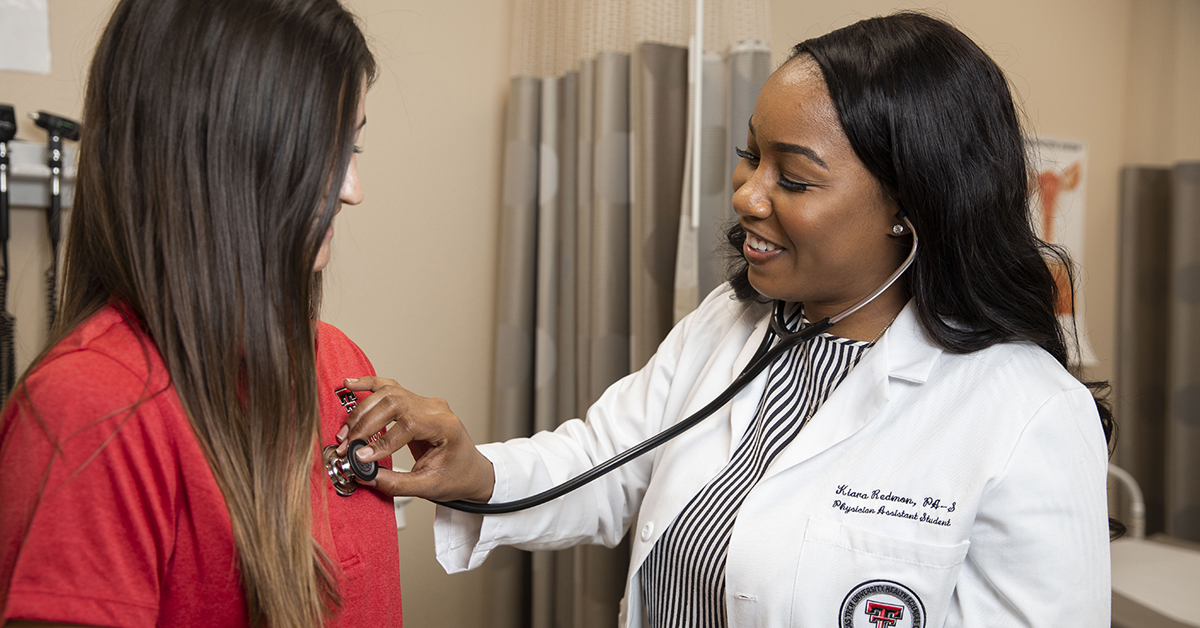 For many students interested in a health care career where they can have varied and daily contact with patients, becoming a physician assistant (PA) is a great alternative to the longer time commitment that medical school requires. Getting into both a PA program or medical school is highly competitive and students take many of the same rigorous classes. BUT PA training is shorter and allows you to get out there and start working with patients more quickly. Texas Tech University Health Sciences Center's (TTUHSC) physician assistant program prepares students to provide high-quality health care to their patients in Texas and beyond.
While not as long as medical school, physician assistant programs still provide students with the specialized, in-depth training they need to treat the whole patient. "The pace of a typical physician assistant program is very fast and intense since students only have a short time in which to learn everything they need to know to begin to practice medicine," states Ashley Bell, DMSc, MMS, PA-C, who is an Assistant Professor and the Director of Didactic Education at TTUHSC.
PA programs typically last two to three years, and students are trained in the medical model, preparing them to provide patient care in collaboration with a physician. The programs emphasize patient education, disease prevention, primary and chronic care management skills. Unlike medical school, graduates of a PA program can move right into medical practice, no further internship or fellowship is required. However, for those seeking further training in specialty or primary care fields, post-graduate residencies are available at institutions throughout the country.
Skillful Medical Education
The TTUHSC Master of Physician Assistant Studies program is 27 months, with 15 months of didactic (classroom) study followed by 12 months of clinical rotations. In the didactic phase, course work focuses on anatomy, physiology, pharmacology, and clinical medicine. The program prepares physician assistants to be versatile and adapt to changing health care needs; the training received also allows for lateral mobility throughout a PA's career. "Graduates can practice in any specialty they choose, and because physician assistants are trained as generalists, they can even switch specialties if they want during their careers," explains Bell. TTUHSC's program is unique in that it focuses on health care needs throughout West Texas and rural populations where there is a shortage of primary care providers. Bell states that many students choose to stay and work with that population after graduation.
When working with patients, physician assistants can provide basic medical care, as well as care for patients with complex, chronic illnesses. In order to prepare students for this demanding job, PA programs teach students how to perform physical exams and provide training in interview techniques, documentation, pharmacology, and clinical procedures, among many other skills. By the completion of the program, students are prepared to take medical histories, order and interpret tests, develop treatment plans, prescribe medications, counsel on preventive care, and perform clinical procedures.
PA Programs Provide Real-World Experience
The clinical phase of PA training allows students to put what they have learned into practice with real patients. "Students are not just following their preceptors around or shadowing — they are actually interviewing, examining, and doing procedures under the supervision of their preceptors," states Bell. TTUHSC's students complete eight 6-week clinical rotations, where they work in a variety of medical specialties and settings. Most programs, including TTUHSC's, follow a standard set of rotations that include family medicine, emergency medicine, internal medicine, surgery, pediatrics, women's health, and behavioral/mental health. TTUHSC's physician assistant program also allows students to complete an elective rotation in the discipline of their choosing.
All of the clinical rotations are set up by the PA program, so students don't have to worry about finding clinical rotations to apply to. The faculty will consider students' suggestions if they have a specific place in mind for a rotation, though. Most of TTUHSC's clinical rotation sites are in the Permian Basin, Lubbock, El Paso, Abilene, or Amarillo. "Our students can state their preference for one of these regions, and once placed in a clinical region, will move to that region for the clerkship year," explains Bell. With its underlying commitment to providing care for underserved populations, TTUHSC's program is a great fit for students who want to focus on providing health services to rural and underserved communities.
Growing Career Opportunities
Career prospects for this health profession are high, with the Bureau of Labor Statistics projecting a 31% growth rate (much faster than the average job outlook for other professions). As a result, interest in physician assistant training programs is booming. "It is extremely competitive. Each year, the number of applicants we receive increases. We received about 1800 applications this year for our next cohort of 60 students," states Bell.
By focusing on evaluating applicants' entire file holistically, TTUHSC ensures they admit students with varied life experiences who can bring diversity and unique perspectives to the program, the student body and their future patients.
If you would like to learn more about what it takes to become a physician assistant or how to apply for TTUHSC's program, please visit the program page. You can also email the SHP Office of Admissions and Student Affairs at health.professions@ttuhsc.edu or call 806-743-3220 to learn more.
Related Stories
By QEP Committee
March 21, 2023
As spring approaches, some people's thoughts turn to gardening. Whether it's a flower garden they desire or a vegetable garden want to have, they begin planning what they'll plant and what they need to do to ensure a successful garden.
By QEP Committee
March 21, 2023
A "growth mindset" accepts that our intelligence and talents can develop over time, and a person with that mindset understands that intelligence and talents can improve through effort and learning.
By Melissa Whitfield
February 13, 2023
Abstaining from drug abuse and an early diagnosis of familial hypercholesterolemia (high cholesterol) can help prevent heart disease.
Recent Stories
Research
By Mark Hendricks
November 16, 2023
Ninh (Irene) La-Beck, Pharm.D., with the TTUHSC Jerry H. Hodge School of Pharmacy, received a five-year, $2.49 million grant to investigate how nanoparticles interact with the immune system and cancer.
Research
By Mark Hendricks
November 10, 2023
To help investigate the influence basal sex hormone alterations may have on chronic post-op pain, the NIH recently awarded a grant to Jenny Wilkerson, Ph.D., from the Jerry H. Hodge School of Pharmacy.
Health
By Tyler White
November 09, 2023
Scott Shurmur, M.D., a cardiologist at the Texas Tech Physicians Center for Cardiovascular Health, shared his expertise and his experience as a former collegiate athlete.