Exploring a Career in Mental Health Counseling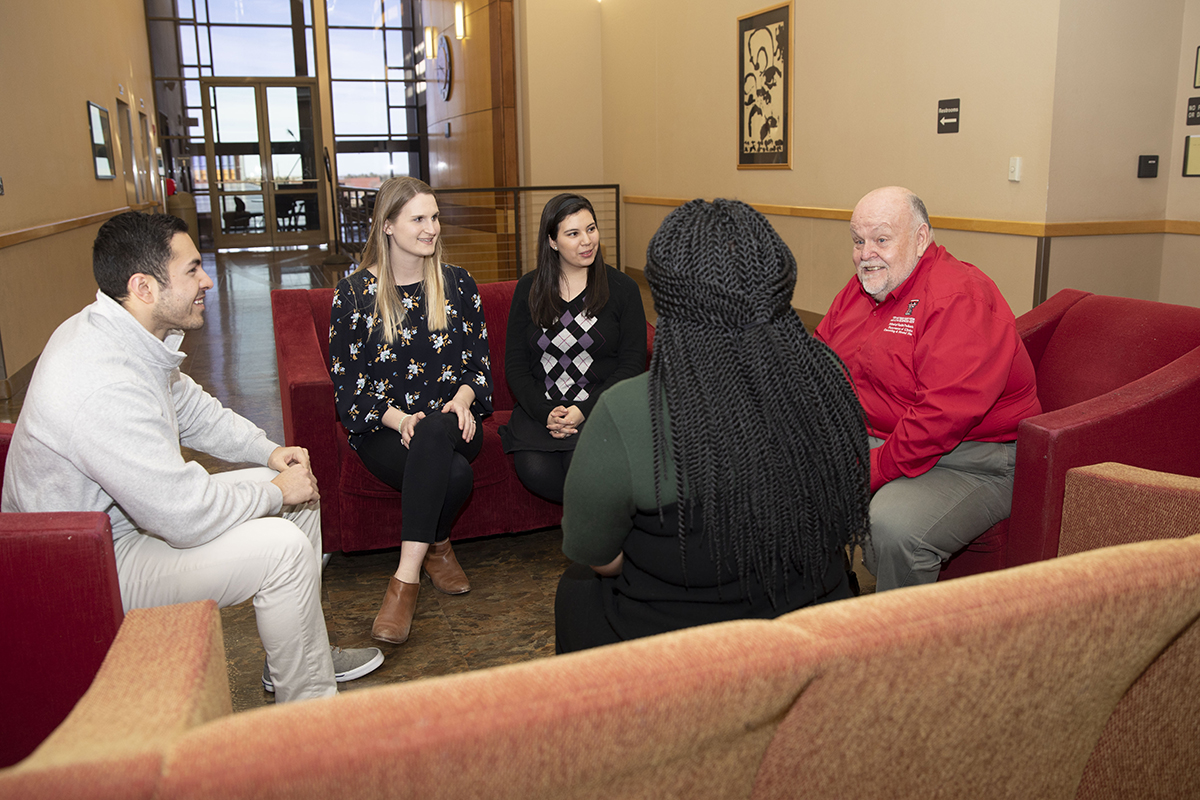 Pursuing a career in mental health counseling can be a big decision — with big rewards. Mental health counselors work with individuals and groups to promote optimal wellness and emotional health. "It is counseling with an emphasis on wellness and prevention," states Logan Winkelman, Professor and Program Director in Clinical Mental Health Counseling at Texas Tech University Health Sciences Center (TTUHSC).
The possibilities for mental health counselors are many and varied. It is a profession that allows counselors to pick the population they want to work with and specialize in specific treatment areas with the reward of helping individuals overcome life challenges and improve their overall health. "It is an overarching reward that never gets old when you help a client achieve better functioning and better overall wellbeing," states Winkelman.
A master's of science in mental health counseling opens up many career paths for counselors. Licensed professional counselors can choose to open their own practice and be their own boss. The growing popularity of telemedicine provides opportunities to work from home or target populations that would otherwise be unreached. And many clinics seek out mental health counselors with master's degrees for advanced director positions.
Mental health counselors work and interact with diverse patients from all walks of life who present a variety of treatment needs every day. For many people, this diversity is a great reward in the field — there is not one day that is the same and each patient presents a unique set of challenges.
Earning a master's degree in counseling prepares students with the skills and expertise they will need to be a professional counselor. Important aspects of being a good counselor, such as polished communication skills and learning how to control personal verbal and nonverbal communication are all part of an educational program. "Often this is something that's overlooked but it is really essential for counselors. We have to learn how to control our nonverbals so as not to cast judgment on clients. When we learn how to master that, it can help us become a really effective counselor," says Winkelman.
Becoming an excellent counselor comes with a caveat, however. Winkelman cautions that mental health counselor burnout is a real thing. "While it's incredibly rewarding to help clients achieve overall wellbeing, it can be really hard to be fully present and listen to some of your clients' most painful experiences. This is why self-care is critical to being an effective counselor. Counselors must learn how to separate work life from personal life and practice routine stress management and self-care techniques." Techniques studied in a master's in mental health counseling can help counselors overcome these and other challenges. Winkelman adds that once counselors have the experience, they can overcome this challenge easily. "It is something that you have to learn early and you have to practice consistently," Winkelman states.
Finding Your Counseling Niche
Each state has its own licensing requirements, so it is best to attend a school that meets the educational requirements of the state for which you want to obtain licensure. TTUHSC offers one of the few online clinical mental health counseling programs in Texas. The TTUHSC program is set up to fulfill the specific requirements set by Texas and many other states to help students succeed. Winkelman shares that more mental health positions are now requiring a master's degree along with a practical internship, both of which TTUHSC helps students obtain.

Winkelman's journey to becoming a mental health counselor began while obtaining her undergraduate degree. After speaking with a professor who was also a licensed counselor, she discovered that she could combine her love of studying human behavior and working with people through pursuing a master's degree in counseling. "From then on, I knew. Every class that I took aligned with me and I loved every lecture that I went to. It was just one of those serendipitous experiences and it just all fell into place."
As part of the TTUHSC program, students gain clinical onsite experience where they can practice their counseling techniques with real patients. Winkelman states that this clinical experience can be the most valuable part of the master's program. This internship opportunity gives students the chance to learn more about the population they are working with and also allows them to see if they want to continue working with that population long term. "I encourage all the students that I work with to start thinking about where they might want to work after they graduate and seek that site out for their clinical internship. It's like a built-in extended interview, where the site and the student can decide if it's a good fit," explains Winkelman. For many, this internship becomes full-time employment after graduation.
Winkelman's internship focused on working with college-age students. "I knew I wanted to work at my college career center. So before my very first semester, I went to the Career Center and asked if they had internships available, and they did. And when it came time for my internship, I already had things set up."
Winkelman also emphasizes that students should take advantage of this internship opportunity to make a good impression on what could be their potential employer. She states that students should look for opportunities to volunteer to improve their skills and build up that relationship. "Throughout my experience, I let them know this is where I wanted to be, this is what I want to do."
Getting Started as a Mental Health Counselor
After graduation, students may sit for the National Counselor Exam, after which they are eligible to apply for licensure and can begin to pursue career opportunities. The positions that are open to mental health professionals are nearly endless. Entry-level positions may include behavior analyst, behavioral specialist, case manager, clinician, mental health specialist, and mental health coordinator. From there, counselors have many diverse options for promotion as well. Many counselors transition to director or management roles. Some pursue teaching and academia.
Winkelman also points out that mental health counselors have the option to work in a variety of settings and facilities. Places such as clinics, hospitals, schools, adoption agencies, law enforcement, and even branches of the military offer opportunities for mental health counselors. That diversity of options is one thing that attracted Winkelman to the field. "You're learning those interprofessional skills, communication skills, active listening skills, and conflict resolution. All of those things can be easily transferable."
In recent years, telemedicine, the use of video conferencing technology to deliver health care services from a distance, has been a quickly growing part of mental health counseling. Winkelman shares that many patients do not have access to traditional counseling services due to distance, lack of transportation, cost, or even a lack of providers in their area. This is a growing concern, particularly in West Texas where many small towns do not have counselors for hundreds of miles, and access to care is very limited in rural areas. "Telehealth counseling can help alleviate all of these barriers to mental health care," states Winkelman.
The growing use of telemedicine is already helping to alleviate this care gap and helping to meet the mental health needs of people living in rural areas. TTUHSC's Masters of Science in Mental Health Counseling is one of the few programs that offer training in telehealth. Winkelman says "Our emphasis on telehealth is another one of the things that attracted me to this program specifically. It's a way to meet those needs and solve a problem that we haven't been able to solve for a long time."
A Rewarding Career with Strong Network Support
A career as a mental health counselor can be an incredibly rewarding path that allows health professionals to connect with patients on an individual basis and help them overcome challenges. Winkelman also emphasizes that the field of mental health is growing rapidly and there are more job opportunities every day. Counselors also have the freedom to choose their own niche. "If I wanted to work with veterans on a military base, I could do that. If I wanted to work with individuals with autism or patients who are experiencing depression, I can do that too. I could also choose to work with couples, families, or children. The flexibility in the people and the issues you can focus on are just vast. It really is an option for you to go anywhere with it," adds Winkelman.
The skills learned from pursuing a master's degree are skills that will be used not only in a professional setting but also in everyday life. "It's a very transferable and marketable degree in many ways because you can choose to do so many different things with it."
There is also a wealth of local and national support for people interested in pursuing this career path. The American Counseling Association is a nationwide professional organization that focuses on the growth and enhancement of the counseling profession. According to their site, they are the world's largest counseling association. Each state also has state, regional, and local professional organizations, such as the Texas Counseling Association. Winkelman strongly encourages students to get involved with these organizations to develop a network of contacts and find new job opportunities. "Students who take advantage of that have the upper hand when it comes to not only getting into the field and getting a job but also advancing their career, especially if they take advantage of leadership opportunities within those organizations," says Winkelman.
Affordable Online Education
In 2017, TTUHSC's program was ranked as one of the most affordable online programs to earn a master's in counseling. Winkelman emphasizes that this program was designed for non-traditional students who may work full-time. The quality of education is the same as a brick-and-mortar location, with the added flexibility of being able to attend online.
Winkelman cautions that it does take commitment to achieve the proper educational and licensing requirements to be a mental health counselor. TTUHSC's 60-hour program can take up to three years to complete, after which students would start their postgraduate counseling internship. "It can take a while to obtain the ultimate license of being a mental health professional, but it's worth it. I always tell students, the time is going to pass anyway, so you might as well do it pursuing something that you want to achieve. And you'll look up and that time has flown by and you're going to say, 'Wow, I can't believe I'm already done with this!'" says Winkelman.
What It Takes to be a Mental Health Counselor
Many people may question if they would be a good fit as a counselor. Winkelman shared that there is not just one kind of person who makes a good counselor. The field benefits from diverse perspectives and anyone interested in providing mental health counseling to individuals, families, or groups would be a good fit. Winkelman says that anyone who is willing to learn, willing to hone the necessary skills and willing to represent and advocate for meeting the unique mental health needs of a diverse patient population would make an excellent counselor.
A career in mental health counseling is very gratifying and also opens up a multitude of opportunities. Counselors can choose to work for themselves and open their own practice, pursue a career at an established health facility, or even go into academia. A master's degree provides you with the skills needed to excel and the chance to find your niche and the patient population that you want to spend time working with to promote optimal wellness.
If you would like to learn more about a career in mental health counseling or apply to TTUHSC's Master of Science in Clinical Mental Health Counseling program, please visit the program page. You can also email the SHP Office of Admissions and Student Affairs at health.professions@ttuhsc.edu or call 806-743-3220 to learn more.
Related Stories
By QEP Committee
March 21, 2023
As spring approaches, some people's thoughts turn to gardening. Whether it's a flower garden they desire or a vegetable garden want to have, they begin planning what they'll plant and what they need to do to ensure a successful garden.
By QEP Committee
March 21, 2023
A "growth mindset" accepts that our intelligence and talents can develop over time, and a person with that mindset understands that intelligence and talents can improve through effort and learning.
By Melissa Whitfield
February 13, 2023
Abstaining from drug abuse and an early diagnosis of familial hypercholesterolemia (high cholesterol) can help prevent heart disease.
Recent Stories
Education
By Suzanna Cisneros
March 24, 2023
Recognizing academic excellence, the honors are the most prestigious awards granted to faculty throughout the TTU System. The awards are funded by gifts to the Chancellor's Council, a giving society that supports the chancellor's priorities across the TTU System.
Campus Life
By Suzanna Cisneros
March 23, 2023
TTUHSC School of Medicine students will host a Women's Health Day free clinic from 10 a.m. to 1 p.m. April 15 at The Free Clinic
Research
By Mark Hendricks
March 21, 2023
TTUHSC Cytogenetic Technologist Jasbir Bisht and a team from P. Hemachandra Reddy's internal medicine laboratory analyzed the impact of cancer in Hispanics in comparison to other ethnic groups.