How Does COVID-19 Affect Pregnancy and Childbirth?
TTUHSC expert walks through COVID-19 precautions during pregnancy and delivery
Teresa Baker, M.D.
With the world continuing to adjust to life under the COVID-19 pandemic, many expectant mothers are understandably anxious about how the virus could affect their pregnancies, their hospital and clinic visits, and first days of parenthood.
We spoke with Dr. Teresa Baker, resident program director of the Texas Tech Physicians Obstetrics and Gynecology clinic in Amarillo, about what new mothers can expect during this unprecedented time.
Pregnancy and COVID-19: Before Delivery

"Women who are pregnant should be taking the same safety precautions as the general public," Baker says. These include regularly washing hands, staying out of public places and social distancing.
Baker explains that providers typically encourage prenatal care via telephone or computer whenever possible. However, if the patient is experiencing bleeding or complications, she explains that women are still being seen at Texas Tech Physicians clinics. During office visits while the COVID-19 precautions are in place, patients are passed through a screening process to get to the obstetrics floor.
"We're trying to create the safest environment for pregnant women that we can," Baker says. "For example, the ER called with somebody 34 weeks pregnant, who came in with a cough, fever and runny nose. They screened her and she went home. She never went up to the floor to expose any other pregnant moms or babies."
Office precautions include prohibiting visitors in the ultrasound department; only the mother and necessary staff are allowed.
Pregnant with COVID-19 Symptoms

If a pregnant woman begins to feel COVID-19 symptoms before her scheduled appointment, she should call in advance and will be directed to the correct screening venue. Based on the severity of the symptoms, staff will decide the best course of action, including whether the patient should be admitted to the hospital.
Can COVID-19 Affect a Baby In Utero?

At this point, there is no documented case of vertical transmission of the COVID-19 virus, meaning there has been no record of the virus being passed from mother to baby.
"We know very little about COVID," Baker says.
There is a concern with preterm labor as it relates to the virus, she says, but so far there has not been enough data to draw concrete conclusions. This reinforces the need for expecting mothers to practice all necessary safety precautions.
Baby Delivery During COVID-19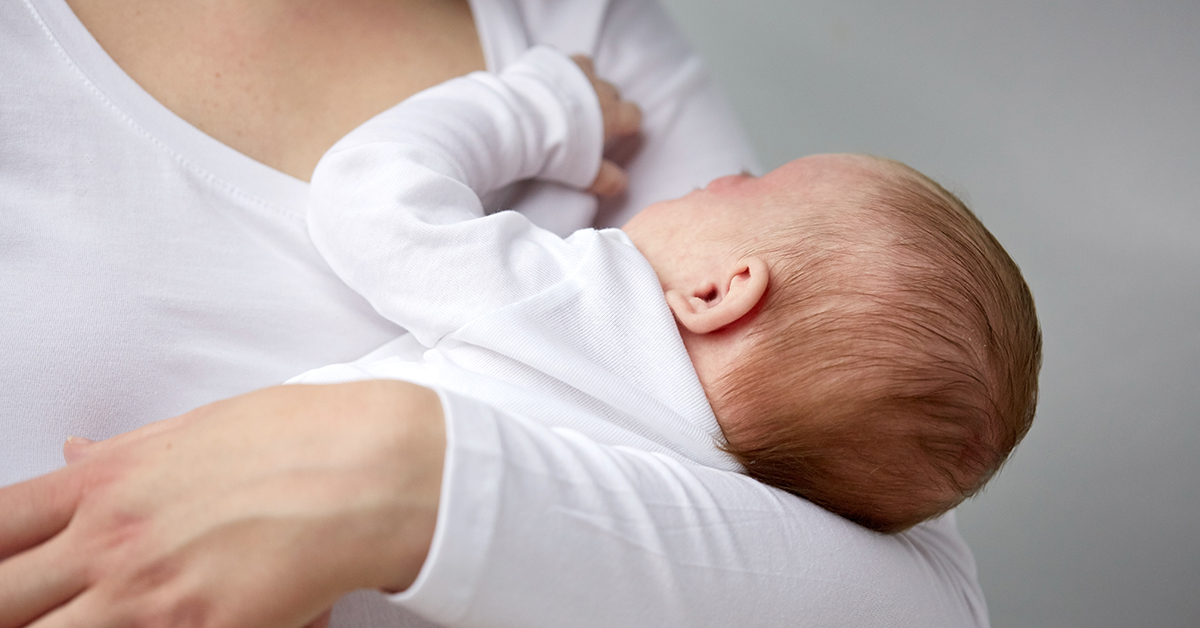 What should mothers expect when they come to the hospital to deliver their baby? At area hospitals, mothers are allowed one support person in the delivery room. It can be whomever the new mom chooses, but the support person cannot be changed after he or she has passed the screening process. The support person will be regularly screened for symptoms, just like everyone else.
Texas Tech Physicians has embraced communications technology during this difficult time. Baker explains that staff will help connect friends and family via teleconferencing to make sure that the new mom feels supported by anyone and everyone she wishes could be in the delivery room.
Breastfeeding During COVID-19

Baker recommends that new mothers wear a mask while letting their baby nurse. If the mother is positive for COVID-19, the baby should be fed expressed breast milk in a separate room, even though the baby has already been exposed by that point. Baker continues, "once mom is well enough to nurse, we're going to let her nurse because she's going to pass on immunity through the breast milk."
Can Postpartum Depression Worsen Because of COVID-19?

The birth of a baby triggers powerful emotions that run the gamut from joy and excitement to fear and anxiety. Most new moms experience mood swings, crying spells, anxiety and trouble sleeping. However some new mothers can face a more severe and long-lasting form of depression called postpartum depression. And this can be greatly magnified by isolation and overwhelming stress. During this time of quarantine, new moms are finding themselves without the aid they would be getting from friends and family under normal circumstances, whether it's help with the baby or just a shoulder to cry or rest on. Baker says that it's very important for new moms to get outside and get sunshine.
"There's good evidence that sunlight and exercise help our serotonin levels," she says.
She suggests using platforms like Zoom, FaceTime and Skype to connect to loved ones, see their faces and hear their voices.
How to Help a New Mom

During COVID-19 especially, friends and family should think of creative ways to lighten the load for the new mom at home. While it would be wonderful to drive over, knock on the door, and grab the bundle of joy for a good, old-fashioned "baby fix," that's just not an option until social distancing is over. We have to think of what's best for mom and baby right now.
Instead of personal visits, send care packages and meals to the new family. Video chat every day. Make sure that the new mom in your life knows she's not alone.
As we're seeing day after day, and as we quarantine separately but together, we can find strength in each other.
Related Stories
By Lori Rice-Spearman, Ph.D., Steven L. Berk, M.D.
March 22, 2022
TTUHSC Celebration of Life Service was held March 25th in remembrance of Tom McGovern, Ed.D.
By Suzanna Cisneros
March 18, 2022
TTUHSC has been named as a Military Friendly® School for 2022-2023. Among graduate schools, TTUHSC ranked fourth in the nation, achieving Gold award status.
By Meaghan Collier
March 17, 2022
On March 16, fourth-year TTUHSC Jerry H. Hodge School of Pharmacy students interested in completing a residency after they graduate in May, learned where they would spend the next stage of their training during the Pharmacy Residency Match Day.
Recent Stories
Research
By Kathryn Dankesreiter (TTU)
September 26, 2022
The Innovation Hub at Research Park today (September 26, 2022) announced the winners of its annual Presidents' Innovative Startup Awards. The award recognizes startups that have a high potential for growth and an economic impact in West Texas.
Education
By Mark Hendricks
September 23, 2022
Fifth graders from Bean Elementary School became doctors for a day. The Texas Tech University Health Sciences Center (TTUHSC) Student National Medical Association (SNMA) hosted the Doctors for a Day Minicamp on Sept. 23.
Research
By Mark Hendricks
September 22, 2022
Pablo Artigas, Ph.D., from TTHSC's School of Medicine's Department of Cell Physiology and Molecular Biophysics, published a study with his team of collaborators in Nature Communications.