What is Molecular Pathology?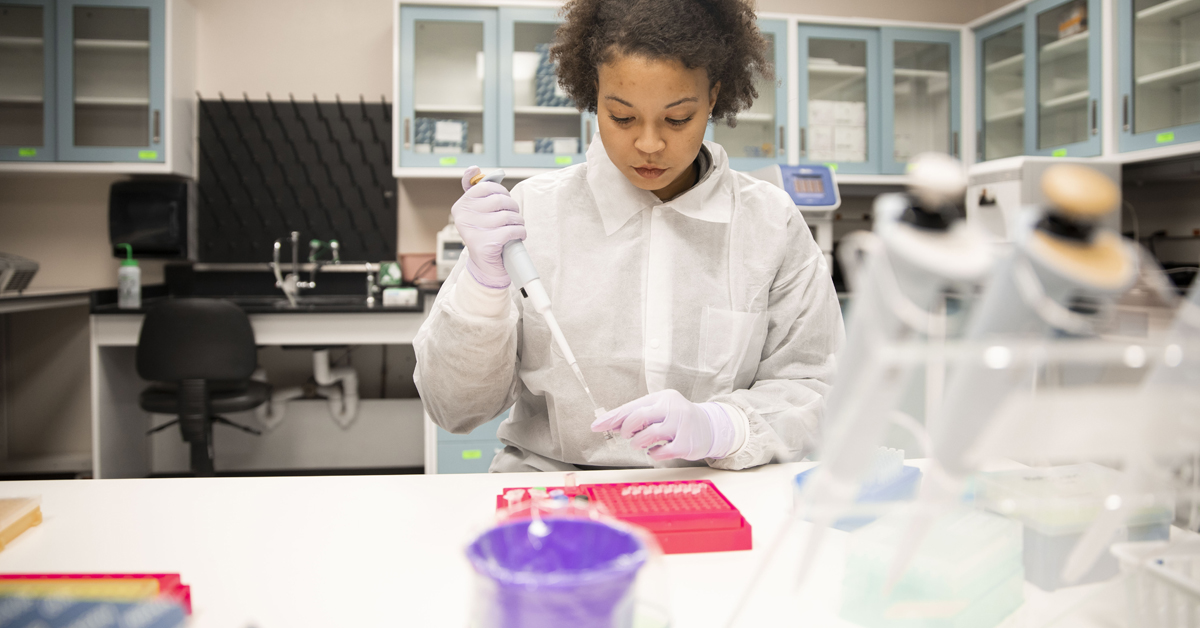 Is personalized medicine the future of health care? Many health professionals — including Texas Tech University Health Sciences Center Associate Professor of Molecular Pathology, Katie Bennett — believe the field is headed in that direction.
Personalized medicine, as the name suggests, is an approach that tailors the healthcare process — from diagnosis to treatment — to the individual patient. By identifying a person's susceptibility to certain diseases and other unique physiological characteristics, this customized approach can identify effective preventive measures and therapies. Also known as precision medicine or individualized medicine, this model can, in turn, lead to improved diagnoses, earlier interventions, tailored treatment plans, and more effective pharmaceutical products, according to the Mayo Clinic.
An important component of personalized medicine is molecular pathology, an emerging multidisciplinary area of medicine that studies disease at the molecular level. As demand for personalized medicine grows, so will the importance of molecular pathology in the diagnosis and treatment of many of the country's most significant diseases.
What Is Molecular Pathology?
When it comes to defining what is molecular pathology, it helps to break down the phrase into its components: "molecular" refers to molecules and "pathology" means disease. Put simply, molecular pathology is the study of disease at the molecular level. This includes molecules found in tissues, organs, and even bodily fluids. The term "molecular diagnostics" is often used to describe the medical diagnosis aspect of the field.
"In molecular pathology, we are specifically interested in analyzing DNA and other genetic material for the purpose of diagnosing or monitoring disease," Bennett says. "The field is extremely dynamic — we are learning new things about genetics and medicine every day. The technology is also being developed at mind-blowing rates, which means we are doing testing faster, cheaper, and with smaller instruments than even just a few years ago."
What Does Molecular Pathology Test For?
Through molecular and genetic approaches, molecular pathology techniques are used across a variety of specialties to diagnose and assess risk for a multitude of diseases. According to the Mayo Clinic, some of the applications in this arena include risk assessment for familial cancer, prenatal and preimplantation diagnosis, and the identification of certain neurologic disorders. This type of testing can also be utilized to assess malignancies for staging or diagnostic uses.
According to Bennett, there are three major categories of diseases that can benefit from molecular pathology.
"Molecular pathology testing is very diverse," Bennett says. "Because we analyze DNA, one of the first categories that comes to mind for most people is testing for inherited disease."
Some common examples of inherited diseases that molecular diagnostics tests for, says Bennett, include cystic fibrosis and sickle cell anemia.
"We can also look for the DNA of infectious organisms, such as bacteria and viruses," Bennett says. "So molecular testing is a big part of medical microbiology, by testing for things like influenza, listeria, or E. coli."
The third major category, according to Bennett, is cancer. Tumors can be tested for their molecular profiles, which differ from healthy cells in significant ways. Oftentimes, molecular scientists can use mutations and other genetic alterations they discover to identify appropriate and effective therapies for the patient's unique case of cancer — the foundation of personalized medicine.
What is molecular pathology doing to fight cancer? Personalized medicine, utilizing strategies that include molecular pathology techniques, can use specific information related to the patient's tumor to help diagnose, plan treatment, assess the effectiveness of a treatment, or develop a prognosis, according to the National Cancer Institute. Targeted therapies can even be used to treat specific classes of cancer cells, or identify tumor markers that can help diagnose cancer.
Utilizing Molecular Pathology Tools in Health Care
Wondering what is molecular pathology using to obtain these results? As the practice of molecular pathology evolves, so does the technology that enables this important testing. In providing care for patients, molecular scientists use many advanced technologies and instruments that represent the cutting-edge of modern health care.
According to Bennett, examples of these tools include PCR thermocyclers, Sanger sequencers, pyrosequencers, and digital PCR. Because the work calls for the routine use of very small volumes of liquid, hand-held pipettors or automated liquid handling instruments are also commonly found in molecular pathology labs.
"When I show someone around the lab, I call these tools 'my toys' because using the technology is so much fun," Bennett says. "It is exciting to have cutting-edge technology at our fingertips here at the Texas Tech University Health Sciences Center. I enjoy showing students how to use these instruments because it really opens their eyes to all of the amazing things we can do in molecular pathology."
The Texas Tech University Health Sciences Center (TTUHSC) training lab facility is equipped with state-of-the-art equipment, which provides students with hands-on training in some of the most complex gene-testing instruments available to professionals today. The laboratory space is divided into a preanalytical room — used for DNA and RNA isolation — and a postanalytical room, which is used for PCR, DNA sequencing and viral assays. According to Bennett, the techniques that students learn are the same as those that are currently used by clinical labs, forensic labs, research facilities, and industrial organizations across the nation.
Using the latest technology, like the equipment in the Texas Tech University Health Sciences Center training lab, molecular pathology professionals are able to provide patients, and the scientific community in general, with the most valuable results — saving lives and furthering the evolution of the field.
Exploring Health Professions in Molecular Pathology
Because of the many different applications of molecular technology, there is great variety in the jobs that are available in the field. In addition to being diverse in nature, these roles can be found in a number of professional settings, including hospitals, independent laboratories, and the biotechnology industry.
Of these health professions, one of the most common job titles is "molecular technologist" — which is sometimes also referred to as "molecular laboratory scientist." In this role, typically found in hospitals and independent laboratories, you are responsible for activities related to the tests performed in molecular labs. This can include tasks such as evaluating new methods, carrying out tests, and overseeing lab management.
Particularly interested in the technology side of molecular pathology? You can help others learn about these tools as a field application specialist, providing pre- and post-sale support in real-time. Or you could help move the field forward with new technology and techniques as a research and development scientist.
Bennett reports that there are also a number of careers in the biotechnology industry, where a molecular pathology graduate can land an industrial role as a scientist working to improve many of the tools and processes of the field, such as diagnostic test design, validation, installation, and service.
"We also have graduates who are successful in biomedical sales and public health, and even some working in forensic science as DNA analysts," Bennett says. "Molecular pathology is never stagnant, which keeps things interesting for those of us who work in the field."
Launching a Career in Molecular Pathology
Are you interested in health care, excited about the prospect of using cutting-edge technology, and intrigued by puzzles? If so, you might be ready to launch a career in molecular pathology.
To enter this evolving field, pursuing higher education is a must. While there are positions that require a bachelor's degree, a graduate degree can be invaluable in increasing your job options and making your application more competitive. For aspiring molecular pathology professionals, one popular option that can help you stand out among other applicants is the Master of Science in Molecular Pathology degree.
Through a master's-level molecular pathology program, you will be prepared both conceptually and with refined hands-on skills to qualify for exciting roles in the molecular laboratory. This includes fundamental knowledge in genetics, as well as the important areas of cell biology, pathophysiology, laboratory management, and data analysis.
In programs like TTUHSC's Master of Science in Molecular Pathology, you will also further your professional development by growing your "soft skills" — important interpersonal skills, such as communication, teamwork, and critical thinking that employers look for when hiring new team members. By earning your master's degree, you will not only gain the fundamental knowledge you need to perform a role in the field — you will also increase your confidence and ability to work independently in the lab.
After graduating, pursuing certification in the field can give your career a boost. To work in the molecular pathology profession, consider sitting for the Amercan Society for Clinical Pathologist (ASCP) national certification exam in Molecular Biology, MB. The exam tests your expertise in four content areas: molecular science, molecular techniques, laboratory operations and applications of molecular testing.
Upon successful completion of TTUHSC's one-year Master of Science in Molecular Pathology program, you will be eligible to sit for the ASCP national certification exam.
Earning your Master of Science in Molecular Pathology at TTUHSC
Still have questions about what is molecular pathology? You can find out more by exploring the Texas Tech University Health Sciences Center Master of Science in Molecular Pathology degree. In the TTUHSC Molecular Pathology graduate program, you will learn both theoretical and applied concepts critical to the performance of molecular testing in a clinical laboratory. After mastering these frameworks, you will have the opportunity to apply that knowledge in the laboratory by performing the full spectrum of molecular methods used in real-life molecular pathology labs.
Over the course of our Master of Science in Molecular Pathology program, you will develop a strong clinical background in human genetic testing, through didactic training (classroom, laboratory, and research), and a clinical preceptorship. The clinical experiences are designed to help you develop your skills in diagnostic techniques and quality assurance, as well as your ability to interpret and report patient results.
"This is a great program for students who like science and hands-on learning," Bennett says. "We have a state-of-the-art laboratory and the students get plenty of experience using the equipment and even designing novel molecular tests."
According to Bennett, there are several aspects of the TTUHSC Molecular Pathology program that set it apart from other molecular biology and basic science master's degrees.
"For one, our Molecular Pathology program prepares students to become board certified in clinical molecular biology," Bennett says. "The program also culminates with an eight-week clinical internship at a full-service molecular laboratory. This is not something that a typical science graduate degree provides. It opens many more doors to employment and upward mobility in a student's career path."
The TTUHSC Molecular Pathology program is also unique in its length. As a one-year master's degree, the program duration is shorter than most comparable degrees. This is especially convenient for students who wish to go on to attend medical school or complete another professional degree.
"Many students have succeeded in this pathway and have told us how much their laboratory training helped them navigate medical school and beyond," Bennett says. "Whether graduates work in a clinical laboratory or pursue further training in medicine, they are all playing a critical role in health care."
Upon completion of the TTUHSC program, graduates are awarded the degree of Master of Science in Molecular Pathology and are eligible to sit for the certification exam in Molecular Biology, MB offered by the ASCP. TTUHSC students consistently score higher than the national average on these external certification exams. From 2013-2018, students' average first-time pass rate was 98%.
If you are interested in learning more about how earning your Master of Science in Molecular Pathology at TTUHSC can help you enter a dynamic and growing health profession, please email us at health.professions@ttuhsc.edu or call us at, (806) 743-3220.
Related Stories
By QEP Committee
March 21, 2023
As spring approaches, some people's thoughts turn to gardening. Whether it's a flower garden they desire or a vegetable garden want to have, they begin planning what they'll plant and what they need to do to ensure a successful garden.
By QEP Committee
March 21, 2023
A "growth mindset" accepts that our intelligence and talents can develop over time, and a person with that mindset understands that intelligence and talents can improve through effort and learning.
By Melissa Whitfield
February 13, 2023
Abstaining from drug abuse and an early diagnosis of familial hypercholesterolemia (high cholesterol) can help prevent heart disease.
Recent Stories
Research
By Mark Hendricks
March 21, 2023
TTUHSC Cytogenetic Technologist Jasbir Bisht and a team from P. Hemachandra Reddy's internal medicine laboratory analyzed the impact of cancer in Hispanics in comparison to other ethnic groups.
Education
By School of Health Professions
March 21, 2023
World Down syndrome Day was established to raise awareness about Down syndrome and to promote inclusion and acceptance of people with Down syndrome in all aspects of society.
By QEP Committee
March 21, 2023
As spring approaches, some people's thoughts turn to gardening. Whether it's a flower garden they desire or a vegetable garden want to have, they begin planning what they'll plant and what they need to do to ensure a successful garden.