What Can I Do With a Master's Degree in Athletic Training?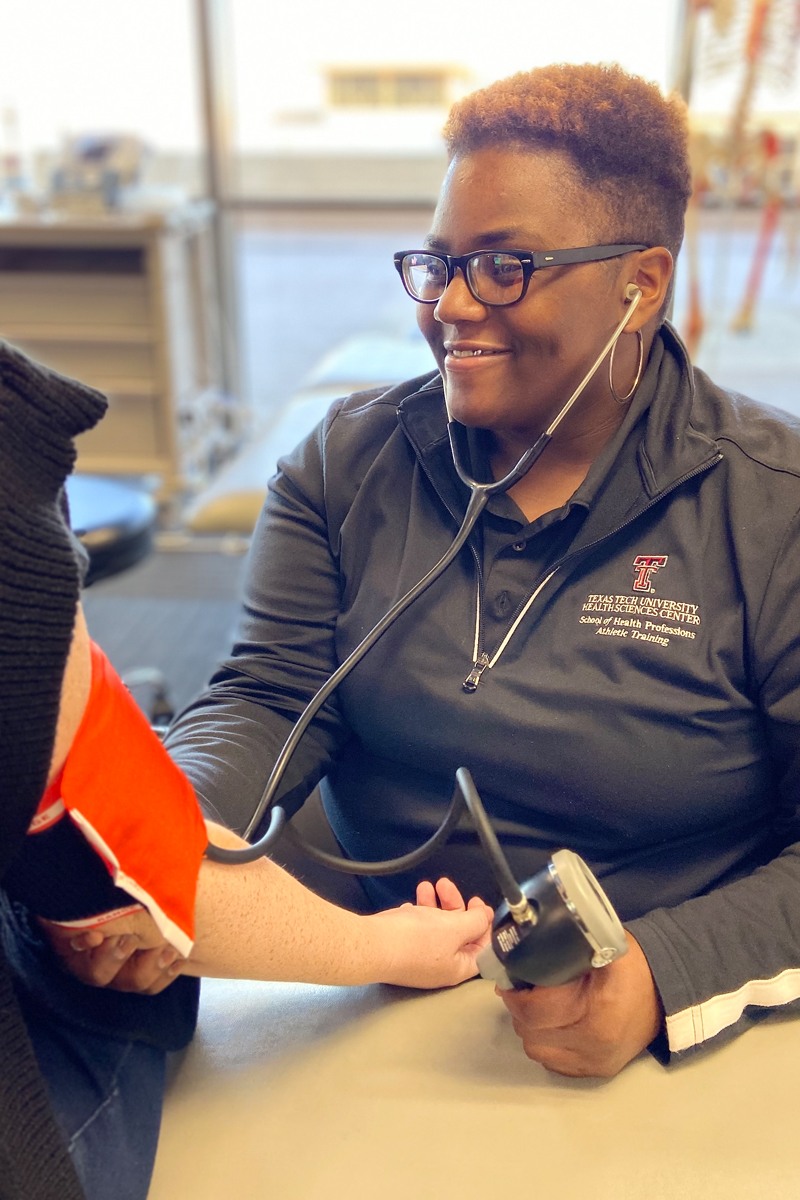 Anyone who's seen an episode of Friday Night Lights knows that sports can be the backbone of a local community — especially if that community happens to be in Texas. Whether it's a youth league soccer match, a tennis tournament, a state swimming competition, or a Friday night high school football game, most young athletes are all too eager to let the games begin, allowing little to stand between them and their favorite athletic pursuits. But what happens when a medical disorder separates a young person from their athletic passion? What if your dreams of playing football with your friends and of representing your hometown community had to be placed on hold because of something out of your control?
This is exactly what happened to Dr. DJ Gililland, clinical education coordinator and an assistant professor in the Master of Athletic Training (MAT) Program at Texas Tech University Health Sciences Center School of Health Professions (TTUHSC-SHP). At just 10 years of age, Gililland was diagnosed with Osteogenesis Imperfecta, a hereditary bone disease characterized by fragile bones that break easily. This diagnosis meant he would never be able to play football again alongside his friends in the West Texas community where he grew up.
"This was a devastating blow for me at that age," says Gililland. "Over the course of the next five years, I sustained multiple femur fractures and endured many hours of rehabilitation to recover. It was during this time that my physical therapist encouraged me to explore athletic training. When he shared with me the possibilities AT could offer, I was sold."
Even though he was sidelined off the football field, Gililland's involvement in athletics was not over. In fact, it had really just begun. In 1993, he pursued the path to become an athletic trainer, a journey that would ultimately bring him to TTUHSC-SHP. Now, as a leader in this dynamic health profession, Gililland has been able to pursue his goal of helping others, continue to be a part of the athletic community he loves, and mentor future professionals to enter a growing and important health care field.
What is an Athletic Trainer?
Athletic trainers (AT) are a vital component of the athletic and health care community, providing a full range of medical support and services to physically active populations. "ATs are highly-qualified and multi-skilled professionals," says Gililland. "They collaborate with physicians to provide preventative, emergency care, clinical diagnosis, intervention and rehabilitation of injuries and other medical conditions."
Over the past 65 years, the athletic training profession has seen continuous evolution in strengthening its professional credentials so that it is now an integral part of patient health care. At the same time, professional opportunities for these health professionals has grown. "The first ATs were primarily working in 'traditional settings' like secondary schools, colleges/universities, and professional sports," says Gililland. "Now ATs work in physician-owned clinics, hospitals, rehabilitation centers, performing arts —for instance, Cirque Du Soleil and the NYC-Rockettes — public safety, occupational health centers, NASA, research centers, academics, and every branch of the US military."
As the profession's reach has expanded, it has also faced perception issues, with the role of an athletic trainer sometimes confused with the job of a personal trainer. In fact, says Gililland, they are not at all one and the same; differentiating between the two is one of the biggest challenges facing the profession.
The National Athletic Trainers' Association (NATA) breaks down the main differences between the two professions in this way:
Athletic Trainers
Provide physical medicine and rehabilitation services.
Prevent, diagnose, treat and rehabilitate injuries (acute and chronic).
Coordinate care with physicians and other allied health professionals.
Work in schools, colleges, professional sports, clinics, hospitals, corporations, industry, and military settings.
Personal Trainers
Assess fitness needs and design appropriate exercise regimens.
Work with clients to achieve fitness goals.
Help educate the public about the importance of physical activity.
Work in health clubs, wellness centers and various other locations where fitness activities take place.
Unlike personal trainers, ATs are specially trained health care professionals. For now, they must have at least a bachelor's degree in athletic training from a Commission on Accreditation of Athletic Training Education (CAATE) accredited education program, pass a comprehensive exam, administered by the Board of Certification, Inc. (BOC) to obtain their Certified Athletic Trainer (ATC) credential, and they are required to keep their credentials current through continuing education. Beginning in 2022, all CAATE accredited programs must be at or in the process of transitioning to a master's degree. In addition, they must adhere to standards of professional practice as set by state practice acts and the BOC which is the national credentialing agency.
Due to the unique nature of the profession, and the wide spectrum of people who engage in some form of physical activity, patient populations served by ATs range from pediatrics to geriatrics and everything in between, allowing ATs to work with a diverse spectrum of people and health conditions. This continuum of care requires a wide breadth of knowledge and skills to properly treat patients with a variety of conditions and at different life stages.
What Skills Should an Athletic Trainer Possess?
Like in any profession, a successful AT has to possess the right combination of skills, temperament, and professionalism, according to Gililland. Among the important characteristics necessary:
An AT should possess a desire to care and serve others. "Health care focuses on caring for the patient population in which you serve," says Gililland. "In my opinion, it is foundational for all health care providers, including ATs."
An AT should be a lifelong learner. "Maintaining up-to-date and evidenced-based practices allows a practitioner to excel in patient-centered care."
An AT should be a good communicator. "We must communicate with parents, physicians, other medical professionals, and many other stakeholders who have an interest in the patient population we are serving," says Gililland.
An AT should be able to work under pressure. "We need to be able to critically think through clinical problems that arise under challenging circumstances."
An AT should be able to understand the ever-changing complexities of the health care system. "We need to continue to focus on how the AT can work effectively within the broader health care environment."
Finally, an AT should be able to practice successfully within a health care team setting. "Interprofessional collaboration and practice are at the core of athletic training," says Gililland. "ATs should understand roles and responsibilities across the health care team and know how to communicate, collaborate, practice, and problem-solve using an interprofessional approach."
As with any health profession, if you choose to pursue athletic training as a career, you need to be prepared to face a unique set of challenges. Specifically, as an athletic trainer, you must be able to articulate the differences between your profession and that of a personal trainer. "Professionals in the field also need to be advocates for the profession and influence public opinion and policy," adds Gililland. "We need to continue to demonstrate the value of our services and the economic impact we have in the health care arena."
Engagement with and across other health care professions is key, says Gililland, as is a commitment to growth, lifelong learning, and the patients being served. "As the profession evolves, athletic trainers will need to think about ways in which they can enrich and continue to develop educational opportunities for practicing ATs, emphasizing leading practices for patient-centered care."
The Athletic Trainer: A Health Care Professional
In order to become an AT, you must meet a certain set of requirements. Athletic training is regulated at the federal and state level, with continued efforts made by the NATA and the BOC to update antiquated state-level practice requirements that no longer reflect the skilled qualifications and specialized work of athletic trainers as health care professionals.
Understanding what it takes to become an athletic trainer means that you must become familiar with your state's specific regulations.
Texas Tech Master of Athletic Training Program
National educational standards for athletic trainers continue to become more stringent, and the transition from a bachelor's degree as a minimum requirement to the master's as the professional-level degree will begin in 2022. This means you will need to graduate from a CAATE-accredited professional athletic training graduate program to gain the education necessary to become eligible to take the national credentialing exam and practice as an AT.
The TTUHSC-SHP Master of Athletic Training program is the first athletic training graduate program in the nation to be offered in a health sciences center. And it has been a leader in setting the pace for professional athletic training education since its inception in 2000.
"The program is one of the historic MAT programs," says Gililland. "We have only offered the professional degree at the master's level."
The TTUHSC-SHP program is accredited by the CAATE, the national accrediting body for the profession. "Students who graduate from a CAATE-accredited program are eligible to sit for the BOC national certification exam," says Gililland. "Passing the BOC exam indicates that an athletic trainer has earned their ATC credential." Graduating from a CAATE-accredited program also means you can apply for a job and practice outside of the state of Texas.
The athletic training graduate program offered at the TTUHSC School of Health Professions is one of the most unique and comprehensive of its kind. Not only will you learn in a health sciences center, but you'll have access to advanced learning tools and experiences not available at other universities, such as state-of-the-art patient simulation. In order to successfully graduate, you must complete the two-year lockstep program and fulfill all clinical experience expectations.
At the TTUHSC-SHP MAT program, your classes are taught by faculty who have years of clinical experience in the field and a passion for educating the athletic training professionals of the future. Many faculty members teaching in the program are involved with national organizations and have held offices at the national level, including the MAT program director, Dr. LesLee Taylor. Taylor is currently completing her term as president of the CAATE.
Hands-on Training and Valuable Clinical Experiences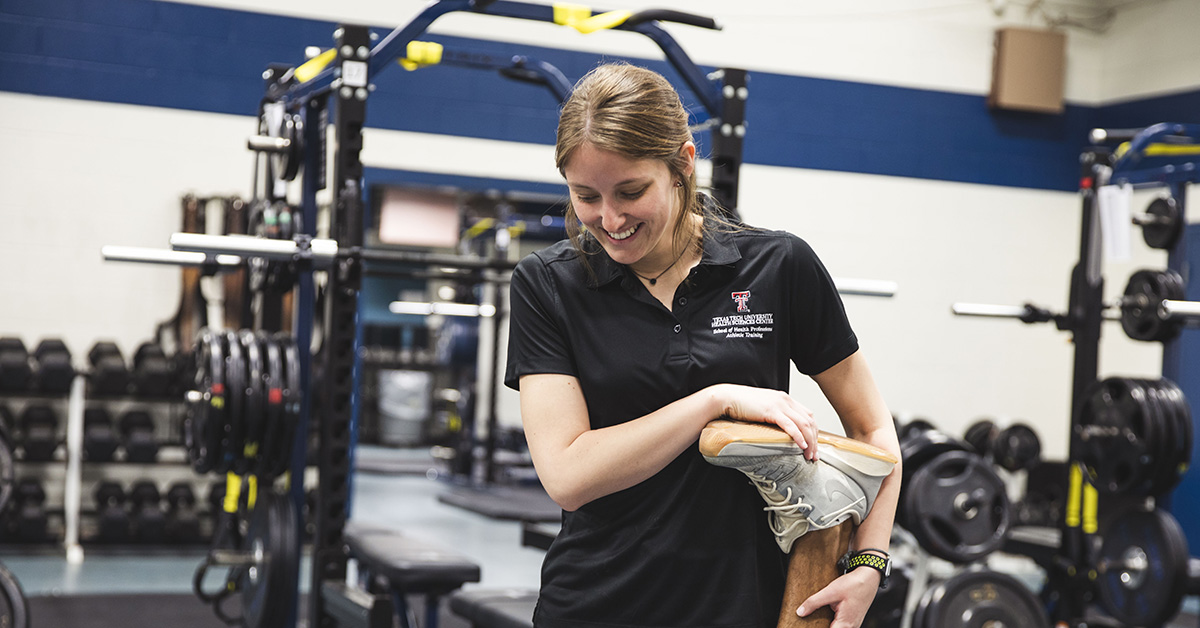 The emphasis of the educational experience in the TTUHSC-SHP MAT is very much a hands-on one. The program offers both traditional and immersive clinical experiences, within the health sciences center and at various practice settings in Lubbock and across the country. These may include the Big 12, SEC (Southeastern Conference), and PAC-12 athletic conferences, secondary school settings, local, regional, and national health care facilities (University of Colorado-Hospital, Denver and UT-Southwestern Medical Center, Richardson) and many others clinical placement opportunities.
In addition, the athletic training graduate curriculum is comprehensive, encompassing cadaver anatomy, interprofessional courses, and key topic-focused courses on therapeutic exercise, primary patient care, pharmacology, and biomechanics, to name just a few.
Another plus of the TTUHSC-SHP MAT is that students benefit from working with the diverse patient population demographics in West Texas. As a result, you'll develop your skills as you learn how to treat a wide spectrum of patients with an equally wide array of health concerns.
All in all, individual program elements combine in a top-notch experience that allows graduates to hit the ground running when it's time to look for employment. "The rich clinical diversity of the faculty and preceptors prepare our students to enter the practice setting of their choice with confidence," says Dr. Gililland of the program. "We achieve this through our diverse and challenging curriculum and clinical experiences."
Job Outlook & Athletic Training Graduate Programs
With the middle-aged and older population remaining much more active as they age and with the increasing awareness of the impact that physically active-related injuries can have on overall health, the need for AT professionals is growing. The U.S. Bureau of Labor Statistics (BLS) projects that jobs in athletic training will grow by 23% through 2026, much faster than average for all occupations. According to the BLS, Texas currently has the highest employment level in this profession in the nation, with a state-wide mean salary of $56,170 (almost $10,000 more per year than the median annual wage for the profession nationally).
Athletic trainers are employed in a wide variety of settings. Gililland points out that of the NATA membership:
Approximately 35% work in the clinical and emerging settings, including physician-owned clinics, hospitals, rehabilitation centers, performing arts, public safety, occupational health, NASA, research centers, academics, and the US military.
Approximately 35% work in the secondary school and college and university settings.
Another 30% of the NATA membership is comprised of AT students.
Begin the Journey at TTUHSC Master of Athletic Training Program
For Gililland, who grew up just two and a half hours north of Lubbock, Texas coming to the MAT program at TTUHSC "meant coming home." He had been working and living with his family in Alabama when the can't-pass-this-up offer came his way. "This is an opportunity of a lifetime to collaborate with other health care professionals," he says, "and to continue to expand the MAT program."
Today, Gililland is not only an enthusiastic assistant professor and administrator, but he is a dedicated advocate for the profession and a mentor to future AT practitioners. When asked what advice he gives to future professionals, he says he counsels interested students to engage with athletic trainers in their community in a variety of settings to gain an understanding of the various practice settings. And, he says, make sure you get off on the right foot and with the right attitude. "Establish a firm foundation in your undergraduate degree, especially the prerequisites," he says, "and come eager to learn and grow in a dynamic health care field."
If you are interested in a career as an athletic trainer, obtaining your master's degree in athletic training at TTUHSC is a great place to start your journey. TTUHSC is proud to graduate the most health care professionals in the state of Texas, having trained more than 28,000 professionals currently serving patients. Nationally recognized for innovative programs, academic achievement, and cutting-edge research, the university prides itself on training the next generation of highly-qualified practitioners in the health professions.
You can learn more by exploring the TTUHSC-SHP Master of Athletic Training program page where you will also find information about careers in athletic training and how to submit your application. You may also schedule a campus visit and tour our facilities by emailing us at health.professions@ttuhsc.edu or calling (806) 743-3220.
Related Stories
By QEP Committee
March 21, 2023
As spring approaches, some people's thoughts turn to gardening. Whether it's a flower garden they desire or a vegetable garden want to have, they begin planning what they'll plant and what they need to do to ensure a successful garden.
By QEP Committee
March 21, 2023
A "growth mindset" accepts that our intelligence and talents can develop over time, and a person with that mindset understands that intelligence and talents can improve through effort and learning.
By Melissa Whitfield
February 13, 2023
Abstaining from drug abuse and an early diagnosis of familial hypercholesterolemia (high cholesterol) can help prevent heart disease.
Recent Stories
Research
By Mark Hendricks
November 16, 2023
Ninh (Irene) La-Beck, Pharm.D., with the TTUHSC Jerry H. Hodge School of Pharmacy, received a five-year, $2.49 million grant to investigate how nanoparticles interact with the immune system and cancer.
Research
By Mark Hendricks
November 10, 2023
To help investigate the influence basal sex hormone alterations may have on chronic post-op pain, the NIH recently awarded a grant to Jenny Wilkerson, Ph.D., from the Jerry H. Hodge School of Pharmacy.
Health
By Tyler White
November 09, 2023
Scott Shurmur, M.D., a cardiologist at the Texas Tech Physicians Center for Cardiovascular Health, shared his expertise and his experience as a former collegiate athlete.