Taking the Nursing Field to the Capitol
School of Nursing Alumnus Makes Impact in Health Care Legislation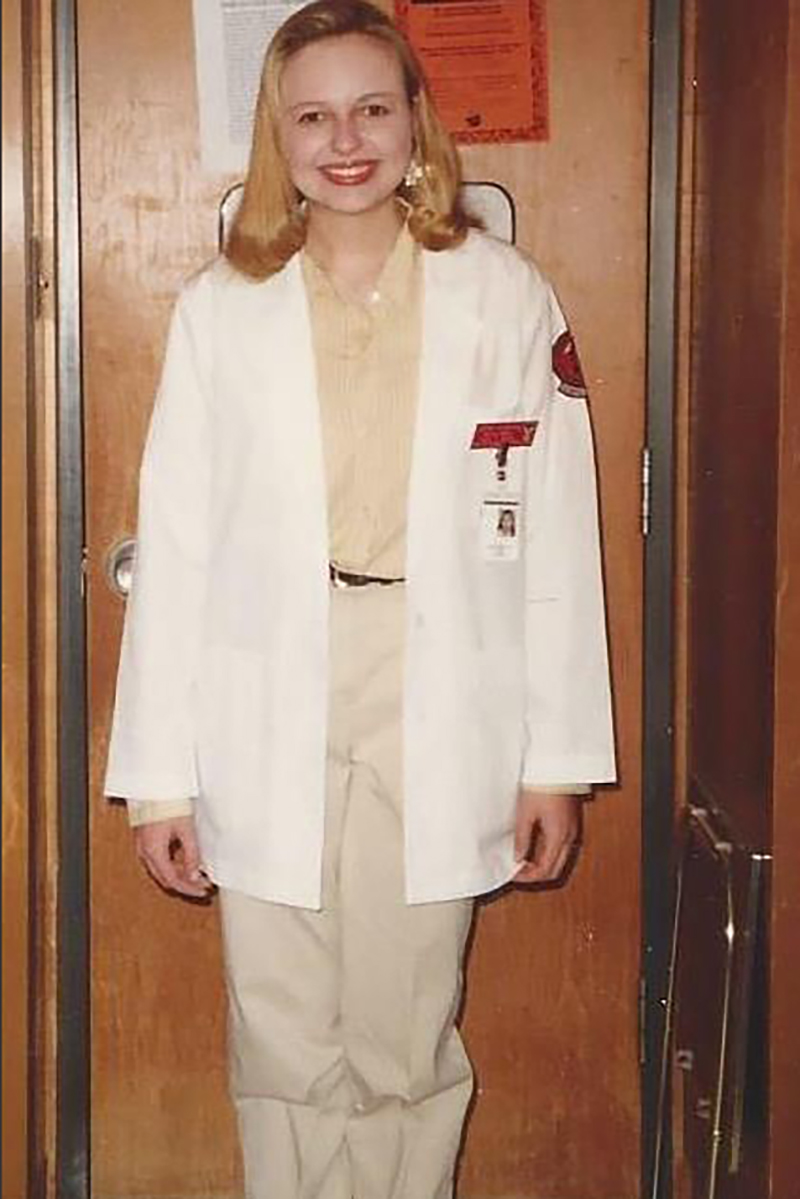 Dudensing as a student at TTUHSC
Jamie Dudensing grew up in Sweetwater, Texas. Her father was the local agriculture science teacher, and it was only natural she would be active raising sheep, participating in Future Farmers of America and 4-H and working with livestock projects.

But it was the women in Dudensing's life that led her into health care. Her mother, aunt and grandmother were registered nurses. She remembers her grandmother, who was also a Re Cross nurse, recounting stories of the many times she worked out in the field. The Texas City explosion of 1947 was an industrial disaster that set off a chain of fires and a reported more than 400 people killed. Dudensing's grandmother worked at this explosion site and other areas of need throughout her nursing career.

"I remember her telling stories about caring for patients during this disaster as a Red Cross nurse," Dudensing said. "Hearing about their passion for nursing and their patients created my interest in health care. When I graduated high school, I made the decision to directly enroll into nursing school at Texas Tech University Health Sciences Center. It was an innovative program that allowed students to take nursing classes for four years while also attending undergrad classes. It was a very competitive program to be accepted straight out of high school. I was also nervous about making such a big life commitment at 18. But at the same time, I knew I was dedicated to improving health care."

Dudensing gravitated towards obstetrics and gynecology during the school's required rotations and classes. She did an internship learning more about high-risk labor and delivery. As a part of her education, she had the opportunity to work during her junior year as a nurse tech on the women's floor at Methodist Hospital (now Covenant Health System) and continued working at the hospital after graduation for the labor and delivery department. Her focus at the hospital was often with high-risk mothers.

While she was working at the hospital, Dudensing had a chance encounter with then Texas Speaker of the House Pete Laney. She shared her interest in health care policy and improving access to health coverage with Laney who informed her there was a job opening for the Texas Capitol Nurse. She applied and within weeks was at the Texas Capitol treating legislators and staffers with basic health care at the Capitol clinic.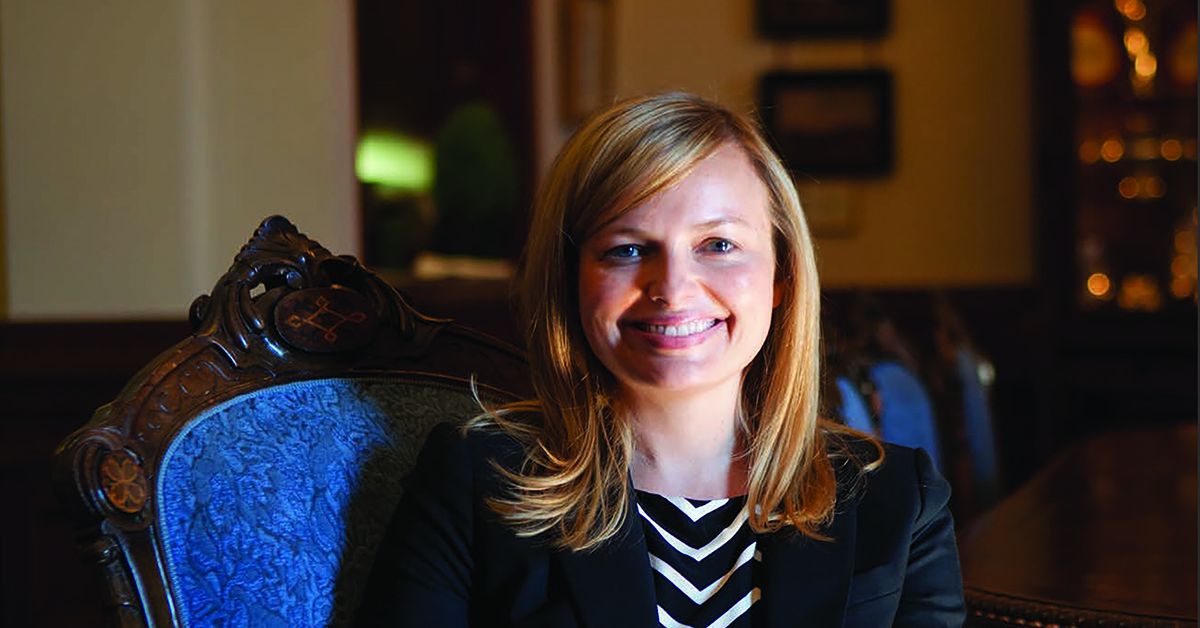 Dudensing has used her degree in nursing to make an impact in health care policy at the capitol.
Her time at the Texas Capitol convinced her health care policy was her calling and she could do more to help patients by working on policy inside the capitol. Dudensing would leave as the Capitol nurse to pursue a master's degree in public policy from the LBJ School of Public Affairs at the University of Texas. Her first legislative position after receiving her master's was working as the health care budget analyst for the House Appropriations Committee.

"Very few people get an opportunity to work for the Appropriations Committee so early in their career," Dudensing said. "Working on health and human services programs such as the Texas Medicaid program was a unique opportunity to learn about every health care program in Texas. I later left that position in 2005 and took a job as the Senior Health Care Policy Advisor for Lt. Gov. David Dewhurst. That's when I started working on both the budget and legislative side of policy. I would later have the opportunity to work as the lieutenant governor's policy director and deputy chief of staff."

Although she loved her work at the Texas Capitol, Dudensing said when it was time for her to leave the Capitol, she wanted a position that would allow her to work directly on improving access to affordable care. She was hired in 2014 as the chief executive of the Texas Association of Health Plans, which represents health insurance providers.

"When I worked as a nurse, you'd have so many moms that had no health insurance," Dudensing said. "Because they really had no access to consistent health insurance, they never really received prenatal care. It was startling to see the first-hand impact of the lack of health coverage on people's lives. If they had just had health coverage in the first place, they would have received care and coverage they needed to prevent pre-term births or detect cervical cancer early when it is still easily treatable. I also saw the financial impact of being uninsured. The cost of health care can be devastating for someone who does not have the financial safety net of health coverage."

Dudensing has seen the health care profession change through the years, especially opportunities for the nurse work force to improve patients' lives in non-traditional settings. This session, she has had the opportunity to advocate for legislation that will protect patients from surprise billing in an emergency.

"An important role for nurses lies in the opportunity to make a difference. Nursing is one of the most trusted professions in the United States," Dudensing said. "I've seen so many opportunities for nurses to make an impact. Whether they are a labor and delivery nurse, providing direct patient care every day or becoming a nurse who works in a non-traditional setting, like the State Capitol, nurses have a broader impact to help improve patients' lives and improve access to health care."
Related Stories
By QEP Committee
March 21, 2023
As spring approaches, some people's thoughts turn to gardening. Whether it's a flower garden they desire or a vegetable garden want to have, they begin planning what they'll plant and what they need to do to ensure a successful garden.
By QEP Committee
March 21, 2023
A "growth mindset" accepts that our intelligence and talents can develop over time, and a person with that mindset understands that intelligence and talents can improve through effort and learning.
By Melissa Whitfield
February 13, 2023
Abstaining from drug abuse and an early diagnosis of familial hypercholesterolemia (high cholesterol) can help prevent heart disease.
Recent Stories
Research
By Mark Hendricks
November 16, 2023
Ninh (Irene) La-Beck, Pharm.D., with the TTUHSC Jerry H. Hodge School of Pharmacy, received a five-year, $2.49 million grant to investigate how nanoparticles interact with the immune system and cancer.
Research
By Mark Hendricks
November 10, 2023
To help investigate the influence basal sex hormone alterations may have on chronic post-op pain, the NIH recently awarded a grant to Jenny Wilkerson, Ph.D., from the Jerry H. Hodge School of Pharmacy.
Health
By Tyler White
November 09, 2023
Scott Shurmur, M.D., a cardiologist at the Texas Tech Physicians Center for Cardiovascular Health, shared his expertise and his experience as a former collegiate athlete.