Meeting the Demand for Nurses in Texas
The 50th anniversary of the Texas Tech University Health Sciences Center (TTUHSC) is very meaningful to me. In 1969, I was a sophomore undergraduate student at Texas Technological College, which changed to Texas Tech University in September of 1969. I was an English major, biology minor and my career goal at that time was to become an English teacher. While I was a student, I got a job as a nurse aide and I realized that I loved being in that workplace and enjoyed working with patients, their families and with nurses.

Forty years ago, the TTUHSC School of Nursing was created and has steadily grown since then to meet the need for nurses in the State of Texas. There are over 2,000 students located all over the state and beyond, making it the largest of the TTUHSC schools and one of the largest schools of nursing in the state. Based in Lubbock, there are additional campuses in Amarillo, Abilene, Permian Basin and Dallas and program locations in Houston, San Antonio and Austin.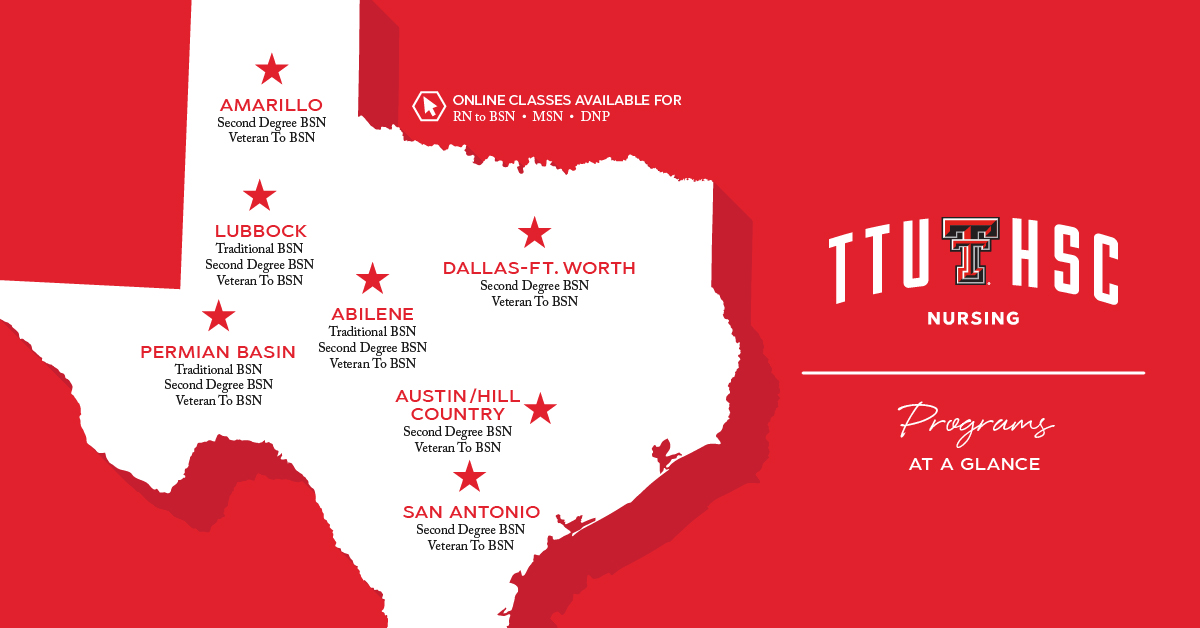 The school offers four routes to the Bachelor of Science in Nursing: traditional BSN program, RN to BSN program, second degree accelerated BSN program and veteran to BSN program. The latter two are aimed at individuals who have a degree in any area and seek a career in nursing and for military veterans who had roles as medics or other health care clinical roles.

Master of Science in Nursing programs include majors in Nursing Administration, Nursing Education and Nursing Informatics. Advanced Practice Registered Nurse programs include the MSN leading to Family Nurse Practitioner, Pediatric Nurse Practitioner, Acute Care Nurse Practitioner MSN degrees for both Adult/Geriatrics and Pediatrics, Psychiatric/Mental Health Nurse Practitioner and MSN in Nurse Midwifery. The school was the first in Texas to be approved to provide the BSN to Doctor of Nursing Practice degree program as both Family Nurse Practitioner and Psychiatric/Mental Health NP.

The Doctor of Nursing Practice degree is offered in two tracks—Executive Leadership and Advanced Clinical Practice—and in its 10 years has produced over 250 outstanding leaders in health care nursing/clinical administration, teaching and clinical practice.

It is one of the only schools of nursing in the United States that operates a nurse-managed Federally Qualified Health Center (FQHC). The Larry Combest Health and Wellness Center is located in East Lubbock and the Abilene Community Health Center is located in North Central Abilene. Patients in the clinics have their primary care provided by nurse practitioners. In the last year, the school provided care to over 10,000 individuals in these clinics. Most of these patients did not have immediate access to care before these clinics opened. The focus is on treating acute and chronic conditions as well as a strong focus on giving patients the knowledge and tools to keep themselves healthy.

The faculty of the school of nursing live in all parts of Texas where there are campuses and program locations. They are all educated at least at the MSN level when they begin teaching in the school and most of those without doctoral degrees pursue those degrees in their first few years of teaching.

A major focus of TTUHSC is interprofessional education and practice. Students from the school of nursing work with students from medicine, pharmacy and health professions to learn to work well with one another and to understand the scopes of practice of the various disciplines. The goal is for them to be better members of the health care team upon graduation and to work together to support outstanding patient care.

The TTUHSC School of Nursing has been designated as a National League for Nursing Center of Educational Excellence, the first school in Texas to be so named. The school has made great progress in the last 40 years to grow and to thrive in order to educate outstanding undergraduate and graduate nurses. We look forward to continuing to meet the nursing care needs of the citizens of the State of Texas in the future.

Michael Evans, Ph.D., R.N., is the dean of the Texas Tech University Health Sciences Center School of Nursing.
Related Stories
By QEP Committee
March 21, 2023
As spring approaches, some people's thoughts turn to gardening. Whether it's a flower garden they desire or a vegetable garden want to have, they begin planning what they'll plant and what they need to do to ensure a successful garden.
By QEP Committee
March 21, 2023
A "growth mindset" accepts that our intelligence and talents can develop over time, and a person with that mindset understands that intelligence and talents can improve through effort and learning.
By Melissa Whitfield
February 13, 2023
Abstaining from drug abuse and an early diagnosis of familial hypercholesterolemia (high cholesterol) can help prevent heart disease.
Recent Stories
Health
By Suzanna Cisneros
September 19, 2023
Natalie Scanlon, Ph.D., a clinical psychologist in the Department of Psychiatry at Texas Tech Physicians, provides tips for keeping children safe.
Research
By Mark Hendricks
September 13, 2023
In a list published by the National Academy of Inventors (NAI), the Texas Tech University System, including TTUHSC, ranked 75th among the Top 100 U.S. Universities Granted Utility Patents in 2022.
Education
By Suzanna Cisneros
September 13, 2023
TTUHSC President Lori. Rice-Spearman, Ph.D., announced the appointment of Deborah L. Birx, M.D., as the TTUHSC presidential advisor and adjunct professor in the Julia Jones Matthews School of Population and Public Health.