Oscar Winning Actress Speaks at Power of the Purse Luncheon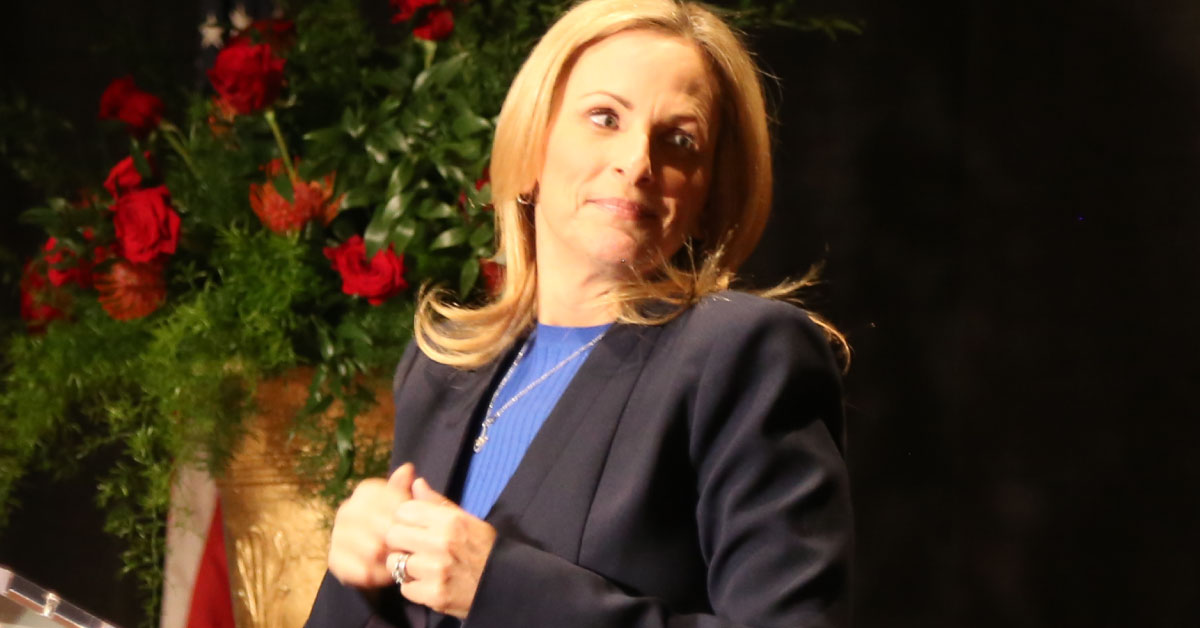 Marlee Matlin
Academy Award winning actress Marlee Matlin was the featured speaker April 12 at the Laura W. Bush Institute for Women's Health Power of the Purse luncheon.
Angela Knapp Eggers, senior director for the Laura W. Bush Institute for Women's Health, said Power of the Purse has been the institute's biggest annual event since it began in 2010. The event seeks to raise awareness of the institute's mission and to provide funding for its research, education and outreach endeavors.
"The Laura Bush Institute strives to bring compelling and impactful speakers to our community, keeping in mind that our health matters and no matter life's circumstances, attitude is everything, in both healing and dealing," Eggers said.
Though Matlin lost her hearing when she was only 18 months old, she never let her challenges dictate her future or deter her dreams. At age 21, she became the youngest recipient of the Best Actress Oscar and received worldwide critical acclaim for her film debut in Paramount Pictures' Children of a Lesser God, making her one of only four actresses to receive the honor for their film debut.
Matlin at one point had the entire audience applauding in sign language.
Matlin is a staunch advocate for children and a champion for those struggling against domestic abuse and addiction. She also serves as a voice for those without a voice by helping to raise awareness for better hearing health for millions of deaf and hard-of-hearing children and adults in the United States and in many developing countries.
The Laura W. Bush Institute for Women's Health is dedicated to improving the lives of women and girls in Texas and across the nation by advancing multidisciplinary science in women's health. Recognizing that differences matter, the institute promotes health, individually inspired, through scientific investigation, translation of science into practice and providing outreach that impacts the community for today and tomorrow.
Related Stories
By QEP Committee
March 21, 2023
As spring approaches, some people's thoughts turn to gardening. Whether it's a flower garden they desire or a vegetable garden want to have, they begin planning what they'll plant and what they need to do to ensure a successful garden.
By QEP Committee
March 21, 2023
A "growth mindset" accepts that our intelligence and talents can develop over time, and a person with that mindset understands that intelligence and talents can improve through effort and learning.
By Melissa Whitfield
February 13, 2023
Abstaining from drug abuse and an early diagnosis of familial hypercholesterolemia (high cholesterol) can help prevent heart disease.
Recent Stories
Health
By Suzanna Cisneros
September 19, 2023
Natalie Scanlon, Ph.D., a clinical psychologist in the Department of Psychiatry at Texas Tech Physicians, provides tips for keeping children safe.
Research
By Mark Hendricks
September 13, 2023
In a list published by the National Academy of Inventors (NAI), the Texas Tech University System, including TTUHSC, ranked 75th among the Top 100 U.S. Universities Granted Utility Patents in 2022.
Education
By Suzanna Cisneros
September 13, 2023
TTUHSC President Lori. Rice-Spearman, Ph.D., announced the appointment of Deborah L. Birx, M.D., as the TTUHSC presidential advisor and adjunct professor in the Julia Jones Matthews School of Population and Public Health.