Poison Center Recognized for 25 Years of Service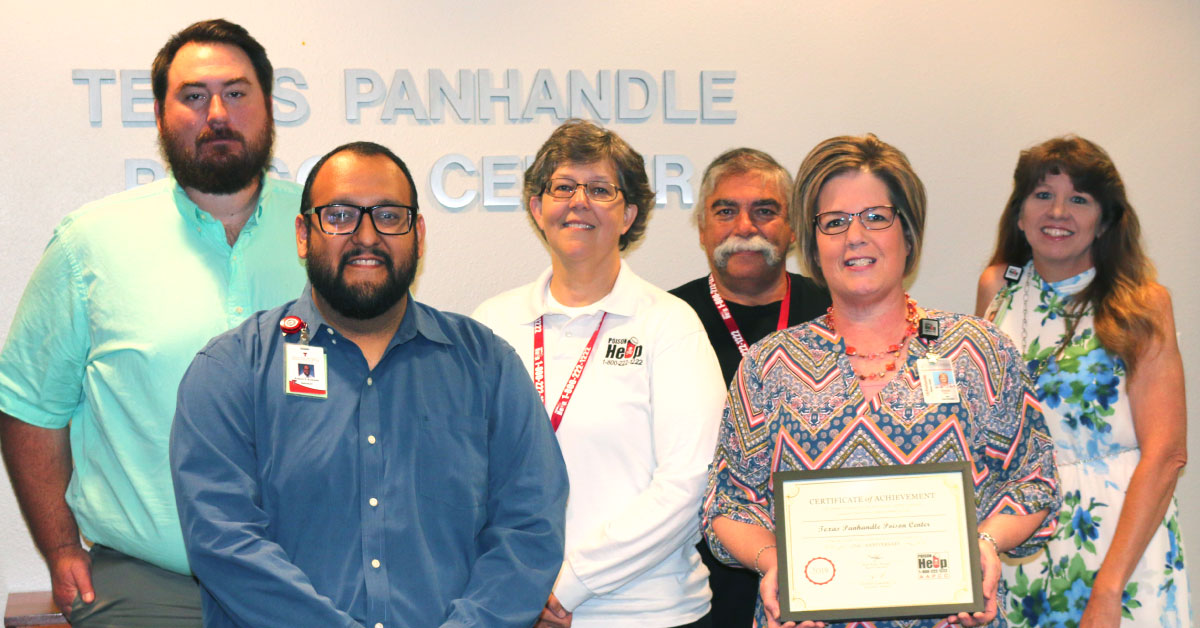 TPPC Staff
The American Association of Poison Control Centers (AAPCC) recently recognized the Texas Panhandle Poison Center (TPPC) for 25 years of community service as part of the Texas Poison Center Network, a system of six poison centers located across the state. The TTUHSC Jerry H. Hodge School of Pharmacy manages TPPC.
"For poisonings of any kind, poison centers serve as a free resource to both the public and health care providers," TPPC Medical Director Thomas Martin, M.D, said. "Also, physicians who are managing poison cases may consult with board-certified medical toxicologists by using poison center services."
TPPC Managing Director Jeanie Jaramillo-Stametz, Pharm.D., who also serves as an assistant professor for TTUHSC's Department of Pharmacy Practice, said Texas poison centers save the public, insurers and other payers millions of dollars each year by providing assistance over the phone and preventing unnecessary emergency room visits.
"There are types of poison exposures in which a patient needs to go to the emergency room, but with a majority of poisonings, our trained medical staff can manage patients at home without the expense of going to an emergency room," Jaramillo-Stametz said.
TPPC was created in 1993 by State Bill 773, which established and financed the Texas Poison Center Network. To ensure every resident in Texas had access to poison information, centers were opened in Galveston, Dallas, San Antonio, El Paso, Temple and Amarillo. TPPC's service area includes the Texas Panhandle, the South Plains region and a portion of Central Texas. It encompasses 71 counties, a geographical area equivalent to roughly 25 percent of the state and a population of more than 1.3 million. The area is mostly rural, but also includes four urban areas: Amarillo, Lubbock, Abilene and Wichita Falls.
Legislators in 1993 also appointed the Texas Department of Health — now known as the Texas Department of State Health Services (DSHS) — and the Advisory Commission on State Emergency Communications as the joint rule-making authorities for the network.
From 1994 until 2003 the Amarillo Hospital District sub-contracted with Northwest Texas Hospital (NWTH) to be TPPC's host institution. Construction of TPPC's original NWTH location was funded by a grant from Children's Miracle Network. The location was renovated in 1996 through funding provided by DSHS.
TTUHSC began managing TPPC Sept. 1, 2003 through its Jerry H. Hodge School of Pharmacy. Shu Shum, M.D., a board certified toxicologist and a professor at the TTUHSC School of Medicine, served as TPPC's medical director when it opened and held the position for 21 years. Martin, a licensed toxicologist, has served as TPPC's medical director since Shum's retirement in 2015.
When it opened in 1994 TPPC employed five registered nurses and two paramedics as poison information specialists. Today, the TPPC staff includes Martin, Jaramillo, Community Outreach Specialist Ronica Farrar, Unit Coordinator Robbi Rivers and four poison information specialists who answer TPPC's phone lines.
Medication Cleanout Drive-Thru
In 2009, TPPC and the Jerry H. Hodge School of Pharmacy began organizing Medication Cleanout, a program that allows people to bring in unwanted, unneeded and expired medications for proper disposal. In the program's first few years, collections were organized in Amarillo, Lubbock and a few smaller West Texas communities like Borger, Canyon, Pampa, Shamrock and Sweetwater. Since 2012, TPPC has conducted spring and fall Medication Cleanout® events in Amarillo, Abilene and Lubbock. To date, TPPC has collected approximately 48,200 pounds of medications and 3,410 pounds of sharps for proper disposal.
Jaramillo-Stametz said she initially thought the Medication Cleanout® collections would be temporary, but she's learned that TPPC is providing an important community service that is needed on an on-going basis.
"It's encouraging that residents are working to ensure that their homes and neighborhoods are safer by removing unused medications," Jaramillo-Stametz said. "The events also give students of various health professions the opportunity to serve their communities as volunteers and also to see firsthand the enormity of the issue with the accumulation of both prescription and over-the-counter medications in the home. As we work to gain control of the opioid epidemic in our country, we also are learning the downstream effects of tighter regulations on substances such as hydrocodone."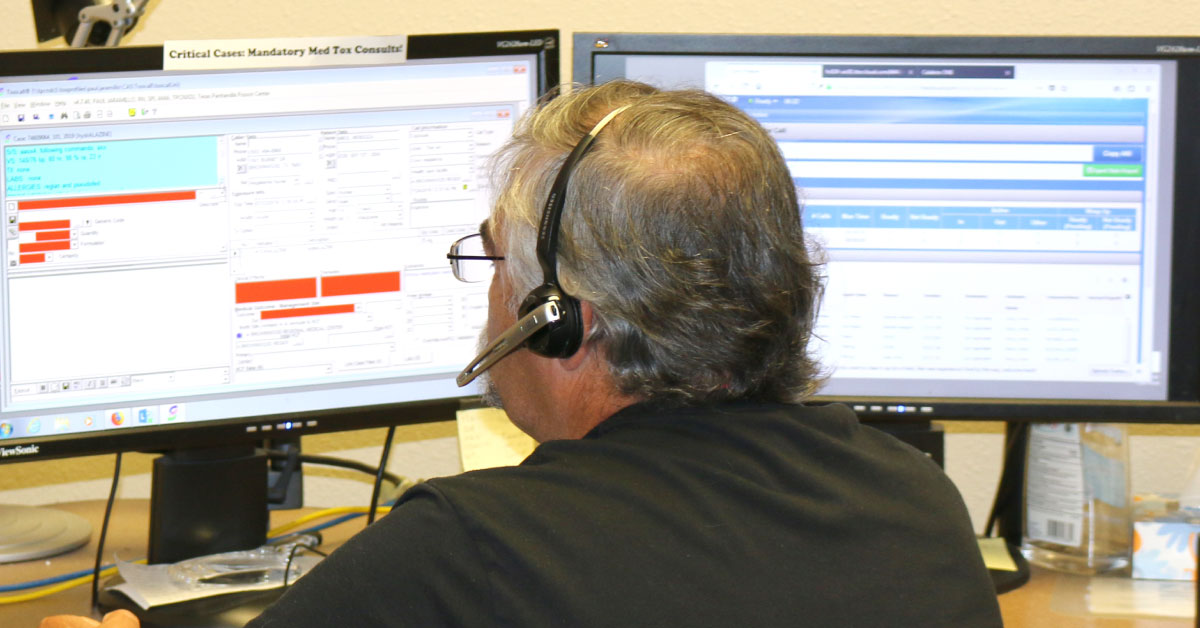 TPPC Call Center
TPPC undergoes annual compliance reviews and is required to go through the AAPCC reaccreditation process every seven years to ensure it provides quality services and to secure federal funding. Reaccreditation requires TPPC and all other poison centers to undergo an extensive peer-review process that includes a review of policies, procedures and call management efforts to educate the public and health care providers, all in the context of nationally recognized standards for poison control centers.
TPPC's current accreditation runs through December 2023. Jaramillo said each reaccreditation is important to TPPC's service area because poison centers don't just provide information regarding traditional poisoning scenarios, they also answer questions and concerns about medications, overdoses and the use of household products like cleaners, pesticides and herbicides.
"People don't have to suffer a poisoning to utilize the services of our poison centers," Jaramillo stressed. "They can and should call for answers to any poison-related questions."
Related Stories
By Mark Hendricks
March 25, 2022
The Texas Tech University Health Sciences Center (TTUHSC) Graduate School of Biomedical Sciences hosted its 34th Annual Student Research Week March 8-11.
By Mark Hendricks
March 25, 2022
The National Cancer Institute awarded a five-year, $1.9 million grant to C. Patrick Reynolds, M.D., Ph.D., director for the School of Medicine Cancer Center at TTUHSC.
By School of Health Professions
March 24, 2022
Richard Greenhill, DHA, FISQua, FACHE, discusses the hype and reality surrounding AI in healthcare.
Recent Stories
Education
By Mark Hendricks
May 26, 2022
The Willed Body Program has served West Texas since 1972 and is the foundation upon which the TTUHSC Institute of Anatomical Sciences is built.
Education
By Mark Hendricks
May 25, 2022
The Texas Tech University Health Sciences Center (TTUHSC) recently hosted traditional commencement ceremonies for its 1,595-member Class of 2022.
Education
By Suzanna Cisneros
May 24, 2022
The school, which is the sixth at the university, aims to train future health care leaders in population and public health.