Inspiring the Next Generation of Physicians
Fifth Graders Become Doctors for a Day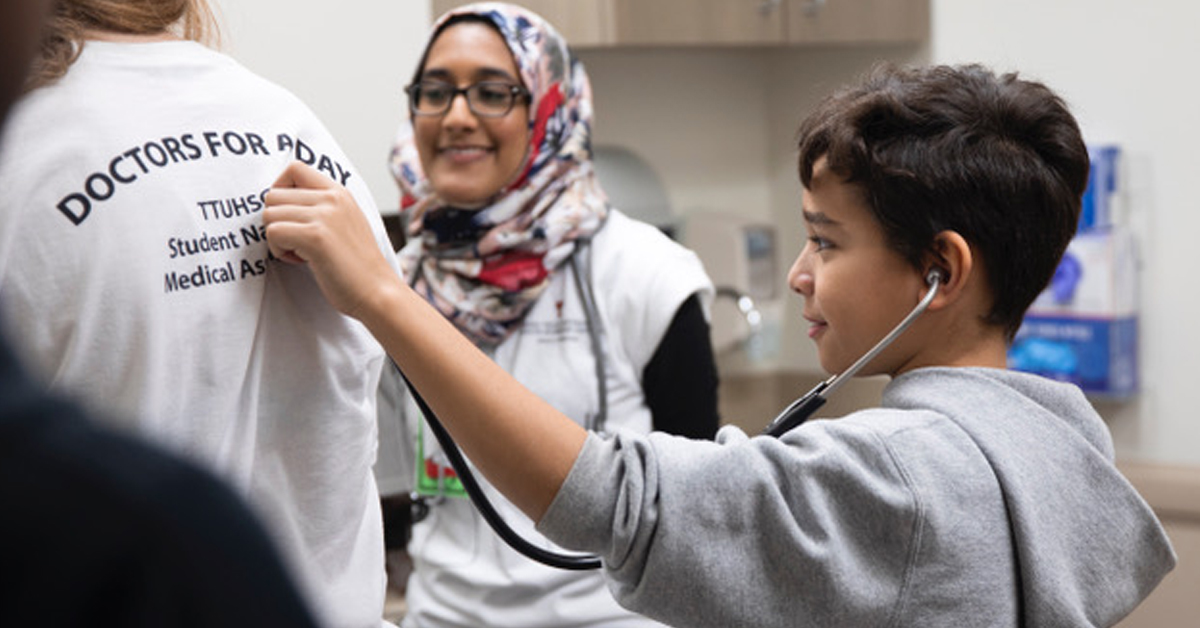 Eleven-year-old Sevyn Ross-Stewart listened carefully as the fifth grade class diagnosed and helped cure a patient.
"I never imagined becoming a doctor was a possibility for me," Sevyn said. "I used to think the stuff doctors do, I could never do it," Sevyn said. "When I came here to do it, it wasn't that bad. I saw how doctors find cures, and I saw how the insides of the bodies work and stuff."
Ross-Stewart was one of 68 fifth-grade students from Joan Y. Ervin Elementary School who experienced being a doctor for a day at the Texas Tech University Health Sciences Center (TTUHSC).
The Doctors for a Day Mini Camp was hosted by TTUHSC medical students as a part of the Student National Medical Association (SNMA) efforts to encourage underrepresented students to become physicians. The mission of the camp was to inspire and inform the elementary students to experience a day in the life of a medical student. Crystal Ike, SNMA president and second-year medical student, said the organization wanted to create an interactive and fun way to expose students to the field of medicine.
"Our goal was to make this fun and interactive for the students," Ike said. "Many students never may have imagined they too can go into this profession. Our hope is that the students will walk away knowing they too can become a doctor."
The fifth graders worked in the F. Marie Hall SimLife Center and listened to heart beats and had hands-on time at eye, ear and ultrasound stations to see how medical professionals learn. They worked with School of Medicine students to diagnose standardized patients in mock situations. They also experienced an emergency simulation skit and had the opportunity to see how the medical team works together to treat a trauma patient.
"We want to get students thinking about medicine as early as elementary school," Crystal said. "The Doctors for a Day Mini Camp hopefully will spark an interest in becoming a physician, especially for underserved and underrepresented minorities."
Alejandro Espinosa-Tello, a second-year medical student and SNMA officer, said Doctors for a Day transformed the students to encourage them that they too can consider a career in medicine.
"My parents are immigrants who do not speak English and work as janitors," Alejandro said. As an elementary student, I didn't know becoming a doctor was an option until much later in life. We want to inspire the next generation of doctors. Hopefully one day we will see these students walking the halls of a medical school."
Related Stories
By QEP Committee
March 21, 2023
As spring approaches, some people's thoughts turn to gardening. Whether it's a flower garden they desire or a vegetable garden want to have, they begin planning what they'll plant and what they need to do to ensure a successful garden.
By QEP Committee
March 21, 2023
A "growth mindset" accepts that our intelligence and talents can develop over time, and a person with that mindset understands that intelligence and talents can improve through effort and learning.
By Melissa Whitfield
February 13, 2023
Abstaining from drug abuse and an early diagnosis of familial hypercholesterolemia (high cholesterol) can help prevent heart disease.
Recent Stories
Education
By Suzanna Cisneros
March 24, 2023
Recognizing academic excellence, the honors are the most prestigious awards granted to faculty throughout the TTU System. The awards are funded by gifts to the Chancellor's Council, a giving society that supports the chancellor's priorities across the TTU System.
Campus Life
By Suzanna Cisneros
March 23, 2023
TTUHSC School of Medicine students will host a Women's Health Day free clinic from 10 a.m. to 1 p.m. April 15 at The Free Clinic
Research
By Mark Hendricks
March 21, 2023
TTUHSC Cytogenetic Technologist Jasbir Bisht and a team from P. Hemachandra Reddy's internal medicine laboratory analyzed the impact of cancer in Hispanics in comparison to other ethnic groups.