American Heart Association and TTUHSC Unveil Hands-Only CPR Training Kiosk
The American Heart Association (AHA) proudly announced Texas Tech University Health Sciences Center (TTUHSC) as the official sponsor of a hands-only CPR training kiosk in Lubbock, Texas. A ribbon-cutting for the kiosk was held on January 22, 2019 at the Lubbock Preston Smith International Airport.
Every year, more than 350,000 cardiac arrests occur outside of the hospital and more than 20 percent occur in public places like airports, casinos and sporting facilities. The Hands-Only CPR education available at each kiosk helps users understand how they can immediately help a person who experiences a cardiac emergency outside of a hospital.
The kiosk features a touch screen with a video program that provides a brief introduction and overview of Hands-Only CPR, followed by a practice session and a 30-second test session. With the help of a practice manikin, or a rubber torso, the kiosk gives feedback about the depth and rate of compressions and proper hand placement – factors that influence the effectiveness of CPR. The entire training takes about five minutes.
The kiosk sits at the Lubbock Preston Smith International Airport between Gate 6 and Gate 7 to the left of security, where thousands of people visit each year.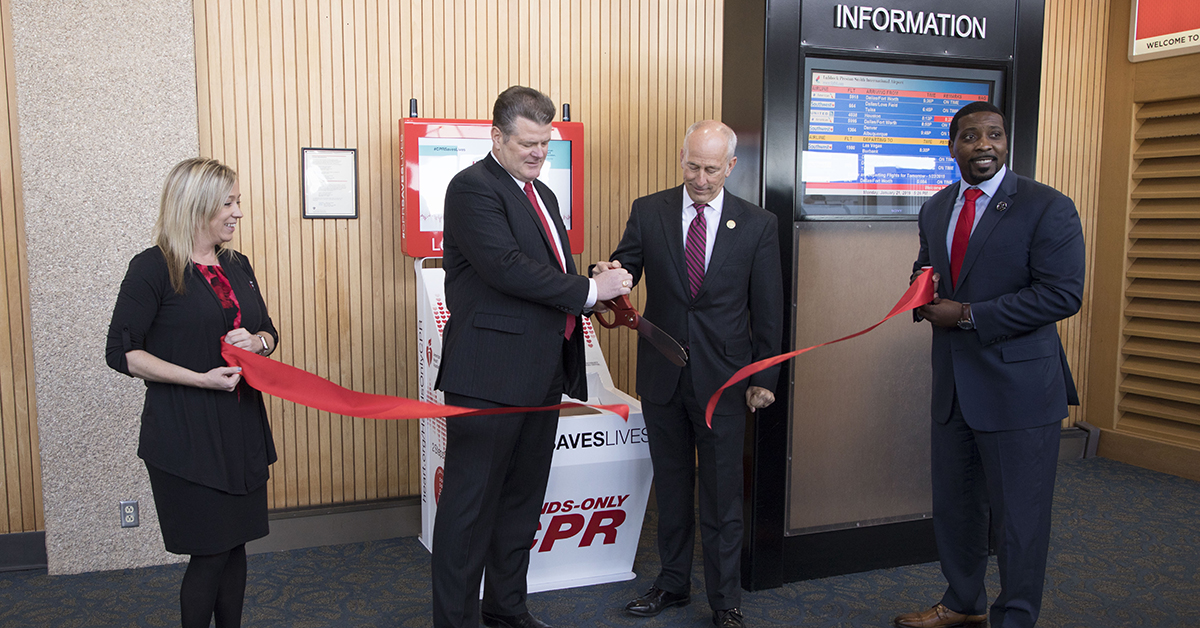 "Cardiac arrest remains a leading cause of death in the United States, and survival depends on immediately receiving CPR from someone nearby," said Dr. Scott Shurmur, M.D., a cardiologist at the Texas Tech Physicians – Center for Cardiovascular Health "Although in-person training is still the best way to learn the skills necessary for high-quality CPR, the kiosk will provide additional training that could make a difference and save the life of someone you love."
"About 90 percent of cardiac arrest victims die, often because bystanders don't know how to start CPR or are afraid they'll do something wrong," said Kim Walker, AHA Volunteer and Advocate. "Bystander CPR, especially if administered immediately, can double or triple a cardiac arrest victim's chance of survival, which is why the Hands-Only CPR education available at the kiosk is so valuable. In just a matter of a few minutes, people will learn a skill that can potentially make a difference in the lives of those they love most as well as others."
The two simple steps of Hands-Only CPR are: if a bystander sees a teen or adult collapse, he or she should first call 9-1-1. Then push hard and fast in the center of the chest to the beat of "Stayin' Alive," which has 100 beats per minute (bpm). The Bee Gees' song has the minimum rate you should push on the chest during Hands-Only CPR.
"The kiosks will help the community understand how simple it is to perform the two steps of Hands-Only CPR, which will hopefully help reduce some of the trepidation that people have about performing bystander CPR," said Denise Sanders, Senior Corporate Market Director of Lubbock AHA. "After completing the kiosk training, we hope people will feel empowered knowing they are taking the first steps in learning a critical skill."
To learn more about the Hands-Only CPR campaign and learn how to save a life, visit www.heart.org/handsonlycpr or www.facebook.com/AHACPR.
---
About the American Heart Association
The American Heart Association is a leading force for a world of longer, healthier lives. With nearly a century of lifesaving work, the Dallas-based association is dedicated to ensuring equitable health for all. We are a trustworthy source empowering people to improve their heart health, brain health and well-being. We collaborate with numerous organizations and millions of volunteers to fund innovative research, advocate for stronger public health policies, and share lifesaving resources and information. Connect with us on heart.org, Facebook, Twitter or by calling 1-800-AHA-USA1.
Related Stories
By Lori Rice-Spearman, Ph.D., Steven L. Berk, M.D.
March 22, 2022
TTUHSC Celebration of Life Service was held March 25th in remembrance of Tom McGovern, Ed.D.
By Suzanna Cisneros
March 18, 2022
TTUHSC has been named as a Military Friendly® School for 2022-2023. Among graduate schools, TTUHSC ranked fourth in the nation, achieving Gold award status.
By Meaghan Collier
March 17, 2022
On March 16, fourth-year TTUHSC Jerry H. Hodge School of Pharmacy students interested in completing a residency after they graduate in May, learned where they would spend the next stage of their training during the Pharmacy Residency Match Day.
Recent Stories
Health
By Mark Hendricks
September 29, 2022
CPRIT recently awarded a $1 million prevention grant to Rakhshanda Rahman, M.D., Rebeccah Baucom, M.D., and John Kidwell, M.D., from the TTUHSC School of Medicine.
Research
By Kathryn Dankesreiter (TTU)
September 26, 2022
The Innovation Hub at Research Park today (September 26, 2022) announced the winners of its annual Presidents' Innovative Startup Awards. The award recognizes startups that have a high potential for growth and an economic impact in West Texas.
Education
By Mark Hendricks
September 23, 2022
Fifth graders from Bean Elementary School became doctors for a day. The Texas Tech University Health Sciences Center (TTUHSC) Student National Medical Association (SNMA) hosted the Doctors for a Day Minicamp on Sept. 23.