Launching a Career in Health Care Administration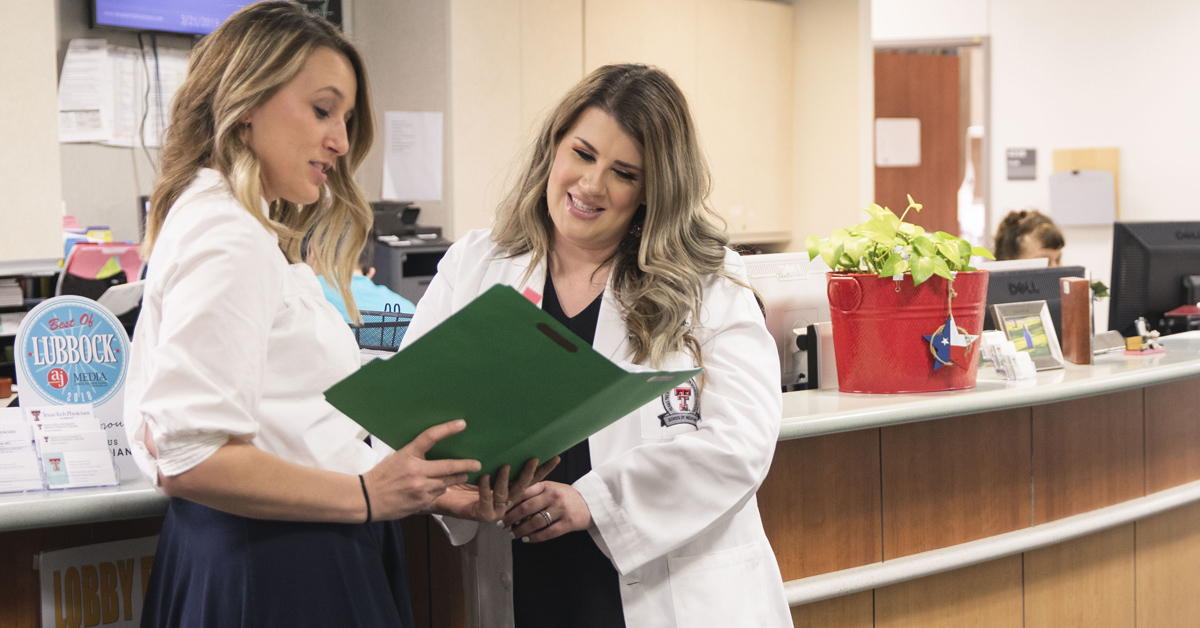 When the topic of health care comes up, the immediate impression that most people have is of physicians, nurses, physician assistants and other members of the clinical team who deliver treatment and provide care to patients.
But there is another side to health care that's equally important when it comes to patient care and just as important to the success of any health care organization. The field is health care administration, and it requires professionals who bring a distinctive blend of business and management acumen, along with proven skills in team leadership, communication, integrity and a wide range of other areas.
"Working in health care administration is very rewarding. It's also very demanding and it changes every day," says Morgan House, Ph.D., director of the Master of Science in Healthcare Administration program at the Texas Tech University Health Sciences Center School of Health Professions (TTUHSC SHP).
"As a health care administrator, your role is covering many of the business aspects of the organization and helping to keep the doors open, so to speak," House says. "That can include things like finance, human resources, law and ethics, billing, accounts payable, accounts receivable, and hiring and firing. All of the things related to the day-to-day operation that are necessary for the organization to remain viable."
Health care administration is a unique profession within the broader health care arena because it requires a blend of business and management know-how combined with qualities like compassion, empathy, strong relational abilities and other skills and traits typically associated with patient care. And it's a critical component of health care delivery no matter the setting.
"Every type of health care facility and operation needs health care administrators," House says. "It isn't limited to hospitals. Private practices, small clinics, individual departments within a hospital or large health clinic — they all rely on health care administrators."
Bringing a Passion for Educating Tomorrow's Health Care Administrators
Equipping tomorrow's health care administrators with the knowledge, perspective, and skills they'll need to positively impact their organization — as well as the lives of patients — is something that House is passionate about.
After earning her bachelor's degree in 2002 and her MBA in 2003, she embarked on her career in health care administration, operating a nursing home in a small, West Texas rural community. It was through this experience that House gained firsthand knowledge of what it takes to succeed in the field.
House also enjoyed teaching. So while she was working as the health care administrator at the nursing home, she began to teach in the undergraduate health care administration program at TTUHSC SHP, incorporating into her classes elements from her own working experience.
After several years of fulfilling both of her roles in operating nursing homes and teaching in the TTUHSC SHP undergraduate program, House decided to transition to academia full time. She continued to teach, and in 2015 she became the undergraduate program director. She served in that role for a few years before moving into the director position for the master's degree program.
The Realities of Health Care Administration in West Texas
While many of the roles and responsibilities taken on by health care administrators are fairly universal in nature, there are several aspects of the profession that are unique to working in West Texas. House's personal experience in the world of health care administration is very much a reflection of what working in a rural environment is like.
"Health care administration jobs in Texas and, more specifically, West Texas, do present unique issues and often, unique challenges," House says. "There are many small health care clinics in rural areas out here that our students and graduates find themselves working in. When you're in a setting like that, you're often the person who is responsible for an even wider range of daily tasks and responsibilities."
The smaller that a clinic or health care organization is, the smaller its staff and the tighter its budget in most cases. This shouldn't be a deterrent to someone living in the region looking to launch a career in the profession, House says. It simply requires that they understand and adapt to the realities of the setting in which they're likely to find themselves working.
"As a health care administrator in that type of setting, you're going to wear a lot of hats," she says. "You'll be planning and directing and coordinating all of the services, you're hiring the physicians, you're in charge of the budget, and then you're often interacting with patients." And, you may have to pitch in where needed.
This was precisely what House experienced during her years operating nursing homes throughout the area, where sometimes her responsibilities extended beyond the typical ones associated with health care administration.
"I was in a very rural community," she recalls. "That's one of the realities of working in health care administration in West Texas. As a rule, the smaller the facility, the more responsibilities are going to fall to you on a daily basis. When we didn't have a maintenance supervisor, I was it. I did some cooking when needed. That's something I'm very committed to teaching students in our program. I want them to be very clear about the fact that while they will have people working under them, depending on where they're working, at times, they're going to fulfill a lot of different roles that you might not think about. So you'd better know how to get a lawn mower started!"
Health Care Administration is a High Growth Profession
For anyone who may be looking into health care administration careers, or who is already working in the field and wants to advance their career, the timing couldn't be better. The profession is poised for significant growth, both in the state of Texas and nationally. Additionally, current health care administration salaries provide another attractive draw to the profession.
The U.S. Department of Education, Bureau of Labor Statistics (BLS) projects that between 2016 and 2026, the need for medical and health services managers will grow by 20%, much faster than the rate for all other professions. The BLS also reports a median annual salary for the field nationwide of $99,730.
In Texas, the outlook for the profession is even brighter. According to the Department of Labor's O*NET Online, the need for medical and health services managers in the state is expected to grow by 30% between 2016 and 2026, with a median annual salary of $95,590.
Clearly, to thrive as a health care administrator, it's vital to have a depth of understanding, well-rounded skills and a solid grasp of the business and management principles that you will rely upon daily. As a health care administrator, you will be responsible for leading others and demonstrating clear command of your organization's business, human resource and management operations, while also fulfilling a wide variety of other responsibilities.
At the same time, House says, possessing the necessary "soft skills" is just as important. Some of these include a strong sense of ethics, excellent communication skills, compassion and empathy, conflict resolution skills, and an ability to collaborate and work as part of a broader health care team.
Launching Your Career in Health Care Administration
Whether you're currently working in the profession and want to advance your career, or pivoting to the health care administration from an unrelated field, making the most of your future as an administrator will require substantial education and training.
It's essential that the educational preparation you receive is relevant, current and moving in step with the constantly evolving realities of health care both now and in the future. This is one aspect that sets the master's degree in health care administration at TTUHSC SHU apart, House says.
"Since the realities of health care are constantly evolving, it's critical that we consistently evolve our programs and offerings as a way to reflect what's happening out there in the real world," House says.
The master's program at TTUHSC SHU recently underwent a curriculum redesign, as a way to evaluate how the education and training aligned with industry and employer needs.
"We went out to industry and worked closely with leaders in the region to tailor our curriculum around their current needs," House says. "This is a total win-win. It ensures that our students and graduates are ready to meet the exact demands they'll encounter in the real world. And employers who hire graduates of our program are getting health care administrators who are ready to hit the ground running on day one. It cuts back on the amount of time they're going to have to devote to on-the-job training."
In addition to helping reshape the curriculum of the master's degree in healthcare administration at TTUHSC SHP, the process also resulted in entirely new educational offerings. TTUHSC SHP recently launched five new graduate certificate options as a result of the program re-evaluation, all designed to meet current and evolving industry needs. These graduate certificates include:
Health Informatics and Data Analytics.
Health Systems Policy and Management.
Healthcare Finance and Economics.
Health Systems Engineering and Management.
Long-Term Care Administration.
The TTUHSC SHP master's program attracts a wide range of people, typically working professionals currently in the health care arena, but also others gravitating to the profession for the opportunities it offers. In her classes, House has physicians, dentists, and even students who aren't currently working in health care but want a career as an administrator.
"Our goal is to deliver the comprehensive preparation it takes for our students to leave the program and step in and begin overseeing many different areas of operation as an administrator," House says.
Quality, Flexibility, and Convenience
A key benefit of the master's degree in health care administration program at TTUHSC is that it is delivered entirely online. The program's online format offers the convenience and flexibility that working professionals need, so they can complete the program and earn their master's degree without having to sacrifice their current job or other daily responsibilities.
And although there are lingering misperceptions about online learning as an isolated experience lacking in personal engagement with fellow students and faculty, that doesn't reflect the program experience at TTUHSC SHP.
"We're not in silos," House explains. "This isn't like a correspondence course. Students in our program are very engaged with one another and with faculty. I can tell you tons about each of my students. We write letters of recommendation for our students and I think they're more compelling and effective because we know them so well."
The quality of the teaching faculty also sets the program apart. "Our faculty are highly regarded in the industry," House continues. "We have CFOs and others with extensive experience in health care administration teaching our courses. We have a very experienced and accomplished CFO in Georgia who teaches for us. This means students are learning from experts who have been, and continue to be, leaders in health care administration and are bringing the most current and relevant topics and material into the learning experience."
Personal and Supportive
It's this combination of online convenience with a supportive, personalized touch that is a particular source of pride for House, and her colleagues. And it reflects one of the central points of focus of the master's degree in health care administration program.
"Much of our program is about relationships," House says. "We can teach students the information and the material that will prepare them to advance their careers as health care administrators. But we're equally focused on fostering the soft skills that are so vital in this field. As a health care administrator, you're going to work with the CFO and other executives, and you're going to work with the housekeeping staff. We teach our students about the importance of relationships and treating everyone with whom they're going to interact in the same way."
The program also has a built-in support system to encourage student success. "We put a lot of emphasis on student advisement," she says. "We recently started a centralized student advising process that has really streamlined things so that students are able to get all of the support and guidance they need. Our faculty and staff really care about the students and go out of their way to do whatever it takes to help them succeed."
Learn More About the Master's Degree in Healthcare Administration at TTUHSC SHP
Founded in 1969, TTUHSC is currently celebrating its 50th year of developing new generations of health care professionals, meeting the broad range of needs of area residents and providing world-class patient care to West Texas and all around the country. With programs in biomedical sciences, health professions, medicine, nursing and pharmacy, TTUHSC is today recognized as one of the largest health care institutions in the nation, achieving an exceptional track record of preparing highly-skilled professionals.
If you're ready to take a closer look at what a master's degree in healthcare administration from TTUHSC SHP can do for your career, we're here to help. Contact the Office of Admissions and Student Affairs at 806-743-3220 or email us at health.professions@ttuhsc.edu.
Related Stories
By QEP Committee
March 21, 2023
As spring approaches, some people's thoughts turn to gardening. Whether it's a flower garden they desire or a vegetable garden want to have, they begin planning what they'll plant and what they need to do to ensure a successful garden.
By QEP Committee
March 21, 2023
A "growth mindset" accepts that our intelligence and talents can develop over time, and a person with that mindset understands that intelligence and talents can improve through effort and learning.
By Melissa Whitfield
February 13, 2023
Abstaining from drug abuse and an early diagnosis of familial hypercholesterolemia (high cholesterol) can help prevent heart disease.
Recent Stories
Research
By Mark Hendricks
March 21, 2023
TTUHSC Cytogenetic Technologist Jasbir Bisht and a team from P. Hemachandra Reddy's internal medicine laboratory analyzed the impact of cancer in Hispanics in comparison to other ethnic groups.
Education
By School of Health Professions
March 21, 2023
World Down syndrome Day was established to raise awareness about Down syndrome and to promote inclusion and acceptance of people with Down syndrome in all aspects of society.
By QEP Committee
March 21, 2023
As spring approaches, some people's thoughts turn to gardening. Whether it's a flower garden they desire or a vegetable garden want to have, they begin planning what they'll plant and what they need to do to ensure a successful garden.