Fighting Disease: Molecular Pathology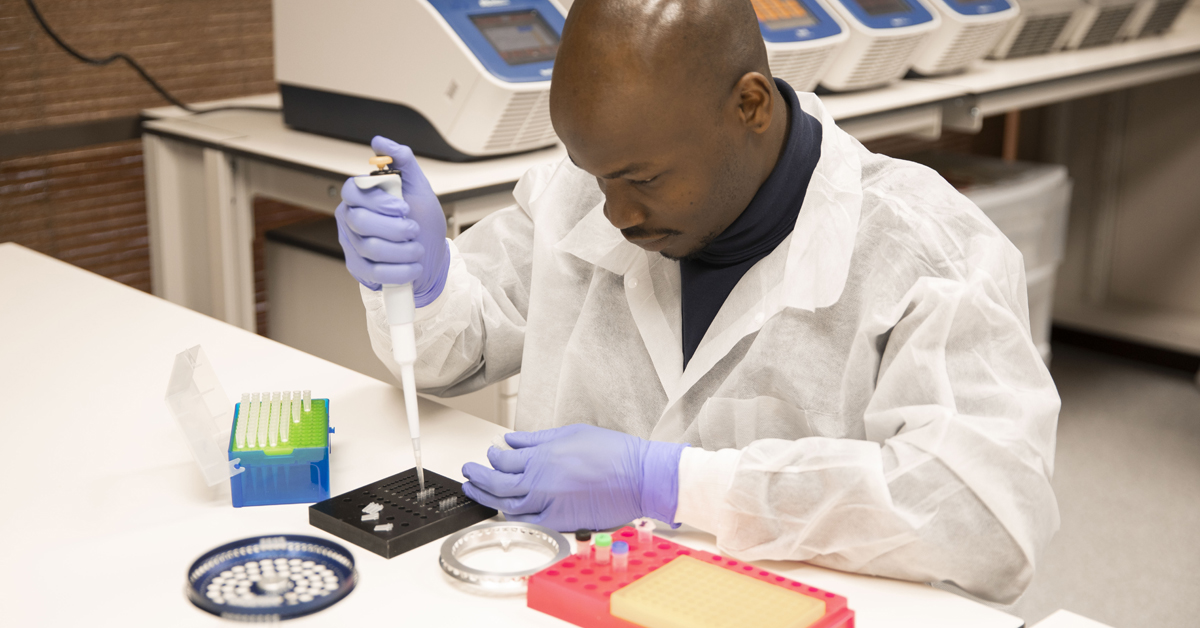 An estimated 606,880 people will die from cancer in the U.S. in 2019, according to The American Cancer Society. To more effectively combat this prevalent disease, health care professionals need tools that enable earlier detection and more personalized treatment plans.
An important resource in the evolving fight against cancer is the field of molecular diagnostics. Genetic testing, enabled by molecular pathology, is empowering medical providers to identify and treat diseases — including cancer — in a manner that is more personalized and, ultimately, more powerful.
Advancing Human Genetic Testing
Diseases often present and progress differently in each unique patient. Consequently, in some of the world's most prevalent diseases, such as cancer, a treatment plan that works effectively for one person may not produce the same results for another patient. To determine and take into account the factors that influence a person's individual disease, health care is embracing a process known as "personalized medicine."
"I think that personalized medicine is the future of health care, and molecular pathology has a huge role to play in reaching this goal," says Texas Tech University Health Sciences Center Associate Professor of Molecular Pathology, Katie Bennett. "We certainly have not perfected that science yet, but it is evolving rapidly. The days of 'one-size-fits-all' medicine are gone."
A common tool used in personalized medicine is molecular diagnostics, defined by the National Cancer Institute as the process of "identifying a disease by studying molecules, such as proteins, DNA, and RNA, in a tissue or fluid." With enough knowledge about the connections between genetics and health, providers and their patients can make decisions about the best approach to treat disease for each individual.
Diagnosing and Treating Diseases Through Molecular Pathology
In a molecular diagnostics laboratory, molecular scientists use many advanced technologies and instruments — such as PCR thermocyclers, Sanger sequencers, pyrosequencers, next generation sequencing, and digital PCR — to give patients every possible advantage in fighting their diseases.
According to Bennett, the medical conditions that can be impacted by molecular diagnostics testing fall into three major categories: inherited disease, infectious disease, and cancer:
Inherited disease. Medical conditions that are triggered by an abnormality in a person's DNA, inherited diseases are sometimes referred to as "genetic disorders." Common examples include cystic fibrosis and sickle cell anemia.
Infectious disease. Bacteria, viruses and other organisms can cause disease when left unchecked in the body. Molecular pathology, a significant component of medical microbiology, can be used to test for common infectious diseases like influenza, listeria or E. coli.
Cancer. In molecular diagnostics, tumors can be tested for their molecular profiles, which differ from those of healthy cells. Oftentimes, the mutations and other genetic alterations direct the oncologist to choose specialized therapies that work on that particular kind of cancer.
Considering the Ethics of Genetic Technology
When performing — or undergoing — molecular diagnostics testing, there are important ethical challenges to consider. Genetic testing provides information that goes beyond the patient being tested, potentially revealing things about the person's family members and even future children.
Consequently, Bennett says that it is critical that patients undergoing a genetic test be well informed of the impact these results may have on them and on their families. When genetic testing is done for medical reasons, a genetic counselor must be involved in the process to help a patient understand their diagnosis or risk levels.
"Just remember, you can never 'un-know' something about your genetics, so being well-informed before genetic testing is critical," Bennett says.
Earning Your Master of Science in Molecular Pathology
Ready to launch your career in molecular pathology? Get ready to fight disease at the molecular level by earning your Master of Science in Molecular Pathology degree through Texas Tech University Health Sciences Center.
"In the TTUHSC Molecular Pathology graduate program, you'll learn the theoretical and applied concepts you need to effectively and efficiently perform molecular testing in a clinical laboratory," Bennett says.
In the program, you will additionally acquire fundamental knowledge in the critical areas of genetics, pathophysiology, cell biology, data analysis, and laboratory management — and then apply that knowledge in the laboratory by employing the full spectrum of molecular methods that are used in working laboratories. Upon completion of the degree, you will qualify to sit the American Society for Clinical Pathologist national certification exam in Molecular Biology, MB credential exam, a professional certification that can help launch your career in the field.
If you are interested in learning more about how earning your Master of Science in Molecular Pathology at Texas Tech can help you fight disease through a career in molecular pathology, please email us at health.professions@ttuhsc.edu or call, (806) 743-3220 to speak with one of our admissions representatives.
Related Stories
By QEP Committee
March 21, 2023
As spring approaches, some people's thoughts turn to gardening. Whether it's a flower garden they desire or a vegetable garden want to have, they begin planning what they'll plant and what they need to do to ensure a successful garden.
By QEP Committee
March 21, 2023
A "growth mindset" accepts that our intelligence and talents can develop over time, and a person with that mindset understands that intelligence and talents can improve through effort and learning.
By Melissa Whitfield
February 13, 2023
Abstaining from drug abuse and an early diagnosis of familial hypercholesterolemia (high cholesterol) can help prevent heart disease.
Recent Stories
Research
By Mark Hendricks
March 21, 2023
TTUHSC Cytogenetic Technologist Jasbir Bisht and a team from P. Hemachandra Reddy's internal medicine laboratory analyzed the impact of cancer in Hispanics in comparison to other ethnic groups.
Education
By School of Health Professions
March 21, 2023
World Down syndrome Day was established to raise awareness about Down syndrome and to promote inclusion and acceptance of people with Down syndrome in all aspects of society.
By QEP Committee
March 21, 2023
As spring approaches, some people's thoughts turn to gardening. Whether it's a flower garden they desire or a vegetable garden want to have, they begin planning what they'll plant and what they need to do to ensure a successful garden.