ASCP Picks Dallas Pharmacy Students as Ambassador
Left to right: Viktoria Guttenberg, Kelsie Basso and Devyn Pontzer
Dallas third-year pharmacy students Devyn Pontzer, Kelsie Basso and Viktoria Guttenberg have been selected to serve as Student Ambassadors for the American Society of Consultant Pharmacists (ASCP), the only international professional society devoted to optimal medication management and improved health outcomes for all older adults.
All three students are founding members of TTUHSC's ASCP chapter. Pontzer was the founding president and is currently the Dallas campus liaison. Guttenberg is currently serving as chapter president and Basso is the Dallas social chair.
"I am very honored to be selected for this position; I've had an interest in geriatric pharmacy since I had started at TTUHSC," Pontzer said. "I was fortunate enough to be able to found the ASCP student organization chapter at TTUHSC and I am hoping this will encourage more students to take an interest in ASCP and senior care pharmacy."
Pontzer applied for the student ambassador position after receiving a scholarship last year from ASCP's Texas chapter to attend the ASCP Annual Meeting & Exhibition in Florida with other TTUHSC pharmacy students.
"I learned about what a student ambassador was at the conference last year and I wanted to represent the TTUHSC chapter at the 2018 meeting and be able to show the progress that we had made in one year," Pontzer said.
Prior to ASCP's 2018 Conference & Exhibition Nov. 1-4 in National Harbor, Maryland, Pontzer, Basso and Guttenberg will submit a video of the TTUHSC student chapter reciting the ASCP creed. As student ambassadors at the meeting, they will present a TTUHSC student chapter activity poster Nov. 2 during the daytime sessions and then compete in the Geri-Party that evening. On Nov. 3, they will attend an invitation-only meeting for ASCP-sponsored students where they will help organize a social event for all students attending the meeting.
"We love our geriatric population and consulting pharmacy," Basso said. "We are so excited to represent the school at a national level."
Pontzer believes getting involved in geriatric pharmacy through ASCP is important for pharmacists because they can advocate for positive changes for seniors on the local, state and national levels.
"ASCP offers a platform for those who work with seniors and gives them a voice in how they want to advocate for change in their profession," Pontzer said. "It's a great place to learn about senior care, which I feel is currently underrepresented in our current health care system."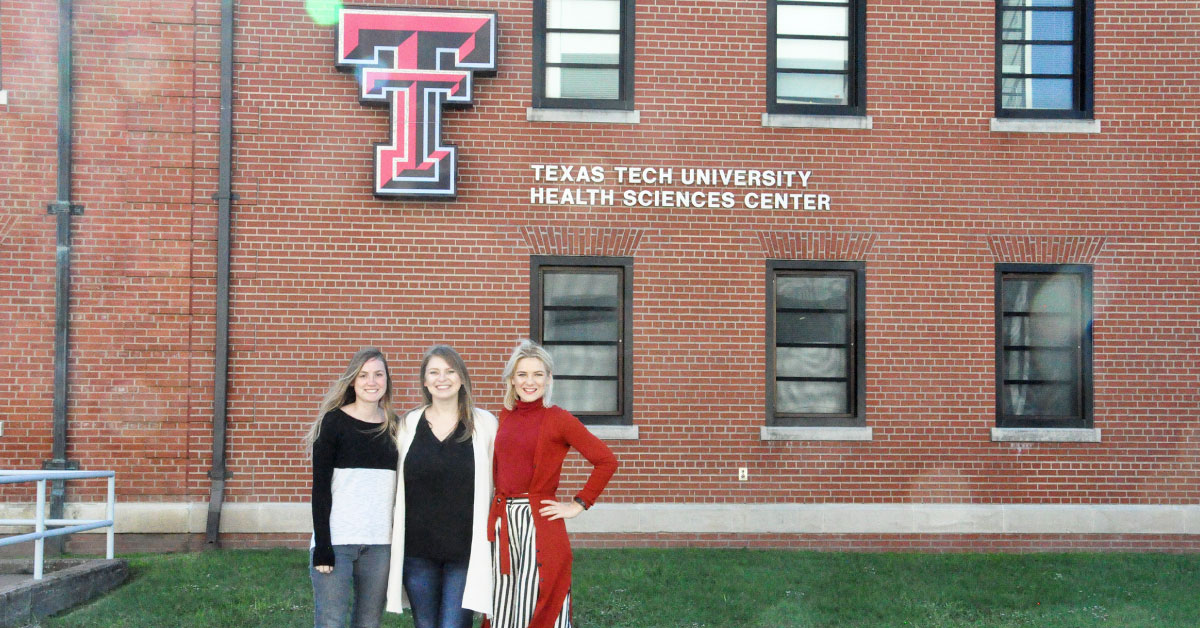 Related Stories
By Mark Hendricks
March 25, 2022
The Texas Tech University Health Sciences Center (TTUHSC) Graduate School of Biomedical Sciences hosted its 34th Annual Student Research Week March 8-11.
By Mark Hendricks
March 25, 2022
The National Cancer Institute awarded a five-year, $1.9 million grant to C. Patrick Reynolds, M.D., Ph.D., director for the School of Medicine Cancer Center at TTUHSC.
By School of Health Professions
March 24, 2022
Richard Greenhill, DHA, FISQua, FACHE, discusses the hype and reality surrounding AI in healthcare.
Recent Stories
Health
By Meaghan Collier
May 27, 2022
TTUHSC Assistant Professor of Pediatrics Christine Garner, Ph.D., R.D., says if your baby's normal brand of formula isn't available, you can swap it out for a different one.
Education
By Mark Hendricks
May 26, 2022
The Willed Body Program has served West Texas since 1972 and is the foundation upon which the TTUHSC Institute of Anatomical Sciences is built.
Education
By Mark Hendricks
May 25, 2022
The Texas Tech University Health Sciences Center (TTUHSC) recently hosted traditional commencement ceremonies for its 1,595-member Class of 2022.