Amarillo Researcher Receives $2.9 Million NIH Grant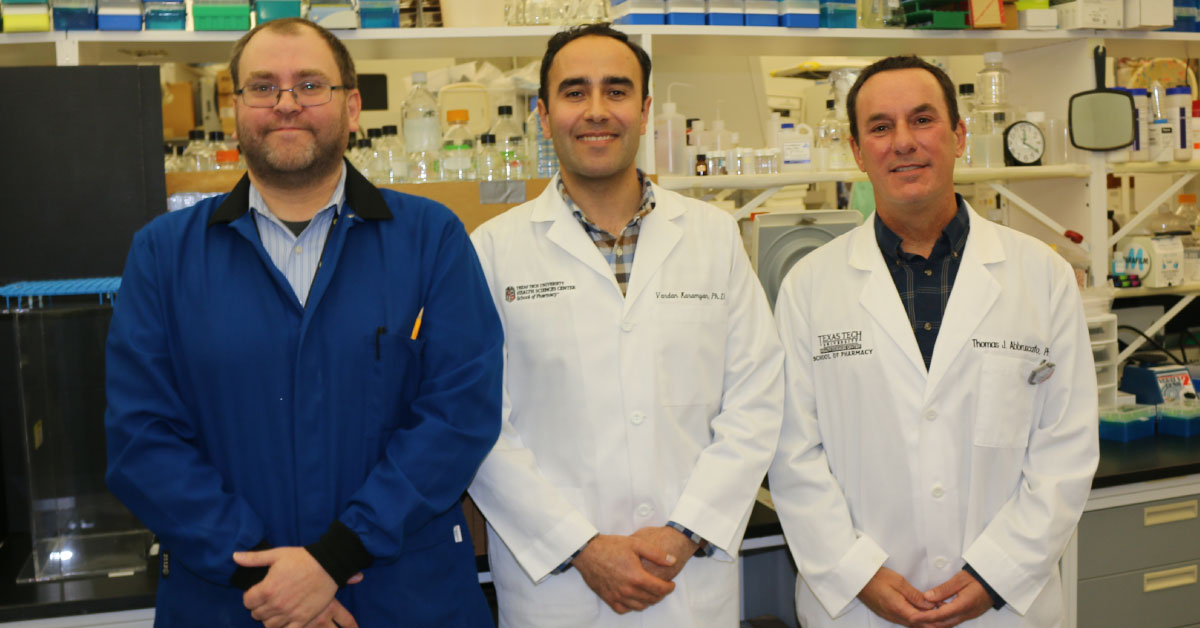 Left to right: Paul Trippier, Ph.D., Vardan Karamyan, Ph.D., and Thomas Abbruscato, Ph.D.
As a researcher, Vardan Karamyan, Ph.D., an associate professor for the School of Pharmacy in Amarillo, is motivated by many factors, including a desire to contribute to the world's collective knowledge database about treating strokes.
"Stroke affects about 2 percent of the population in the United States and imposes substantial economic burden on the health care system and society in general," Karamyan said. "Today, we have only one drug - tissue plasminogen activator - used for the treatment of ischemic stroke, and there is an urgent need to develop new therapies for this disorder."
To help uncover and develop those much-needed therapies, the National Institutes of Health (NIH) recently awarded Karamyan and his collaborators a five-year, $2.9 million grant for research titled, "Development and characterization of peptidomimetic small molecule activators of peptidase neurolysin for stroke therapy." The grant is for an RO1 multi-PI (primary investigator) project that includes Karamyan and fellow Department of Pharmaceutical Sciences researchers Thomas Abbruscato, Ph.D., and Paul Trippier, Ph.D., as the multi-PIs. Abbruscato serves as the department's chair and Trippier is an assistant professor.
Karamyan said previous studies conducted by his laboratory revealed that a peptidase called neurolysin can function in the mouse brain after stroke to minimize stroke damage, and his team also discovered two small molecules that can enhance neurolysin activity.
Karamyan in the lab
"Based on these findings, in this collaborative grant proposal between my lab and those of Drs. Abbruscato and Trippier, we will develop potent and selective 'drug-like' activators of neurolysin which will be used as research tools to study their potential for treatment of experimental stroke in mice," Karamyan explained. "In addition, the knowledge about the mechanism or mechanisms governing the activation of neurolysin by small molecules may be translated to other peptidases and enzymes, and that activation bears therapeutic potential."
Karamyan's work in the laboratory also is motivated by a love for teaching and training students. He said his current research assistant, Srinidhi Jayaraman, a graduate student for the School of Pharmacy's Graduate Program in Pharmaceutical Sciences, has been a key contributor in the research project that led to this latest NIH grant.
"Her genuine interest, devoted work and good luck hugely contributed to our discovery of neurolysin activators," Karamyan said.
Karamyan said Hideki Aihara, Ph.D., from the University of Minnesota also is a key collaborator to the project. Aihara is an expert in crystallography, which deals with the structure and properties of protein crystals.
"I want to empathize the true collaborative nature of our project," Karamyan said. "Drs. Trippier, Abbruscato and all parties brought in unique expertise and contributed substantially to the current project and it would be very hard to obtain this grant award without their collaboration."
Related Stories
By Mark Hendricks
March 25, 2022
The Texas Tech University Health Sciences Center (TTUHSC) Graduate School of Biomedical Sciences hosted its 34th Annual Student Research Week March 8-11.
By Mark Hendricks
March 25, 2022
The National Cancer Institute awarded a five-year, $1.9 million grant to C. Patrick Reynolds, M.D., Ph.D., director for the School of Medicine Cancer Center at TTUHSC.
By School of Health Professions
March 24, 2022
Richard Greenhill, DHA, FISQua, FACHE, discusses the hype and reality surrounding AI in healthcare.
Recent Stories
Education
By School of Health Professions
June 30, 2022
Ericka Hendrix, PhD, MB(ASCP)cm, spoke about the training and education involved for diagnostic molecular scientists and how the pandemic has affected the role.
Education
By Suzanna Cisneros
June 29, 2022
TTUHSC and members of the Abilene community today (June 29) celebrated the official unveiling the new Julia Jones Matthews School of Population and Public Health.
Education
By Kate Gollahon
June 28, 2022
On June 29, the opening celebration event for the Julia Jones Matthews School of Population and Public Health will recognize many years of hard work and look ahead to the start of a new and exciting journey.