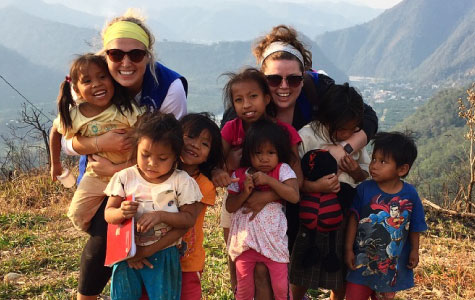 For more than a year, several School of Pharmacy faculty members in Abilene have sought to become more involved in interprofessional medical trips organized by the TTUHSC Office of Global Health.
In August 2017, Chephra McKee, Pharm.D., an assistant professor for the Department of Pharmacy Practice and the school's Office of Global Health representative, traveled to Nicaragua with faculty from the TTUHSC Schools of Nursing, Medicine, Health Professions and the Masters of Public Health program on a trip centered around children's health. Earlier this year, in February, Abilene Regional Dean Sara Brouse, Pharm.D., accompanied the same group back to Nicaragua for a medical trip that focused upon women's health.
During the first two weeks of September, McKee and fourth-year pharmacy student (P4) Nicole Buzzard traveled to Peru for a 17-day medical excursion set up by the Office of Global Health in partnership with the Foundation for International Medical Relief for Children (FIMRC). The trip made Buzzard the pharmacy student to take such a mission trip as part of the school's new global health elective rotation.
"We partner with our FIMRC student organization chapter for spring break trips, and a good number of students have participated in those trips," Brouse said. "However, the traditional FIMRC trips aren't true medical mission trips—they are more service-oriented. We are happy to finally be offering a global health elective rotation to our P4 students and we hope to expand this opportunity to include summer medical trips for our P1, P2 students and P3 students."
During her first week in Peru, Buzzard worked in Huancayo, a large city located in the Andes Mountains. McKee joined her for the second week in La Merced, a smaller city situated in the Amazon jungle. Though both cities are located in Peru's Junín region, McKee said they are very different from each other and provided Buzzard with multiple experiences in a single trip.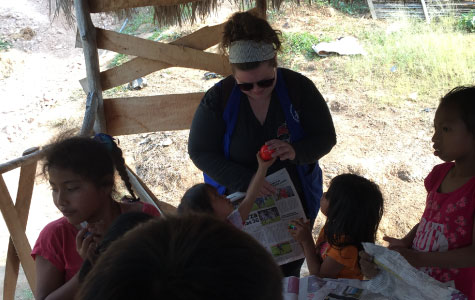 "Visiting both areas was the greatest way to maximize the learning experience for Nicole," McKee said. "During the trip, we worked with the FIMRC staff in various hospitals, clinics and health posts to provide medical care and education to the underserved populations in the villages and cities we traveled to."
Buzzard's interest in global health began during her second year of pharmacy school, and she and McKee became partners in trying to establish a global health elective for Buzzard's fourth year. Their goal for the rotation was to teach students about the roles a pharmacist can play within the global health arena, and the Peru trip provided Buzzard a good first experience.
"I learned about the health care system in a country very different than ours," Buzzard said. "I also learned more about health concerns and common disease states around the world that we may not see here in the United States."
McKee believes it's important for health care students to about global health issues and she hopes global pharmacy education will become more accessible to her students. Each medical-related trip teaches her something and reminds her that focusing upon and interacting with the patient is more important than the "hurry up" health care she often sees in the U.S.
"Pharmacists have an increasing role here on a local level, but it's important for our students to learn about more involvement on a global level as well," McKee said. "Health care professionals can get very focused on just the health care in America and forget about all the resources we have here that aren't available to patients in resource-poor countries. I think it's helpful as a student to be able to learn from health care workers in other countries about how resources are managed and to have their eyes opened to how much we actually have here in the U.S."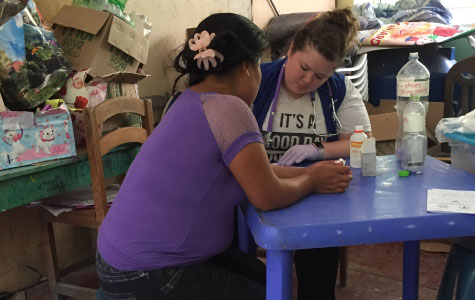 After returning from her first international medical trip, Buzzard feels more aware of the health care challenges that exist in other parts of the world. Seeing firsthand how the health care system works in Peru also helped her pick up on some areas that could be improved upon in the U.S., like shifting the focus away from schedules and placing it more upon the person. She is convinced that immersing herself in an unfamiliar culture, even for just a few weeks, has made her a better pharmacy student, a better medical professional and a better person.
"The clinical activities helped me to solidify my knowledge, learn about disease states that we rarely see in the United States and grow in my communication skills as I was able to surpass the barrier of language and culture," Buzzard explained. "The educational experiences touched my heart as their passion and desire to learn was incredible to see. In Peru, providers let relationships and conversations guide where they put their time, and I think this is something I will take into my professional future. I will make sure each person and patient I come into contact with feels heard and has my full attention, because that is what they deserve."